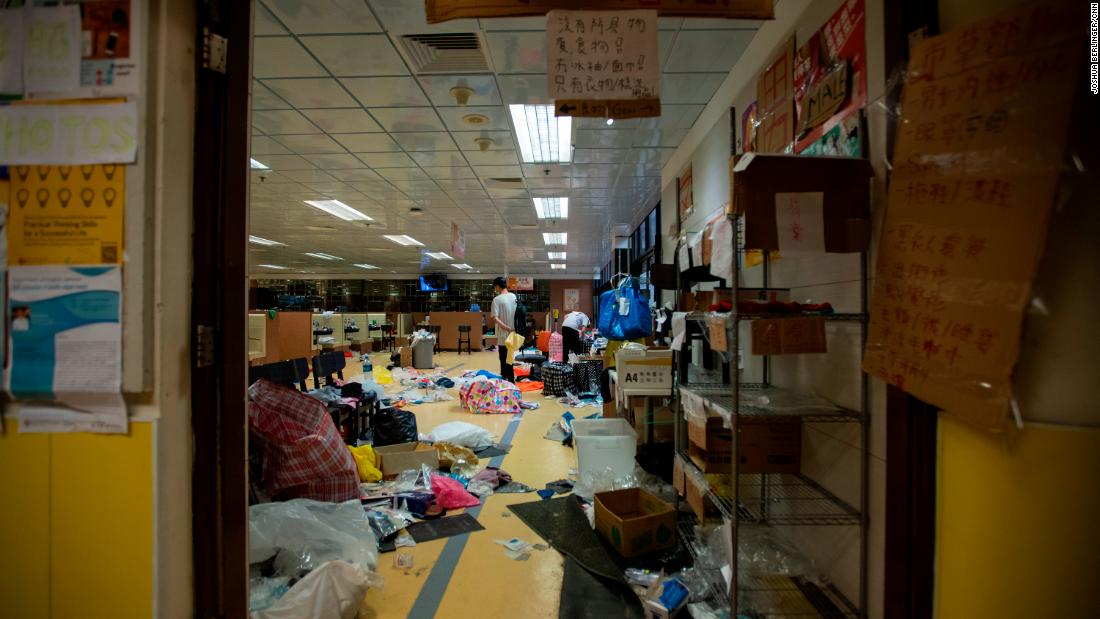 Once inside, they soon faced an impossible choice: stay until storage ends, or leave the university and run the risk of being teared up and arrested for riots, a charge that could get a 10-year prison term.
Police have been on the outskirts of campus for more than two days, shooting around after tear gas at protesters who responded with makeshift gasoline bombs, catapults and bows and arrows.
Hundreds of protesters were captured, but some managed to get out slowly. Authorities said they had treated 1,100 people – 600 of whom left willingly. Protesters were arrested if they were older than 18 or registered and then released if they were minors, police say.
By Tuesday morning, the violence had subsided and the campus was in ruins. Only a small number of protesters remain at the university.
There was a noticeable stench of rubbish and gasoline burning on one of the campus entrances that burned his nose.
Thousands of unused petrol bombs litter the campus on the way to the canteen, which had become something of a headquarters for the protesters.
Only about 50 protesters were in when CNN visited Tuesday morning. Some slept while others looked aimlessly at their phones.
An 18-year-old in a black ski mask sat next to the entrance. Only his eyes were visible on his face. His hands seemed to have new cuts on them.
He told CNN that he arrived at PolyU two days ago. But things had changed on Tuesday.
Fewer people were in the streets outside and the number of protesters inside was dropping.
Protesters have been on the PolyU campus since last week, following an escalation in the months-long turmoil that saw several universities in the city fortified and turned into temporary protest camps. They had used the PolyU campus as a base from which they started operations to block nearby roads and the Tunnel over the port connecting Kowloon to the island of Hong Kong.
On Tuesday, the police had surrounded the school and it did not appear to be a way out. A handful of desperate protesters managed to glimpse a rope from a bridge and get away on motorcycles.
The teenager in the canteen said he had barely slept because of fear that the police might storm the campus at any time.
"I'm definitely very tired," he said. "I try my best to look for a way out. Although I know that the chance to (find) a safe way out is less and less of the other."
The teenager, like everyone who spoke to CNN, refused to give his real name or have his photograph taken because he feared being identified and arrested by police.
Across the hall from the canteen, protesters had turned the high school into a dormitory, despite an alarm going off. Several people were still sleeping there around 11:30 in the morning when CNN visited.
Source link