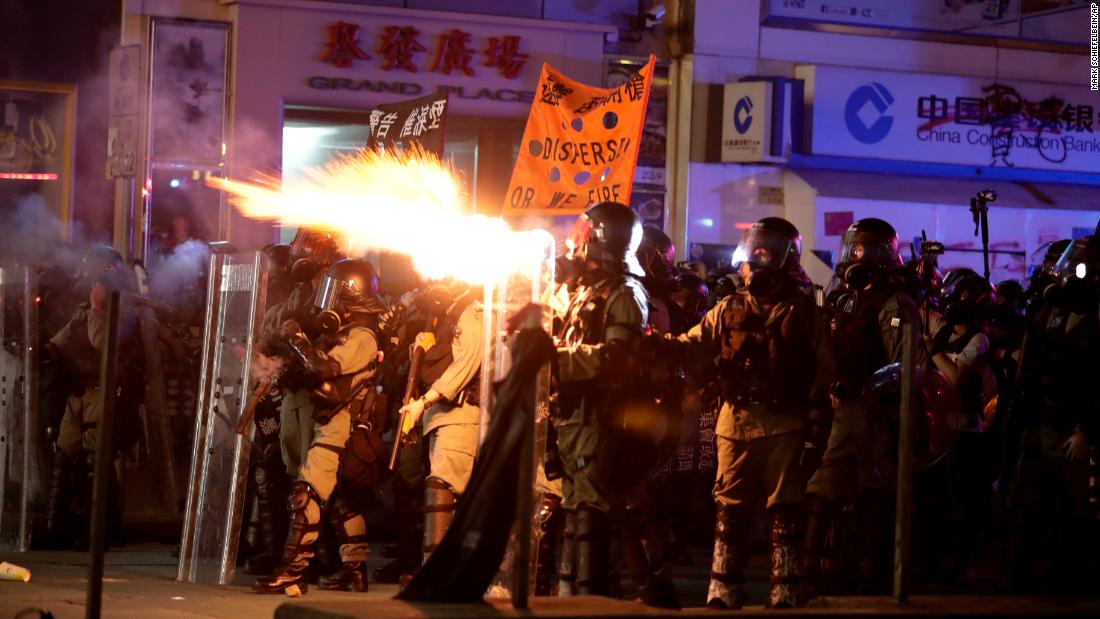 Some articles even claim that demonstrations in Europe and South America are the direct result of Western tolerance of Hong Kong concerns, now in its 20th week.
In a comment published in the Beijing State News on Sunday, former Chinese diplomat Wang Zhen wrote "the disastrous effect of a" chaotic Hong Kong "has begun to affect the Western world."
During the past week, protesters have clashed with authorities at all three locations for various reasons, but Chinese state media claimed that protesters in Chile and Spain were taking their clues from Hong Kong.
Hong Kong's protests have become increasingly destructive over the past month, with widespread vandalism and rubbish from stores seen as pro-Beijing during demonstrations.
On Sunday, a march in the popular shopping district of Tsim Sha Tsui quickly deteriorated into violence when gasoline bombs were thrown and fires ignited in subway stations and outside stores.
According to W ang, protesters in Spain had begun to adopt Hong Kong tactics, including the slogan "Be Water" to avoid police.
Protesters have gathered on the streets of Barcelona to demand Catalonia's independence after the politicians of independence were imprisoned with long sentences. More than 200 police officers have been injured and 1
71 vehicles damaged since the protests began last week.
On the same day, an editorial in the state tabloid Global Times accused Hong Kong protesters of "exporting the revolution to the world."
"The West pays the price to support riots in Hong Kong, which has quickly ignited violence in other parts of the world and predicted the political risks that the West cannot handle," the leader said.
The United States has repeatedly expressed support for Hong Kong protesters to the Chinese government's rage.
On October 14, the US House of Representatives passed legislation in support of Hong Kong activists who could see major financial sanctions on the major Chinese financial hub if Beijing breaks down in the city.
In a video editorial published on Global Times' official Twitter on October 17, editor Hu Xijin suggested that protests could be spread across the West.
"There are many problems in the West and all kinds of discontents of dissatisfaction. Many of them will eventually manifest themselves in the way the Hong Kong protests did," he said.
"Catalonia is probably just the beginning."
There have been a series of bloody attacks on pro-protests and pro-Beijing supporters in Hong Kong this month. On October 12, a police officer was shot in the neck while walking through a subway station, which led to two arrests. He was taken to hospital in stable condition.
Three days later, Jimmy Sham, a prominent organizer of the protest march, was attacked by a group of men with hammers and knives. He was left with sores on the back of the skull and forehead.
There have been no signs of an end to the ongoing demonstrations, which began in June to protest a controversial China extradition treaty, but have since been extended to include calls for democracy.
In a comment published in People's Daily, the official Chinese Communist Party's mouthpiece, Fudan University academic Shen Yi accused the West of "double standards" in its response to protests in other countries.
"We still remember that some people in the West called the big demonstrations in Hong Kong" a beautiful sight to see, "Shen wrote, before asking whether the same commentators would support Catalan protests.
" If they do not that, they apply dual standards for Hong Kong and Catalonia issues. "
In a separate statement published in People's Daily on Friday, Wang, the former diplomat, asked why Hong Kong protesters are described as" warriors of freedom and democracy "while Catalan protesters in Spain were" separatists "."
CNN's Serenitie Wang contributed to this article.
Source link