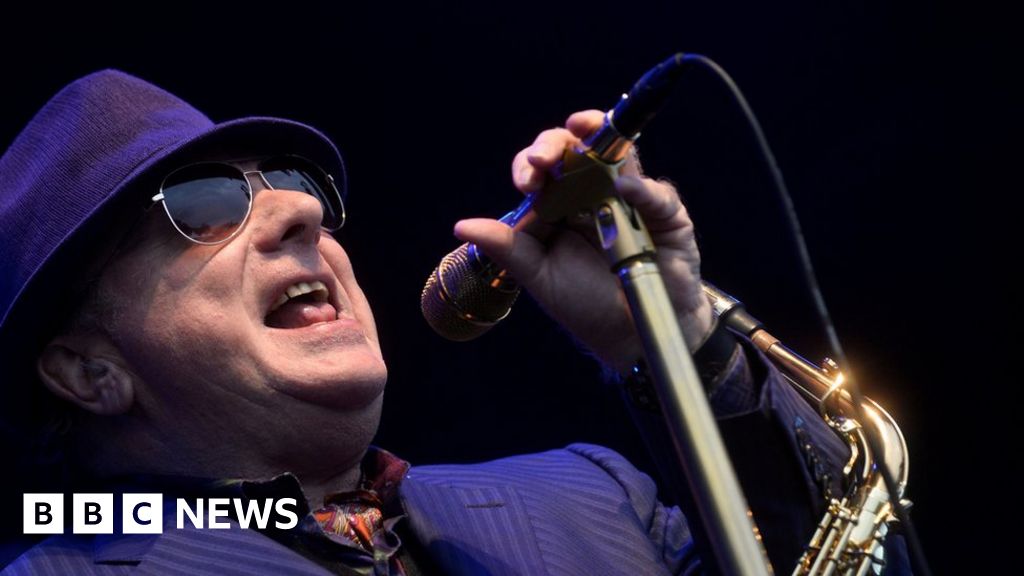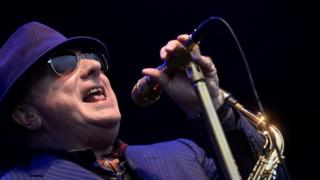 Sir Van Morrison has accused the government of "taking our liberty"
; in three new songs protesting the locking of coronavirus.
In the texts, he claims that researchers "make up crooked facts" to justify measures that "enslave" the population.
"The new normal is not normal," he sings. "We were born to be free."
On Wednesday, the prime minister said the government was doing "everything in our power" to prevent another nationwide deadlock.
"I do not want a second national suspension – I think it would be completely wrong for this country," Boris Johnson told MEPs at the Commons Liaison Committee.
"So when I see people arguing against the rule of sex or saying that the government is getting too hard on individual freedoms and so on – I fully understand that and I sympathize with that, but we must, must defeat this disease."
'Freedom to choose'
Recorded "recently" in Belfast and England, Sir Van's three new songs sit in a familiar vein of jazz and bluesy R&B. However, the lyrics remember the angry young man who fronted the Northern Irish rock group Them in the 1960s.
No More Lockdown is the most exciting of the three tracks. "No more suspension / No more cross-government, "singers in the choir."No more fascist bullies / Disturb our peace.
"No more take away our freedom / And our God given rights / Pretend it's for our safety / When it really is to be enslaved."
Another song refers to a widely shared Facebook post, of a screenshot from a UK government website that says, "Covid-19 is no longer considered a High Consequence Infectious Disease (HCID) in the UK".
Although it is true that Covid-19 does not meet the criteria for an HCID – which usually has a high mortality rate (as much as 50% in the case of Ebola) – the disease is still considered highly contagious, with no specific vaccines or treatment currently available.
Northern Ireland's Minister for Health Robin Swann has described the new songs as 'dangerous'.
"I do not know where he gets his facts," Swann said. "I know where the feelings are on this, but I will say that kind of messaging is dangerous."
Live music call
Sir Van has previously caused controversy by condemning what he called "pseudoscience" around coronavirus.
The 75-year-old launched a campaign to "save live music" on his website last month, saying that socially distant gigs were not financially viable.
"I urge my fellow singers, musicians, writers, producers, promoters and others in the industry to fight with me on this. Come forward, stand up, fight pseudoscience and speak."
The Brown Eyed Girl songwriter has already played three socially distant gigs this month and has two shows at The London Palladium next week, but he says these types of concerts are unsustainable and he is worried about the future of live music.
"This is not a sign that my current situation is being complied with or accepted, this is to get my band started and out of stupidity," he said.
The Music Venue Trust estimates that 400 grassroots venues in the UK are at risk of closing.
Sir Van said his new songs would be released at two-week intervals with the first, Born To Be Free, arriving on September 25.
In a statement announcing the songs, musicians said: "I do not tell people what to do or think, the government is already doing a good job with it.
"It's about freedom of choice, I think people should have the right to think for themselves."
The BBC has contacted the government for an answer.
On Friday, another music star, Ian Brown, released a new track that seemed to question the motives for a lockdown, and in fact a vaccine.
Little Seed Big Tree contains lyrics about a "fake vaccine" and a "plan to chip us all in, to have complete control".
The track arrives just weeks after the Stone Roses singer caused a stir on social media by tweeting: "No locking, no tests, no tracks, no masks, no wax."
After doubling his comments online on Thursday night, another Mancunian singer Liam Gallagher – who quotes Brown as one of his heroes – responded with a simple; "Ian. Shut up x"
Gallagher's older brother Noel this week said in a podcast that he also refuses to wear a "meaningless" mask, despite British restrictions.
Follow us on Facebookor on Twitter @BBCNewsEnts. If you have a storytelling email entertainment.news@bbc.co.uk.