Player Natus Vincere by CS: GO Alexander s1mple Kostylev won the OMEN Challenge 2019 and earned $ 30,000. In the tournament finals, Ukrainian sportsman defeated Nathan NBK Schmitt The point is 18:17.
Eight players performed at the championship. In the first stage of the competition, e-athletes in Deathmatch mode struggled to sow in the playoffs and in the second stage they played one on one match. The quarterfinals and third place meet held up to 15 wins, the semi-finals – up to 25, and the decisive confrontation was held in the best-of-35 format.
The OMEN Challenge 201
9 was held in London on September 20. The prize pool for the championship was $ 50 thousand.
Distribution of Prize Fund for Top 4:
1st Place: Alexander s1mple Kostylev – $ 30,000;
2nd place: Nathan NBK Schmitt – $ 12,500;
3rd place: Howard rain Nygard – $ 7,500;
4th place: Nikolai unit Ridtz – $ 1,000.
Playoff Grid: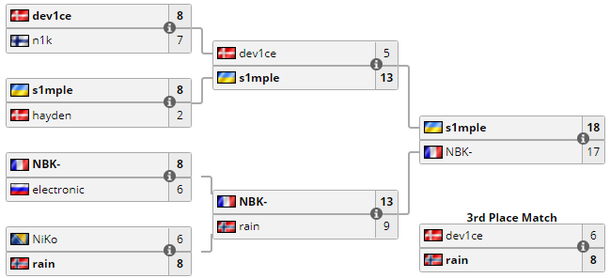 Source link