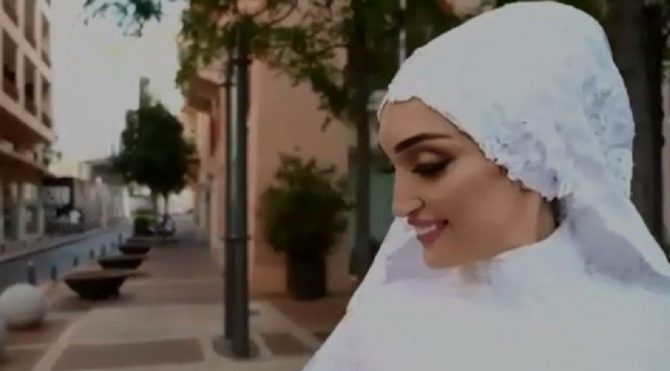 While the explosion of 2,750 tonnes of ammonium nitrate in the port area of ​​Beirut, the capital of Lebanon, caused concern in international public opinion, new images taken during the explosion also appeared.
The news agency Reuters reported to the international public that the 29-year-old Lebanese bride Israa Seblani, who was recently married, experienced the explosion when wedding photos and videos were taken. Seblani is on camera in a white wedding dress in the pictures in the harbor area without realizing what happened to the explosion.
Seblani, who was surprised by what was hit by a large cloud of noise and dust, and the photographer̵
7;s health was announced. Seblani, who went to the region the day after the events, spoke with 34-year-old businessman Ahmed Subeih. Seblani said: "I have been preparing for my wedding for two weeks and I was very happy and excited like everyone who got married. I was so happy that my parents would see me as a bride, I would be like a princess. But at that time, the explosion broke out. There are no words to describe this. I was shocked. I was trying to realize what was happening, would I die? How would I die? "
Seblani said that his wife, photographer and himself are very happy because of their good health. "Even this situation gives me the opportunity to celebrate. I smile but that's just it. Otherwise I am very sad, very sad, "he said.