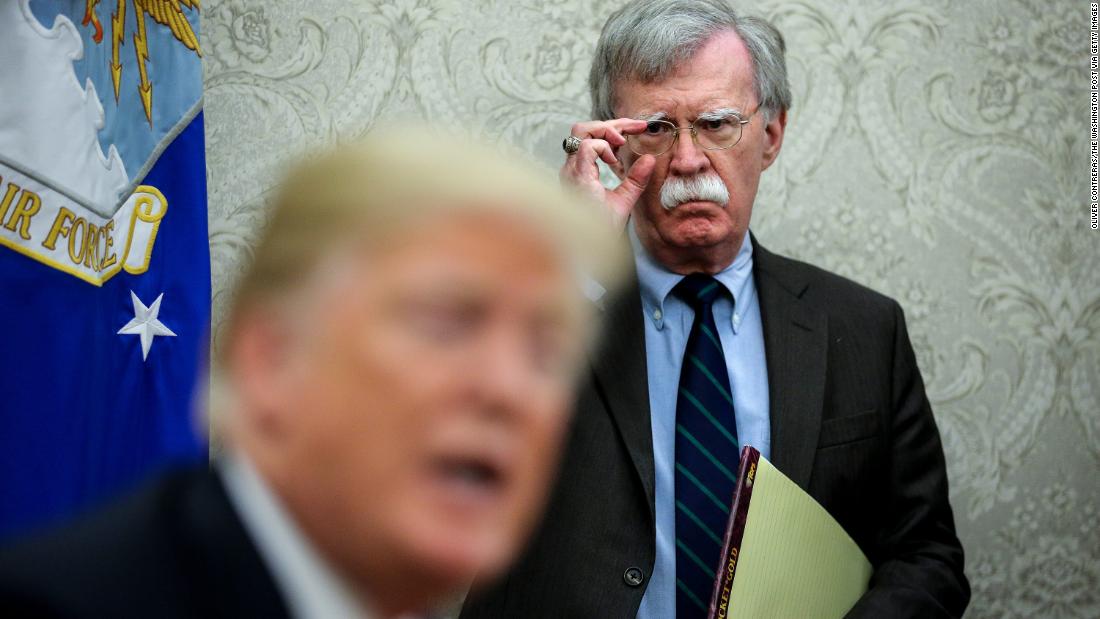 Not this week, but in November 2002, when he was state secretary, not national security adviser. And not about Iran, or Venezuela or North Korea; but about Iraq.
Seventeen and a half years on, and the Trump administration still deals with the fallout of George W. Bush's task of removing Saddam Hussein. And they still handle it and most other ongoing crises, with a familiar casting of people. The main difference: President Donald Trump has not made his position "clearly clear" and has instead left foreign policy to be loathed by a handful of career republican hawks.
It has been an astonishing week where the Trump administration seemed to want to rush through what it took the Bush administration to do over Iraq over two years. Intelligence leaked, and then played by a leading, allied British officer who suggested Iran was a messenger in a threatening way. The New York Times leaked out of plans to send 1
20,000 troops to the region, which Trump himself both dismissed as "false news" and essentially confirmed by saying if they were to send troops would they send much more. 19659002] Come Thursday, and according to people who are familiar with the matter, Trump is frustrated with his hawkish counselor's March against war on Iran. In fact, Wall Street Journal officials report that Iran may have been defensively defensive by missile missiles, as it itself feared an American attack.
Recently, intelligence has shown that some Iranian boats claiming the US carry missiles have returned to the port and have released some of the missiles, according to two US officials familiar with the latest information. The officials said it is not clear whether the missiles have been stored to keep them hidden from the United States or to give a signal of de-escalation.
We have come in full circle but with Washington's attention so violently short now, that it is possible to dispute intelligence, debate war plans, threaten a full-scale conflict and then return the whole idea, just inside a work week.
Generous analysts may notice a consequence of Nixon's so-called "Madman theory," where the American president, 1969-1974, wanted his North Vietnamese opponents to think he was unpredictable, "a little crazy" even and fearing his anger. If he seemed to know anything, Nixon's logic, his opponent would adopt a disproportionate, irrational response, without Nixon giving one.
As if to prove this hypothesis, Trump hesitated at the end of the week: "The Fake News Media damages our country with its fraudulent and very erroneous coverage of Iran. It is scattershot, poorly appreciated (edified) and DANGEROUS. At least Iran does not know what to think, which at this time may well be a good thing! "
Advisors with agendas
But this is different times, and Trump was not left with Vietnam to clean up . Instead, what is slowly emerging from Trump's inner circle is often a picture of a president whose counsel sees his changing moods as a chance to try to run his own agenda and hopes he will bring it. (Remember Michael Flynn put Iran "officially supervised", supports Jim Matti's support for short and focused bombing against the Syrian regime, and Rex Tillerson's short conviction that the United States should talk to North Korea "without preconditions"). The signs depart, and it is still unclear what the lasting political goal is or was. Not only in the Middle East, but also in South America.
"All options are on board," says John Bolton. This was actually 2003 about Iran, but this has been a common catchphrase for Venezuela this year. Bolton and Pompeo have led the charge here and replied Bush's conviction of neo-cons who hoped the world would bow to the order they wanted to impose: that they had to bid something where and then just see it happen. It didn't work then – they had to invade Iraq and occupy it to even find Saddam – and it hasn't worked so far in Caracas.
Their bid to remove President Nicolas Maduro – disappointed and vulnerable enough through his own economic misfortune and kleptocracy – relied on the fact that they declared another man's president, with their allies following their lead and hoping it would see Maduro on a plane to Cuba.
This may have initially appealed to Trump – both internationally and a simple victory and a voice-goer in Florida – but it has failed to work, repeatedly. And after Pompeo's clearer suggestion that the US could invade, the White House has begun to inform that Trump was again dissatisfied with the march against war in Venezuela.
Again, the celebrity stone is familiar with Elliott Abrams, who helped the leadership of Iraq as Bush's Middle Eastern adviser at the NSC, leading Trump's effort. Back in 2002, a senior New York official told that when it came to Abrams, "any controversy that was previously in the past." Then they did not refer to their role in Bush's Middle East, but to Abram's conviction of the Iran-Contra affair.
Venezuela is Abram's third time. Behind 2003, when officials fed a glowing New Yorker profile of him, someone suggested that people from Abram's academic background usually see things in black and white before joining the government and realizing that it's more complicated. Yes, when Abrams returns to the week again from the academy it is even more complicated.
In early March, Abram's senators told him: "Maduro is back against the wall. Around him in every direction he has people who despise him – People are just waiting for the right moment to show him the door." After a failed bid to get the military's highest brass to turn to the opposition, he accepted fatigue on April 30, "it seems they are not moving forward today."
Hot but no review
Again, the goal is far away from the road but the rhetoric turbocharged enough to hope to reach it. There is no presidential follow-up. With Iran, Venezuela, even North Korea, where personal enchantments have not led anywhere so far, a glow of activity and threats surely nowhere good, if not at all.
The same clicks of neocons may have known that they have a glowing opportunity to achieve goals that they have had for decades, by introducing a foreign policy to a president who prefers to have none. They lean forward, and for a week like this you can really feel it is 2002 again, and the story always repeats more like a tragedy than farce. But then, the true nature of the drum presidency – forged on isolation, emerges at the end of war on places that his base does not understand or care about.
However, there is a lasting sequence of the empty bombast. It builds on an image – hatched in the Obama era when Iraq and Afghanistan's eternal war made hyperpower hankies for a break – by a tired and bankrupt US that prefers to let others take the front seat.
Trump wants to act "big," but instinctively does not follow through. The risk of the current, weary world order is that US opponents see this flurge – perhaps correctly – as persistent weakness, and act to fill the vacuum, rejection of American rhetoric, which is repeatedly hollow.
CNN's Barbara Starr contributed to this report.
Source link