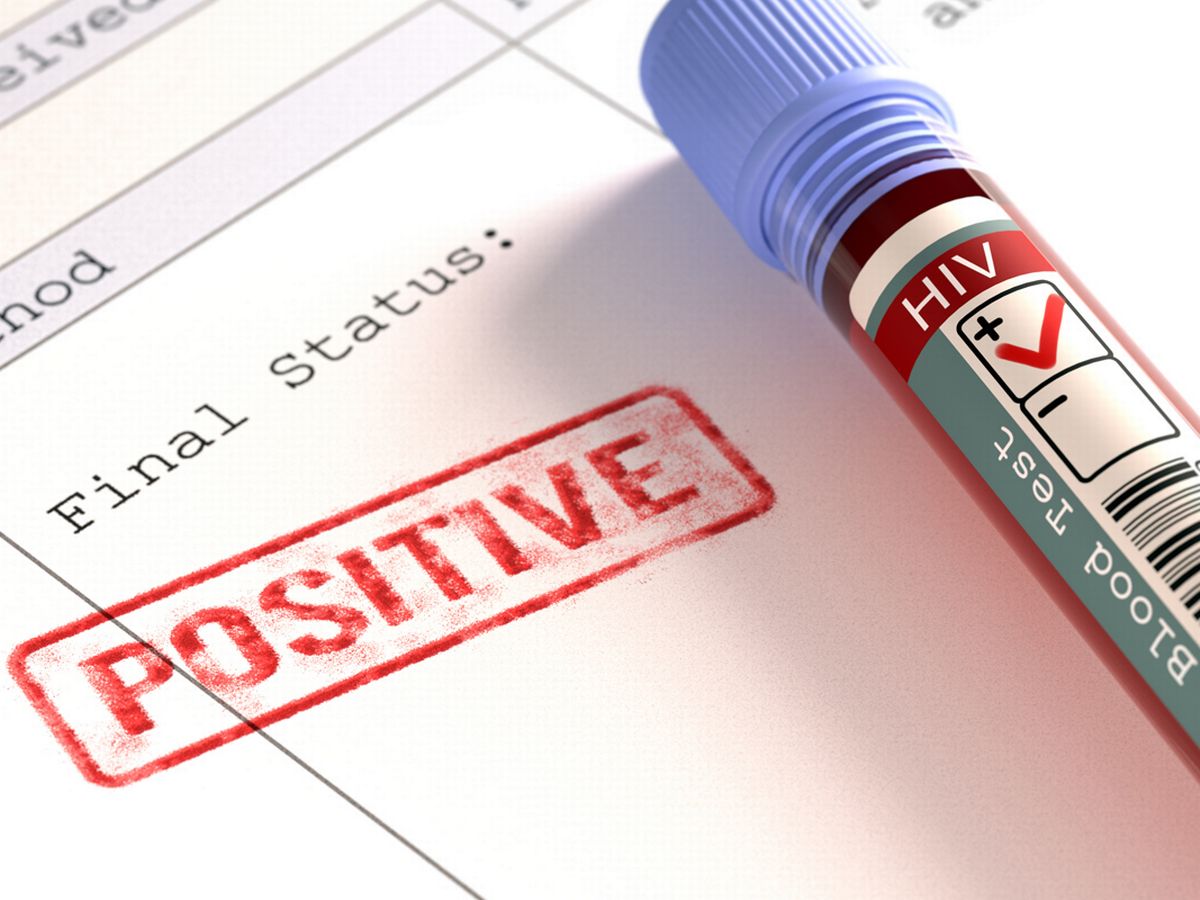 Thai AIDS Situation 2018, the Department of Disease Control assesses 17 new HIV-infected people per day and hopes to "PrEP" or "Prevent HIV before being exposed to the drug" Take Prevention Under Risky Behavior If Service Is Fully Expanded Together To Implement speed control treatment in all population groups Thailand will end the global AIDS problem by 2030. Source: The Mirror
In 2018, Thailand has been infected. HIV an average of 1

7 people per day
The Department of Disease Control uses the mathematical model Spectrum-AEM. It is expected that around 6,400 new HIV-infected people in Thailand will average 17 people per day. 18,000 people die from AIDS every day, an average of 49 people per day, and about 480,000 people live with HIV. According to the National Health Security Agency 2018, living people are diagnosed. Or know about the status of being infected with 451,384 people. Therefore, it is estimated that another 28,000 people are still infected with HIV. And still not receiving treatment The most important thing is to be able to transmit the infection to others without knowing it. [1] Bangkok Stated that the situation for Bangkok's main diseases is AIDS, tuberculosis, sexually transmitted diseases and drugs. In 2018, 77,716 people are expected to have a new HIV infection of 2,078. The average infection is about 6 people per day and more than 70 percent are infected by unprotected sex, especially the youth group. Other sexually transmitted diseases are also increasing, especially syphilis. In 2014, the incidence increased from 4.4 per hundred thousand inhabitants to 23.8 per hundred thousand inhabitants in 2018, the highest among young people aged 15-24. [2] [3]
Annual report for health In 2020, the indication of HIV / AIDS has improved but still has problems with discrimination
data from Thai health report 2019 states that the situation for HIV and AIDS in Thailand has improved. As well as access to antiretroviral therapy But the problem of attitude and discrimination against the infected person is still very likely for TB patients Speed ​​up, find and promote access to standardized and continuous treatment Preventing the spread of infection and drug resistance is still an important mission in Thailand.
The cumulative HIV infection in Thailand reached a maximum of 6.8 hundred thousand people about 20 years ago, the result of intensive operations in the country. To Prevent Infection Support Care and Promotion of Access to Antiretroviral Drugs Make Present The number of people infected with the disease has decreased to about 500,000, of which about 3 out of 4 are antiretroviral. New infections are estimated at approximately 5,000 people per year, which is expected to continue to decrease continuously. However, the risk of infection in key populations must still be monitored. And the problem of discrimination against people with HIV and AIDS. According to a survey of 6 indicators for the United Nations AIDS Program (UNAIDS), more than half of Thais still have a stance that can lead to discrimination. More than 1 million people are infected in Thailand in 35 years. About 600,000 have died.
During the month of July 2019, the Royal College of Internal Medicine of Thailand and the AIDS Society And related agencies that have announced the development of HIV treatment at present, says prof. Dr. Somchai Iam Ong, President of the Royal College of Internal Medicine, Thailand. There are currently good signs that the spread of AIDS cases across the country has decreased. Therefore, the Royal College of Internal Medicine Collaborates with AIDS Society of Thailand, Department of Disease Control, Siriraj Hospital Medical Faculty and Thai Red Cross AIDS Research Center revealed "Current advances in HIV treatment" in AIDS and progression of treatment Standard of care HIV Patients Including Standards and Advances in the Prevention of Mother-Child HIV Infection in Thailand
Assoc. Professor Dr. Winai Rattanasuwan, chair of the AIDS Society of Thailand said about the AIDS situation and how the treatment is progressing Worldwide, there have been 77.3 million people living with HIV since the last outbreak, and 35.4 million have died since the outbreak and 36.9 million people still living in HIV in During 2017 and 1.8 million new HIV patients in 2017, in Thailand There are more than 1 million people infected in 35 years and about 600,000 people have died. Since the outbreak and about 600,000 people infected with HIV living in 2017 (about 2% of the world) and about 6,000 new people an average of 17 people per day (about 0.3% of the world)
The development of HIV treatment started 1981-1995 without effective antiretroviral drugs. Can only treat infectious diseases Short-term infected person, later 1995 until now Have effective antiretroviral treatment The patient returned to normal immunity. Strong, can work normally For the prognosis of HIV-infected people before your antiretroviral drugs. Patients who start to have complications The condition is not the same as the last stage of cancer, but since 1995, HIV-infected people live longer than normal people. About the diagnosis Proper treatment And the patient behaves By taking medication, medication completely on time, and not getting new infection
Thailand reduced the infection from mother to child less than 2% to become the 2nd next target world, reduced to 1% In 2020
prof. Dr. Kulkanya Chokephaibulkit Medical specialist The medical faculty of Siriraj Hospital, said on June 8, 2016, Thailand has been certified by the World Health Organization. It can achieve the goal of eliminating HIV infection in infants is less than 2% of the infection from mother to child. It is considered the second country in the world and the next goal is to reduce to 1% by 2020. Therefore, prevention of infection from mother to child must do four main things: 1. Prevention of female infection. Which requires many different methods, it is important to try to diagnose the infected person And give treatment as soon as possible In order not to spread the infection with their partner And monogam, without many sexual partners 2. Prevent an infected woman from getting pregnant without planning in advance infection test for both husband and wife before becoming pregnant If you find infected with HIV you can safely have children. By having proper pregnancy planning If it is found that the man is one-sided, but the woman is not infected Can plan a pregnancy safely from being infected
3. Prevention of infection from mother to child HIV testing is required in every pregnant woman as soon as possible. If you find pregnant women infected with HIV Must give antiretroviral drugs as soon as possible so as not to spread the infection to the fetus And must take medication consistently during pregnancy As the infection to the child may occur during pregnancy Especially during pregnancy and childbirth The doctor will provide additional medication and preventative medication in the child after birth. In addition, the child must strictly refrain from breast milk. Because the infection can pass through milk If it is complete Infants are less than 1% less likely to be infected compared to providing protection at all. Infants are up to 25% more likely to be infected if they are not given ARV during pregnancy. Or in case the stomach is not disposed of at all There will be an urgent HIV test in the delivery room. And if the blood positive result is given medication during childbirth Which may not be as effective as giving from the pregnancy period, it is important that the man comes for a blood test To be treated if it turns out to be infected Not to spread the infection to Especially in cases where the pregnant woman is not yet infected but her husband is alone And pregnant women can prevent infection by taking prepr (PrEP) and blood tests. Screening diseases transmitted from parents to children will also be screened, such as hepatitis B, syphilis, thalassia. Wife and 4. Care of the mother and the family after childbirth Mothers should be constantly monitored for good health. And must also have a baby and husband monitor Including proper family planning
But the problem now is that the mother does not go early at the clinic. Does not bring her husband for examination Causes not knowing that there is a risk of being infected Therefore, the emphasis is on avoiding pregnancy while it is not ready. Or plan not to come soon Take the couple for a screening while participating in childbirth If you find infected, do not panic Rushing to take medicine regularly And bring the child for a post-natal examination Together with taking medicine to treat yourself and your husband continuously after you give birth And plan the family appropriately If everything can be completed completely Infants are safe and not infected. And the family will be healthy and happy.
The consequence of HIV treatment prior to complete immunity to HIV is to detect antigen / antibody to HIV in the usual manner. Still negative or unable to draw conclusions And only one test will be used to check Is a viral load test that gives a clear positive result during an acute infection phase. When the person who has the positive test results and has started antiretroviral drug HIV early in the acute infection phase Can cause a decrease in the immune system's HIV level And gets positive antigen / antibody test to become negative HIV antiretroviral drug reduces the amount of virus that cannot be measured in the blood. [5]
hoping to expand the service Fully "PrEP" Thailand will end AIDS in the world by the end of the year. 2030
"PrEP" (PrEP or pre-exposure prophylaxis) is to prevent HIV before the infection is affected. Is a combination of two antiretroviral drugs, namely & # 39; Tenofovir & # 39; and & # 39; Emtricitabine & # 39; when given to people at risk of being infected in advance The drug will be collected in the tissue that is the entrance to HIV. When infected, it will be destroyed and therefore not infected. | Source illustration: YourekaScience
Data from the Thai Red Cross AIDS Research Center says "PrEP" (PrEP or Pre-exposure prophylaxis) is a direct translation of prevention. HIV before exposure to infection Is a combination of two antiretroviral drugs, namely & # 39; Tenofovir & # 39; and & # 39; Emtricitabine & # 39; when given to people at risk of being infected in advance The drug will be collected in the tissue that is the entrance to HIV. When the infection comes in, it will be destroyed and therefore not infected. The study's results show that Prep is effective in preventing sexually transmitted infections. Whether He or Man Is Or Female And Male Nearly One Percent By Eating One Day Every Day Under Risky Behavior But For Men Who Have Sex With Men You Can Eat When You Have Risky Behavior. Take 2 pills at the same time, 2-24 hours before you risk, followed by one tablet per day for 2 days after the last risk behavior
. Therefore, an option to prevent Who can replace or supplement with other options to prevent infection, such as not being able to use condoms every time with the principles of early detection – prompt treatment Should stop the spread of AIDS If detected, you should start treatment with ARV immediately After taking the drug for only 6 months, the amount of infection in the blood drops to the level of undetectable or "undetectable" by developing prep services in Thailand. Most recently, in January 2016, the Princess PrEP project began to honor His Majesty King Bhumibol Adulyadej on the occasion of the 5-year anniversary of His Majesty King Bhumibol Adulyadej, with funds converted from the Mother-to-Child Reduction Fund. When you buy a free pre-paid drug for a man who has sex with a man And transsexual women who will receive services from community organizations Performance from early June 2019, there are 7,260 Thai prepaid, more than 55% of Thais receiving all prep Received a free reprint from the project through 3,990 community organizations
. The success of the project led to the National Health Security Office (NHSO) packing a set of benefits for people. Every Thai, all rights, is the first country in Asia since January 1, 2020 in 21 provinces, 52 hospitals and 7 community organizations with a quota of 2000 service recipients. In what things must continue To publish the main groups to know about their own risks properly and the public. Should understand that prep is a way to care Similar to other health products People who use it should be considered by society. Instead of stigma or insult In the first phase, the budget is still limited. Larger populations speeding up the service, for example, men having sex with men and trans people Then, the group of drug addicts by injection Call girl group Sexual partner to an infected person with various blood effects Prisoners with risky behavior in prison
หวัง ว่า ประเทศไทย มี การ เพ เพ เพ เต็ม เต็ม ร่วม ร่วม ร่วม ร่วม รักษา เร็ว รักษา เร็ว ประชากร ประชากร ประชากร ประชากร ประชากร หลัง หลัง หลัง พ พ พ พ พ พ พ พ พ พ. . 2573 (20. 20. 2030) [6]
เริ่ม สิทธิ ยา & # 39; PrEP & # 39; ป้องกัน HIV 1 ม.ค. 2563 สูง ใน กลุ่ม เสี่ยง สูง 2 พัน ราย 51 บริการ บริการ
และ เมื่อ ช่วง ปลาย เดือน ต.ค. 2562 ที่ ผ่าน นพ รัฐ รัฐ เตรียม วิชา นนท์ ช่วย ช่วย ชาติ ชาติ ชาติ ชาติ ส ส ส ส)) หัวข้อ หัวข้อ นโยบาย นโยบาย นโยบาย นโยบาย นโยบาย ประโยชน์ ทางการ ยา ป้องกัน ป้องกัน ป้องกัน ป้องกัน เชื้อ ช ใน ใน ใน ใน ใน ใน ใน Pr ความ หน้า Pr Pr Pr Pr Pr Pr Pr Pr Pr Pr (PrEP) ใน ใน เพื่อ พระ เกียรติ เกียรติ Pr Pr พระองค์เจ้า วลี หมื่น กรม หมื่น หมื่น Pr Pr Pr Pr Pr รับ Pr Pr รับ Pr Pr NA ถวาย ตำแหน่ง UNAIDS Goodwill Ambassador for HIV Prevention for Asia-Pacific ที่ วัน ที่ 28 ต.ค. 2562 ที่ ผ่าน มา ว่า ที่ ประชุม บอร์ด ส ป ส ช. ที่ มติ เมื่อ วัน ที่ 5 ย.ย. 2562 เห็น ชอบ ปรับปรุง สิทธิ การ ป้องกัน สัมผัส สัมผัส สัมผัส Pre Pre Pre Pre Pre Pre Pre Pre Pre Pre Pre Pre Pre (Pre-Exposure Prophylaxis หรือ PrEP) จำนวน เบื้องต้น ให้ ใน เสี่ยง เสี่ยง ที่ จะ ติด เชื้อ ช จำนวน ,000 ,000 ,000 ,000 ,000 ,000 ,000 ว่า ว่า ว่า ที่ 1 ม.ค. 2563 ที่ จะ ถึง หน่วย บริการ 1965 1965 1965 1965 1965 1965 1965 1965 1965
รัฐ พล พล กล่าว การ เพิ่ม สิทธิ นี้ คณะ คณะ กรรมการ โดย โดย โดย โดย โดย โดย โดย โดย โดย โดย โดย โดย โดย แค่ นำร่อง แค่ 2,000 และ มี มี เงื่อนไข ว่า มี การ ผล เพื่อ เพื่อ เพื่อ เป้าหมาย เป้าหมาย เป้าหมาย เป้าหมาย เป้าหมาย เป้าหมาย เป้าหมาย เป้าหมาย เป้าหมาย เป้าหมาย ต้อง 2. ต้อง ทำ เป้าหมาย รณรงค์ พฤติกรรม และ มี มี การ สนับสนุน ใช้ ยาง ยาง กว้างขวาง กว้างขวาง กว้างขวาง ข้อ จะ จะ จะ จะ จะ หรือ หรือ หรือ ปัญหา หรือ กลุ่ม กลุ่ม กลุ่ม ขึ้น ขึ้น ขึ้น ขึ้น ขึ้น ขึ้น ขึ้น เช่น เช่น เช่น มี มี มี ของ รู้สึก รู้สึก ของ รู้สึก และ อาจ รู้สึก ว่า ทำ อะไร และ และ และ และ และ 3. ต้อง มี การ สร้าง ความ 1965 1965 1965 1965 1965 1965 1965 1965 1965 1965 1965 1965 1965 1965 1965 1965 1965 1965 1965 1965 1965 1965 1965 1965 1965 1965 1965 1965 1965 1965 ประมาณ ญ่ ๆ เรื่อง ประมาณ ประมาณ ประมาณ ประมาณ ประมาณ ประมาณ ประมาณ ประมาณ ประมาณ ประมาณ ประมาณ ประมาณ ประมาณ 100 ล้าน ชิ้น ส ป ช ประมาณ ประมาณ ประมาณ ประมาณ–30-40 40 มี อีก ยาง ที่ อีก อีก อีก อีก ล้าน 70 ชิ้น แต่ ประมาณ ประมาณ ประมาณ ประมาณ ล้าน ล้าน ล้าน ประมาณ ประมาณ ประมาณ ประมาณ ประมาณ ประมาณ ประมาณ และ และ และ และ และ รวม รวม รวม รวม ต้อ ต้อ ต้อ ต้อ ต้อ ต้อ ต้อ เพราะ เมื่อ ที่ ประกาศ ว่า พ พ เป็น ทั้ง ทั้ง ทั้ง ทั้ง ทั้ง ทั้ง ทั้ง ทั้ง ทั้ง ทั้ง ทั้ง ทั้ง ทั้ง ทั้ง ทั้ง ทั้ง ทั้ง 45 ทั้ง งบประมาณ ไม่ ไม่ เพียงพอ แต่ แต่ ที่ ที่ ที่ ทั้ง ทั้ง ทั้ง ทั้ง ทั้ง ทั้ง ระวัง 1.5 คน ควร เข้าถึง เพ และ และ และ ระบบ ติดตาม เข้มแข็ง เข้มแข็ง นพ นพ นพ 1965 1965 1965 1965 1965 1965 1965
นพ รัฐ พล ระบุ ว่า สำหรับ สิทธิ การ ป้องกัน ป้องกัน สัมผัส สัมผัส Of จะ ประกอบด้วย 1. ยา Tenofovir และ Emtricitabine 2.Initial PrEP Counseling and Education 1 ครั้ง / ปี 3.Additional HIV test 4 ครั้ง / ปี 4.Creatinine 2 ครั้ง / ปี 5.HBs profile (Ag) 1 ครั้ง / ปี 6. การ สัมพันธ์ หา โรค ติดต่อ ทาง สัมพันธ์ 2 ครั้ง / ปี 7.Pregnancy test for women 1 ครั้ง / ปี 8. Maint enance support (counseling) 5 ครั้ง / ปี และ 9. ถุง ยาง อนามัย ซึ่ง อยู่ ระหว่าง แจก อย่างไร ให้ เหมาะสม กับ กลุ่ม แต่ละ กลุ่ม สำหรับ หน่วย หน่วย ปี นำร่อง ปี ปี ปี ปี 63 63 63 63 63 63 63 63 63 63 63 2563 โดย โดย โดย อง โรค เอดส์ และ โรค ติดต่อ ทาง เพศ สัมพันธ์ กรม ควบคุม โรค จำนวน 51 แห่ง ใน 21 จังหวัด โดย หลักเกณฑ์ คือ ต้อง เป็น หน่วย บริการ ใน ระบบ ของ ส ป ส ช. ต้อง เป็น หน่วย ที่ เคย เพ เพ เพ มี ใน ใน ใน ใน ช ช ช ช ช ช ช ช ช จะ เป็น เป็น เป็น เป็น Pr Pr Pr Pr Pr Pr เป็น Pr เป็น Daily PrE 63 และ จะ ลง ปีงบประมาณ ปีงบประมาณ ปีงบประมาณ ปีงบประมาณ 63 63 63 63 63 63 63 63 2563 หรือ จำเป็น ต้อง เพิ่ม 1965 1965 1965 1965 1965 1965 1965 1965 1965 1965 1965 1965 1965 1965 1965 1965 1965 1965 1965 1965 1965 1965 1965 1965 1965 1965 1965 1965 1965 1965 ำ เรื่อง ให้ ความ ความ ได้ ได้ ได้ ร็ ยาก ยาก ยาก ยาก ยาก บ้าง บ้าง บ้าง ไป บ้าง ว่าง ว่าง ว่าง เรา เรา เรา เรา เรา เรา เรา เสี่ยง เสี่ยง เสี่ยง ซึ่ง ซึ่ง ซึ่ง เพื่อ บริการ บริการ เพื่อ บริการ ว่า ได้ ว่า ว่า ,000 2,000 ,000 มา เกิน แบบ นี้ ช่อง ช่อง ว่าง ว่าง ว่าง ย้าย ย้าย ย้าย ย้าย ที่ ของ หน่วย หน่วย หน่วย หน่วย หน่วย กัน ท ท ท ท ั้ ง นี้ ความ ความ การ การ ออกแบบ ทั้ง วิจัย วิจัย วิจัย ,000 เป้าหมาย ,000 ,000 เป้าหมาย เป้าหมาย เป้าหมาย เป้าหมาย เป้าหมาย เป้าหมาย เป้าหมาย เป้าหมาย เป้าหมาย เป้าหมาย ,000 เป้าหมาย ,000 ,000 ,000 ,000 ,000 ,000 ,000 ,000 ,000 ,000 ,000 ,000 ไม่ แต่ เรา ค่อนข้าง มั่นใจ ว่า ทำได้ ทำได้ นพ นพ "รัฐ พล กล่าว [7]
ข้อมูล อ้างอิง
[1] ปี 61 ไทย มี ติด เชื้อ เอ ช วี ใหม่ วัน ละ ละ คน คน 17 คน (Hfocus, 1 ค.ค. 2562)
[2] พบ วัยรุ่น ติด เอดส์ ยอด พบ พบ พบ 70% ผู้ ติด เชื้อ ไม่ ได้ "ป้องกัน" (กรม สุขภาพ จิต, 26 25 26 2562)
[3] สน อ ประเมิน รู้ เอดส์ ใน เยาวชน (หนังสือพิมพ์ แนวหน้า , 24 Feb. 2562)
[4] 2562: สื่อ สังคม สื่อ สอง คม สุข ภาวะ คน ไทย 25 โซ ล ล สถาบันวิจัย สถาบันวิจัย (2562)
[5] เปิด ความ ก้าวหน้า การ HIV ใน ปัจจุบัน (สำนัก ข่าว ไทย, 19 25 2562)
[6] ตั้ง ความ หวัง ขยาย บริการ & # 39; เพ ร็ พ & # 39; 73 รูป แบบ ไทย จะ ยุติ ปี ปี ปี 73 73 73 73 2573 (หนังสือพิมพ์ หนังสือพิมพ์ นิ ว ส์, 1 25. 2562)
[7] ส ป ส ช. ม 1 ม.ค. 63 ยา ให้ บริการ ยา PrEP ป้องกัน การ ติด เชื้อ ช H H H H H H H H H H H H H H H H H H H H H H H H H H H H H H H H H H H H H H H H H 1965 19659042] TCIJ ออนไลน์ แฟน แฟน แฟน เฟส บุ๊ค บุ๊ค

www.facebook.com/tcijthai
ป้าย คำ