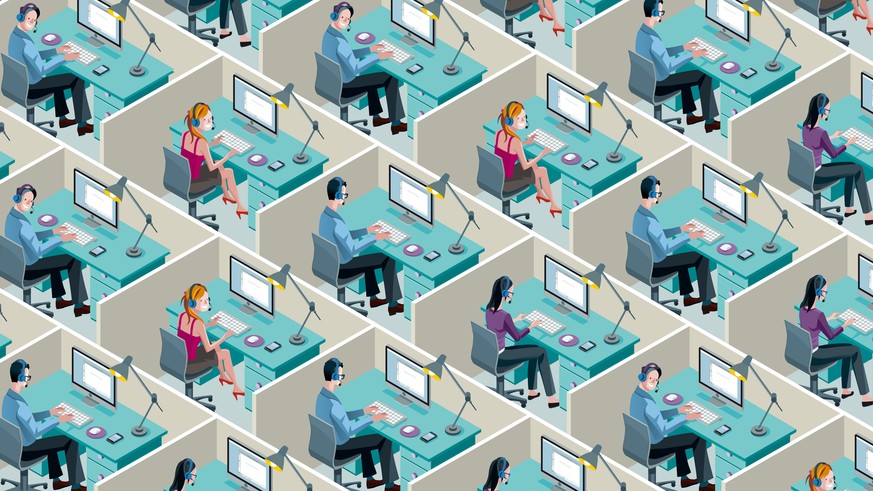 No more "Handshake Ziit?": Ringcentrales slow death
Phone surveys are a nuisance to many but are still considered in the industry
The gold standard. In times of online studies and large data, the question arises: Are they still worthwhile?
There are situations that people prefer to avoid. Telephone conversations with market research institutes belong to this category. Certainly you keep upset, maybe even spontaneously, but think secretly: Have I just let it ring.
This immediately reveals the essence of the problem that market researchers have always struggled with, but which has been accentuated in recent years: the people's general aversion to participating in surveys.
"Do you want time? For a few questions?": Phone calls from call centers are increasingly being replaced by online surveys. Image: KEYSTONE
In principle, it can be observed that the fields plowed through classic market research will be The proportion of people who can be accessed via the fixed network is still only 50 percent
In addition, the number of people registered in public directories, and in particular, younger people is passing a fixed telephone line.
Generally, the villa is participating in surveys on the mobile phone even lower than in the fixed network.
Orders drop rapidly
The Swiss research institutes complain that less and less are willing to participate in surveys, sometimes the response rate falls below ten percent. Critics complain that with such low participation, one can no longer speak of a representative In the selection of the population, the first classic market research has recently begun to adapt to the new reality.
Wait, there was something …
Video: watson / Emily Engkent
In October 201
7, GfK Switzerland closed its telephone laboratory in Hergiswil NW. Since then, the largest market research institute in Switzerland no longer has its own call center.
Department leader Ludovit Szabo motivated the step with rapidly staggering orders. In addition, more and more customers wanted to switch to online surveys. This would mean that "telephone interviews would no longer be profitable".
Other market researchers took less drastic measures, but reoriented themselves. The Lucerne-based Link Institute, for example, announced its 2021 strategy two years ago to transform the company into a "European provider of scalable digital services".
Observers believe that this is only a question of what the market research is expected in the next few years. The pressure on the institutes has increased strongly, also because of the discussions about real-time surveys using large data, says Andreas Woppmann, who teaches market research methods at the University of Vienna.
Customers always wanted faster results. "Many market researchers may regret this, but it is doubtful that this wheel will reverse and that the institutions will again get more time and money for quality assurance in the future."
Institutions are facing dilemma
An expression of rapid change is the growing success of so-called open online surveys, such as the publisher Tamedia on their news portals.
Open here means that the respondents are not part of a regular online study, but that in principle everyone who visits the Tamedia pages can participate. The strength of these surveys mainly comprises the large number of participants, which generally vary between 10,000 and 30,000.
However, weaknesses occur in the form of distortions in population mapping, which cannot always be corrected by subsequent weighting, as well as possible influence from specific interest groups, such as voice committees. For Lucas Leemann, co-leader of the company LeeWas, who performs the Tamedia surveys, it is clear: "The telephone laboratories should disappear soon, also because online surveys are getting better."
The growing pressure from the customer side introduces a dilemma to most established institutions. While the phone is becoming less and less attractive as an electoral meeting, it is still considered in some areas, especially in political subjects, as a methodological gold standard.
"The quality of a survey depends on the composition of the target group or how well it reflects the population. In many cases, the various sections of the population can still best be covered by telephone," said Susan Shaw, President of the Swiss Market and Social Research (VSMS).
The direction is given
Lukas Golder, Co-director of GfS Bern, illustrates this in a survey by the well-known American statistician Nate Silver: According to Silver, all the 20 best polling institutions in the US work exclusively with telephone surveys. On the other hand, according to Golder, all tests with online surveys show significant problems in mapping the opinion and effects of mobilization.
Industry colleagues agree with politicians. "There is a trend towards more and more entertainment market research and less and less serious market research," said Roland Huber, head of the Adligenswil Institute Demoscope. "Those who prefer to argue with opinions rather than facts are looking for confirmation where it is simpler, cheaper, faster. Often the quantity is confused with quality."
Customer's side is clear: online surveys are in demand, not just because of Higher participation, but also because of the lower costs. In addition, the industry faces new challenges in the form of Big Data and Artificial Intelligence. So far, only little disturbing potential is recognizable, "says Golder of GfS Bern.
But it can change soon. In any case, for VSMS President Shaw, the future is merging aggregate data (mainly online surveys) and existing data (user data on the Internet), the phone will likely play at least a minor role in this future – to the established institutions' dissatisfaction. (bzbasel.ch)
You may also be interested in:
Subscribe to our newsletter