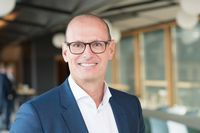 The Swiss Namics Group has a positive balance sheet for the 2017 fiscal year. The company generated a turnover of FRF 67 million (2016: 67 million) – the highest turnover in the company's history since its inception in 1995. The Digital Agency reiterates its success The expansion of customer relationships and highlights here Migros, who has been a customer for ten years now.
In addition, Namics has been able to get further large new customers, which not only include B2B companies in automotive, material and fasteners, but also customers from the finance, insurance and food industry as well as from the plumbing and jewelry sectors.
Bernd Schopp, CEO and Partner at Namics, is pleased with the result: "Despite the major challenges, such as the strength of the Swiss franc, we booked stable sales figures from 201
4 to 2016. Last year we could do better again I am very happy with this successful year, and I would like to thank our employees for their daily work and our customers' commitment and joy, and with this enthusiasm we can now make further growth and expansion of full service capacity. "
For 2018, Namics wants to accelerate the growth of its staff in Germany and Serbia, especially in Belgrade, where the IT team is expanding. On the other hand, the full-service function should be expanded by Namics wanting to focus more on the long-term and comprehensive support for the digital marketing of its customers.
(RPG)