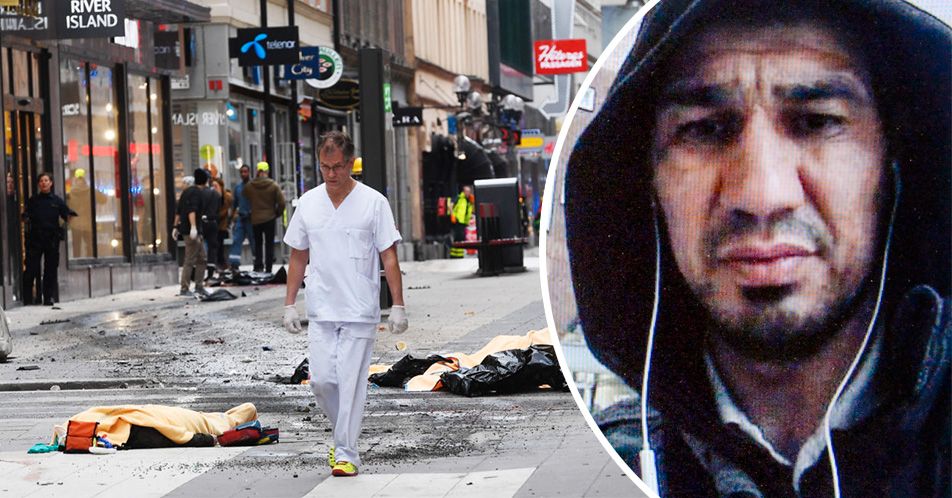 With a truck as a weapon, Rakhmat Akilov murdered 40, five innocent people, and injured many more.
A few hours later, Akilov was arrested in Märsta, where he traveled by bus.
Today, the lonely terrorist was sentenced to the strictest punishment of the law.
He will also pay damages to over 100 people, as well as expelled on life.
Lena Wahlberg, 69, Marie Kide, 65, Maïlys Dereymaeker, 31, Chris Bevington, 41
, and Ebba Åkerlund, 11.
They were the people who came in the truck on Friday April 7, 2017 whose injuries became so extensive that their lives were not to be saved.
They were parents, siblings, spouses and children. They were deprived of their future, their relatives standing with a lifelong grief in front of themselves.
Those who survived, but were injured, got wounds – physical and mental, who never heal.
1 of 4 | Photo: ALLARD LASSE / AFTONBLADET
Rakhmat Akilov is transported to custody of the terrorist council.
Wanted to be a martyr
Terrorist Rakhmat Akilov has acknowledged that he was the one who drove the assassination that he intended to kill the people who came in his way on Drottninggatan in Stockholm.
He wanted to be a martyr. But he failed.
No terrorist organization has taken the deed, nobody wants to feel at Rakhmat Akilov.
Most likely, he is sentenced to life imprisonment today, and will earn the next decades behind locked doors.
1 of 3 | Judge Ragnar Palmkvist tells what the right has been.
He will be taken to the Kumla facility for judgment before deciding on his appointment. Much talks that he will end up in one of Sweden's three so-called Fenix ​​departments – space-proof and with very limited contact with other people.
It has been 14 months since Akilov stole the truck and dropped people on Drottninggatan.
A total of 155 people have been the defendants during the several months trial.
Judgment to life and expulsion
Today, Rakhmat Akilov was sentenced to life imprisonment.
"The District Court has come to the conclusion that Rakhmat Akilov is to be sentenced for terrorist offense on the one hand by five murders, partly by common destructive destruction. The District Court has further concluded that Rakhmat Akilov is to be convicted of attempted terrorist offenses through 119 attempted murder. Finally, the District Court has found that in 24 cases he has been guilty of developing another danger. The punishment for Rakhmat Akilov has been decided to life imprisonment. The District Court has also decided on expulsion of life, "says the court.
Undoubtedly justifies the imprisonment of life
The court writes that they have come to the sanction, inter alia, by looking at "the danger of the deed and the seriousness of the fearful consequence, that is, a large number of potential victims of death ".
"The danger of the act is doubtless very high," writes the right.
They state that the crimes "undoubtedly justify the imprisonment of life."
Environmental damage
Akilov will also pay millions of damages to more than 100 victims of crime.
The 119 persons exposed to attempted murder receive 125,000 kronor, and the nine persons who also suffered severe physical injuries receive 150,000.
The relatives of the death victim receive 150,000 kronor each. However, they are denied compensation for infringement.
In total, he will pay close to SEK 14 million in damages.
Akilov's lawyer Johan Eriksson told Akilov's reaction when the judgment was announced.
– He was disappointed that he sentenced to life imprisonment, says Defense Attorney Johan Eriksson.
Akilov then rode on Drottninggatan 00:34
► Life imprisonment is the Swedish law strictest punishment. The sentence is not time-stipulated, but may be at least 18 years old, which usually takes 12 years after the punishment card.
► The average punishment for the life sentence is 16 years behind the lock and boom. The one who deserves the most punishment is Leif Axmyr, the double murderer, who was released in 2016 after 34 years.
► In October 2017, 144 prisoners served life sentences in Sweden, of whom seven were women. All but one are convicted of murder (including help, attempt, instigation). One is convicted of genocide in Rwanda in 1994.
► Crime that can give life imprisonment is murder, gross spying, gross murder, gross general devastation, human wreckage, gross tampering, as well as maritime, aviation and airport abuses.
Source link