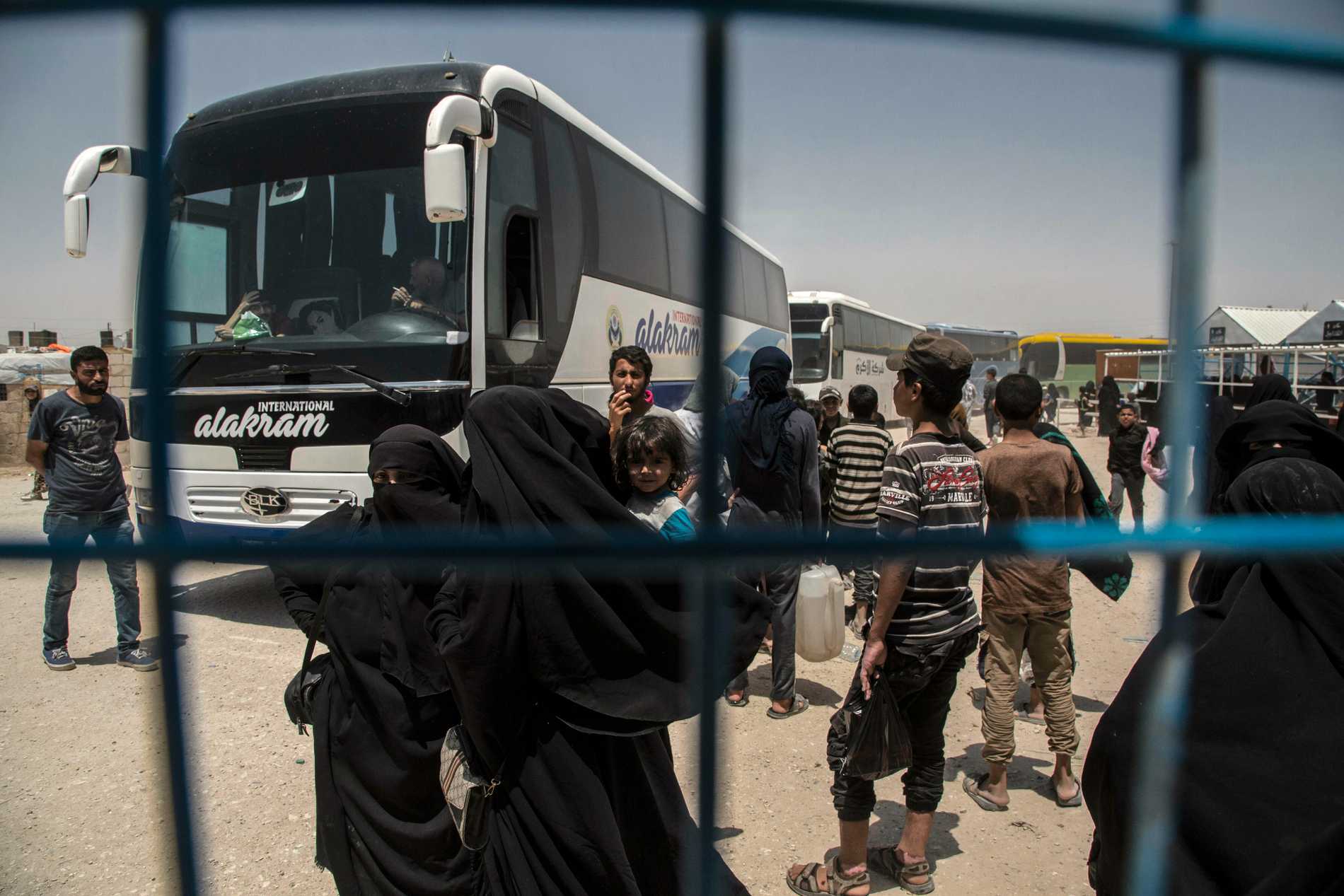 by TT
Photo: Baderkhan Ahmad / AP / TT
Turkey has begun the repatriation of captured IS warriors. In the photo the al-Hol prison camp in northern Syria. Stock Photography.
How many IS prisoners are these?
According to the state Turkish news agency Anatolia, deportations of three captured IS warriors – to the USA, Germany and Denmark – will be implemented on Monday. Another seven German IS fighters will be deported on Thursday, November 14, while preparations are underway to deport eleven French and two Irish IS fighters.
How many who will be deported in total is not known. Turkish President Recep Tayyip Erdogan said last week that there are a total of 1,201 IS prisoners in Turkish prisons, while a further 287 have been taken in Syria.
According to what the Swedish Foreign Ministry states for TT, there is no information on any Swedish citizens in those detention centers.
Why Turkey is doing this right now
– At the end of October, a couple of female IS sympathizers fled from al-Hol prison camp in northeastern Syria and went to Ankara where they sought protection at the Dutch embassy . They had dual citizenship, Moroccan and Dutch, but were denied entry to the embassy. Shortly thereafter, the Netherlands decided to take away one of these women from her citizenship. It was sharply criticized by Turkey's Interior Minister Süleyman Soylu and I believe it is the event that triggered this, says Paul Levin, director of the Department of Turkey Studies at Stockholm University.
– But the issue has been raised when Turkey, through its operation in northern Syria, arrived to take over a number of IS prisoners, including from prisons previously guarded by the Kurdish militia YPG. Now, Turkey has faced the same challenge that the Kurds previously faced, that they are facing a number of prisoners that Europe does not want to take back and who do not know what to do with.
How will this affect Turkey's relations with the EU? and NATO Countries?
– It is part of an ongoing deterioration of relations with EU states and many NATO member states. At the same time, the relationships are already so bad that I don't think this can hurt them further. One may also have opinions about Europe's way of shedding responsibility for the IS warriors. There, Turkey has the backing of US President Donald Trump who, after talks with Turkey's President Recep Tayyip Erdogan, said that Europe should receive its own, says Paul Levin.
Several European countries have withdrawn citizenship for IS members, Turkey may still carry out the deportations?
– There is no prohibition under international law. Turkey can justify it by having citizenship in the countries in question and legally belonging there, says Ove Bring, professor emeritus of international law at Stockholm University.
Pål Wrange, professor of international law at Stockholm University, also believes that argues for the Turkish line.
– A state has an obligation to receive its own citizens if they are, so to speak, driven to the border. If it concerns a person with dual citizenship, where one has been withdrawn, I would say that it will be a matter of which has been the effective citizenship. Turkey could claim that a person who has lived effectively all his life in France is a citizen there, but there is no convention that states what matters.
Can the deportations favor IS and contribute to increased radicalization in the recipient countries?
– It definitely can. Those who come back are the most tanned and ideologically minded, who also have lower levels of violence as a result of their combat experience. These individuals can be welcomed by other extremists who take advantage of their status, knowledge and international networks. Those who are now being deported are male combatants, while the women remain in detention camps, says terrorist Magnus Ranstorp.
– For Sweden, the degree of danger with IS returnees was already shown in 2015, when two Swedes moved from Syria to Belgium and participated in the terror attacks Paris and Brussels