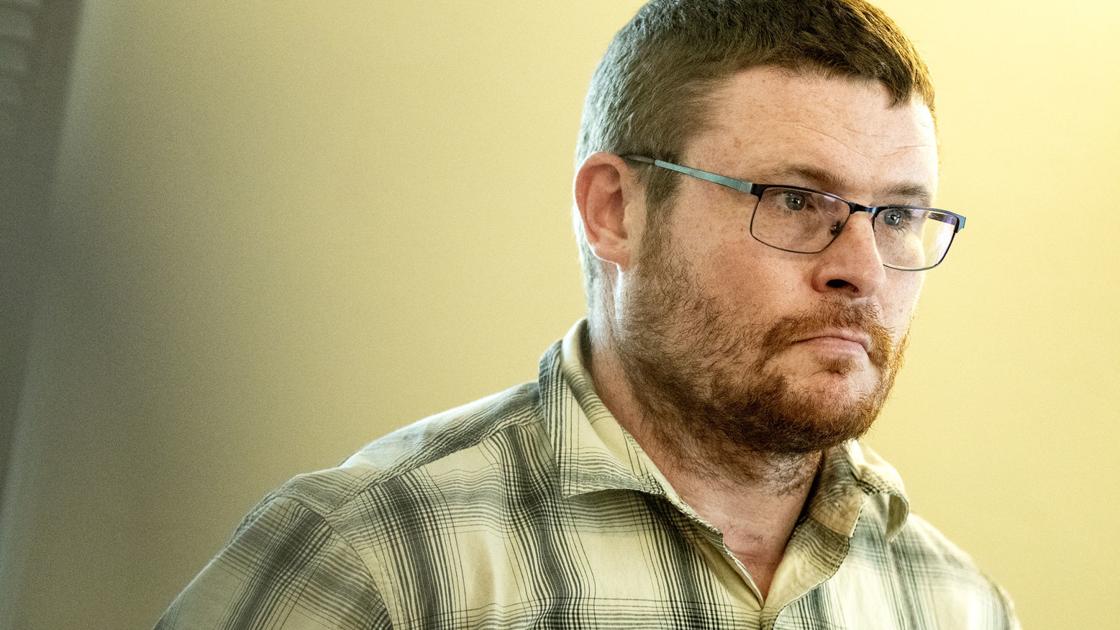 SUPERIOR – The security details for Wednesday's lineup of a man accused of choking a 13-year-old boy who did not remove the hat for the national anthem were unusually heavy, but a little of this case is common for the small town of Montana.
Curt Brockway and his defense attorney left the courtroom via fire room under the law enforcement's guard. Sheriff Mike Boone had locked the entrance to the courtroom before the hearing began. Both were actions that were coordinated because of the threats to Brockway, his family and court officials involved in the case.
Brockway pleaded not guilty on Wednesday to assaulting the boy. The story of the politically charged assault sparked outrage across the country ̵
1; vitriol that has enabled court officials here and the defendant's entire family over the past week.
Boone said the detailed security detail was partly to keep the media circus in check, but also because of "nasty messages" that have been left to court officials since allegations of Brockway's abuse broke online. Sixteen law enforcement agencies were present Wednesday. The Montana Highway Patrol and Montana Fish, Wildlife and Parks legislation coordinated with Mineral County for the hearing, checking bags when people walked in and stood guard when the hearing was underway.
"Just be sure than sorry," Boone told the Missoulian.
Mineral County Attorney Ellen Donohue actually said in an email on Wednesday that her office had received as many as 40 calls and emails from individuals across the country.
"The majority were strongly worded but appropriate opinions on the alleged attack of a teenager by a 39-year-old man here in Superior," Donohue said. "However, there were a number of hostile and inappropriate emails and voicemails."
None of the correspondence with the Mineral County Attorney's Office threatened physical harm to anyone there, but a number were "disrespectful, hostile, derogatory, and lacked a basic understanding of the legal process in the United States," Donohue said.
At the City Fair on August 3, Brockway deputies told him he had taken the boy by the neck, lifted him off the ground and threw him back down first, according to charging documents. He had told the boy to remove the hat because it was disrespectful while the national anthem was playing, to which the 13-year-old said, "(expletive) you," Brockway told deputies.
The Brockway family's "hearts and hopes are that this boy is healing and has no lasting damage," Lance Jasper, Brockway's defense attorney, said after the hearing. "They are terribly sad and shaken to their core that this happened."
Megan Keeler, the teen's mother, declined to be interviewed while the case is still ongoing.
Mineral County District Court Judge John Larson resumed Brockway's probation stemming from a 2010 assault case where he pulled a gun against a family of three during a dispute on a back alley. In February, Brockway successfully petitioned the judge to release him from that probation for good behavior.
The 39-year-old Superior man, a U.S. Army veteran with a traumatic brain injury suffered in a car accident in 2000, believed President Donald Trump's repeated handbag to those who did not respect the United States, its flag or national anthem translated into permission from the president to attack boy in the name of patriotism, Jasper told Missoulian last week.
Western Montanans need not look too far for examples of the president's rhetoric. Trump was in Missoula stumping Republican candidates less than a year ago when he praised U.S. House Representative Greg Gianforte for his infamous body slam by a reporter in 2017.
The boy allegedly slapped by Brockway received a cracked skull and a concussion, according to court documents.
The national news that falls on Superior, as well as the police lock-up of the courthouse, are both incongruent in this city.
"It's a quiet little town," Tim Van Buren said over his lunch at the Whipped Up Cafe on Wednesday. "If someone has cancer, someone will cut their garden for them. If someone needs wood, someone will get them some wood. I do not lock my car when I go to the grocery store. "
Navar Swift visited Van Buren from eastern Montana and said he can understand Brockway's unmatched stance towards the president's express dissatisfaction with those who protest, criticize or, in this case, disrespect the national anthem. His father – Montana author Earl E. Martin – was a Purple Heart veteran who fought in Vietnam, but then protested the war after his return states, Swift said. But people are complex, and for Swift's father, the protesting war and obedience to the president are not mutually exclusive.
"Although he was no longer in the military, he was trained to listen to the commander in chief," Swift said. "I'm totally empathetic" with Brockway.
Empathy is not what has been offered in the hundreds of calls, emails and messages poured into the Brockway family's inbox, Jasper told Missoulian during an interview at home outside Superior on Wednesday. [19659003] "The enmity is not local. Everyone knows everyone here. It comes from all over the country," Jasper said. "(Brockway's) family gets hundreds of threats, to the point where everyone had to remove their phone – literally pulled it off the wall."
Jasper described the threats as "from the left and right extremists."
" They threaten the lives of children who have nothing to do with this, "he said.
Before the case begins to angle toward a plea or trial, Brockway will undergo a psychiatric evaluation so that an expert can help define how, or if, Brockway's traumatic brain injury was in play during the attack.
The process has an I have already begun to get that evaluation done, Jasper said. Such an expert has been contacted, Jasper said; 19659003] "Getting into these takes months," Jasper said.
Larson put Brockway's next hearing until October 23.
Source link