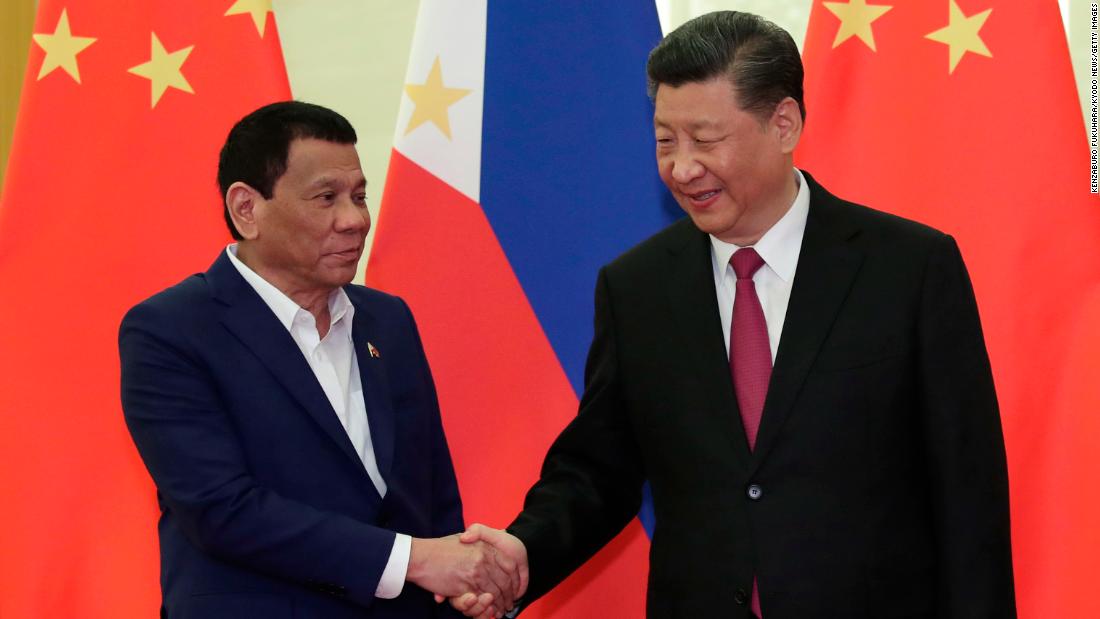 In 2016, a court in The Hague ruled in favor of the Philippines in a maritime dispute, concluding that China has no legal basis for claiming historical rights to the majority of the South China Sea.
Speaking to reporters in the Philippines on Tuesday, Duterte said that Xi had promised him a majority stake in a joint oil and gas exploration company that could fall within Manila's exclusive economic zone (EEZ) if the Philippines ignores the Permanent Arbitration Court decision, according to CNN -connected CNN Philippines.
"Set the arbitration aside," Duterte said, quoting Xi. "Put away your claim. Then let everyone who is connected to the Chinese companies. They want to explore and if there is anything, they said, we would be gracious enough to give you 60%, they will only get 40%. It is promise by Xi Jinping, "Duterte reportedly said.
An EEZ grants a country exclusive maritime rights to resources such as fish and oil and gas within 200 nautical miles of that land mass. Manila's EEZ, on behalf of the UN Maritime Convention, overlaps the waters that China and Vietnam claim.
Duterte's comments come after he met Xi in Beijing last week, according to China's state-run news agency Xinhua, Xi said the two nations could take a "major step" in joint oil and gas exploration offshore .
"As long as the two sides handle the South China Sea issue properly, the atmosphere of bilateral ties will be sound, the basis of the relationship will be stable and regional peace and stability will have a v Xi said.
At a press briefing on Wednesday, China's spokeswoman Hua Chunying did not directly comment on the proposed offer, but said the Philippines was "ready to accelerate cooperation with China on oil and gas joint exploitation."
"The two sides announced the establishment of an intergovernmental joint steering committee and a working group of relevant companies from the two countries on oil and gas cooperation," she said.
Closer ties
201
8, the two leaders agreed in advance to collaborate on oil and gas exploration in the South China Sea, in a move that made many Filipinos vigilant of Chinese territorial expansion in the region.
The deal included a memorandum of understanding to jointly explore energy resources, along with agreements on basic education, agricultural cooperatives and infrastructure projects, Philippine Government spokesman J. V. Arcena told CNN at the time.
According to a Chinese draft agreement, the Chinese side would authorize its state-owned China National Offshore Oil Corporation to conduct joint exploration into "relevant marine areas" in the South China Sea, CNN Philippines reported.
Beijing claims a huge territory in the much-contested sea, overlapping competing claims from the Philippines, Vietnam, Brunei and Malaysia, among others.
And Manila has been in a troublesome dance between Beijing and Washington for several years across the South China Sea.
The Philippines has previously taken a strong line over China's behavior in the area, even taking China to the international court. But under Duterte, the government has increasingly seen to build an economically advantageous relationship with Beijing.
Nevertheless, the tensions between the two sides of the disputed water have been tense. In April, the Philippines government filed a diplomatic protest with China over the presence of hundreds of Chinese vessels near a Philippines-administered island in the South China Sea. Duterte then threatened to send his troops on a "suicide mission" if Beijing did not "leave" the island.
Source link