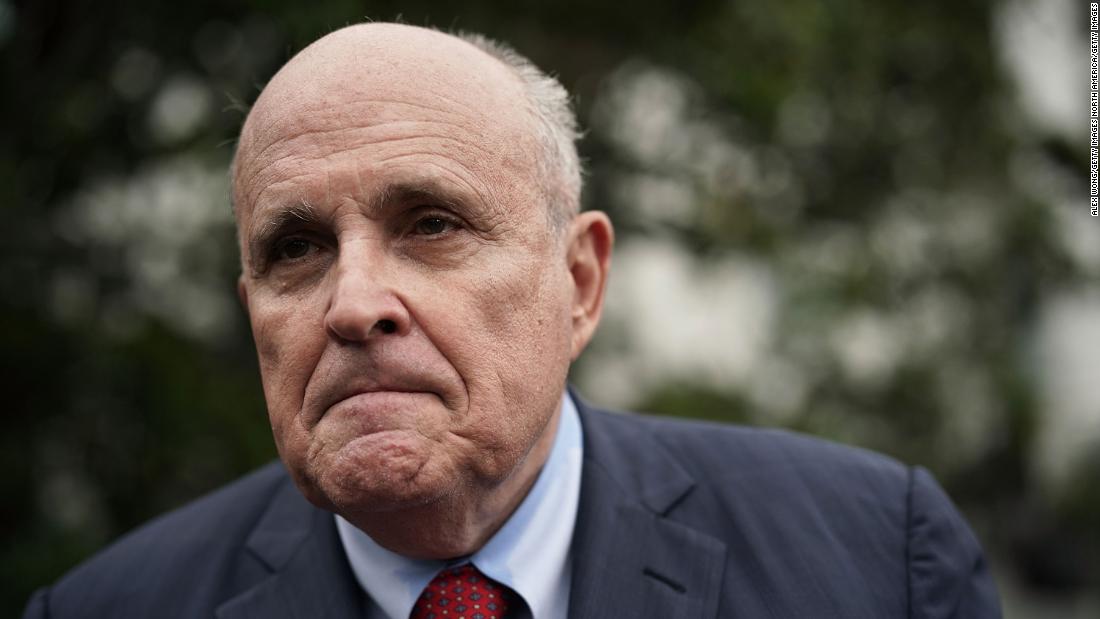 Giuliani, who was mayor of New York during 9/11,
tweeted
"GOD BLESS AMERICA!" along with a 27-second video showing demonstrators wearing black and holding signs such as "Burn it down" and "Police = Fascism" while standing behind a barricade in front of police officers. The protesters also obviously burn an American flag.
It then focuses on one of the police officers and shows a recap of memories of his police swearing-in ceremony, greeting him as he served in the US military as a flag-draped coffin pass by standing for the national anthem as a football player and watching the first responders holding an American flag in the rubble of the World Trade Center towers as children.
The clip ends with a scene back at the protest, with the official pulling down a face protection for riot gear and opening a baton as protesters run toward him.
Below the clip, a toddler is singing "America the Beautiful" in the background.
The video is a sharp dramatization of divisions in American life shared by a man who 1
8 years ago was widely hailed as "America's Mayor" for his determination after the terrorist attacks.
Asked by CNN to explain why he tweeted the video and what it meant, Giuliani replied in a text message, "Honor the flag in the way firefighters who raised the flag did on 9/11 and it caught the spirit of all of us that we didn't Like IWO JIMA, it was a symbol of America's strength and determination. "
The clip appeared to be taken from a 30-second advertisement made by Grunt Style, a clothing brand that sells patriotic theme items aimed at veterans and supporters of the military.
"Thi's commercial was supposed to be our commercial in the Big Game (you know it). We were not denied or rejected by anyone, it was our own decision not to run it. In the end we just couldn't take the big one the money risk, "the company said on its Facebook page, which is apparently referring to Super Bowl LII.
Giuliani, who was a federal prosecutor before becoming New York's mayor in the 1990s, has long allied with law enforcement and supported tough police methods throughout his political career. He was a constant defender of the New York Police Department during several brutality episodes. during his mayoral tenure, and he has criticized the Black Lives Matter movement – which began largely as a response to police brutality and racial profiling – to call it "inherently racist" and "anti-American."