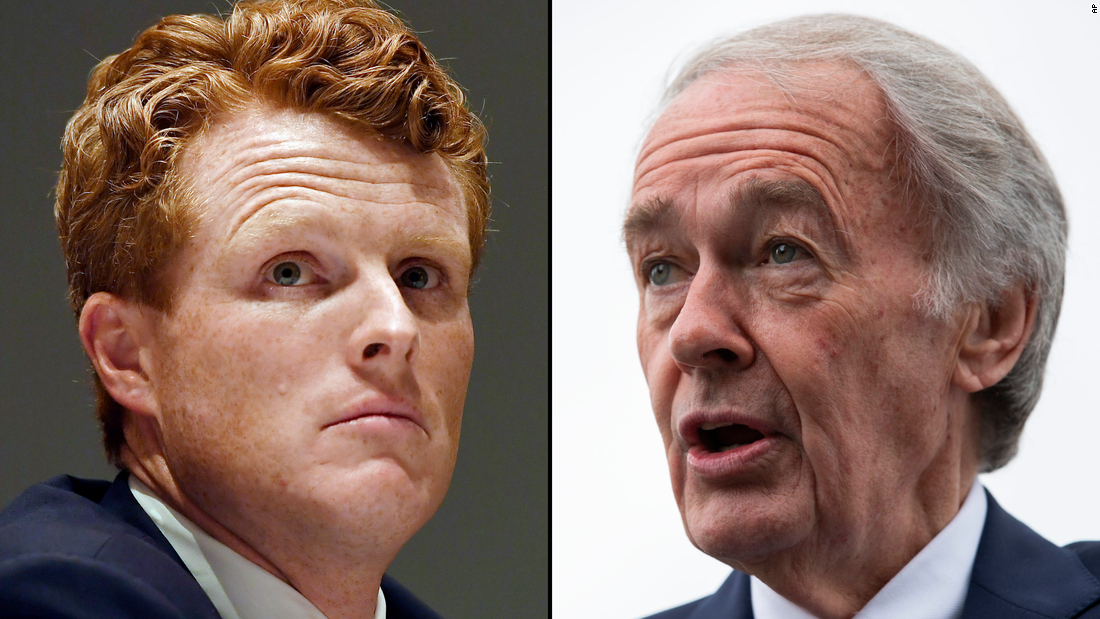 In recent weeks, Kennedy, 38, has sought to draw a generational contrast with Markey, 73, while benefiting from the goodwill shown for the generations of Kennedys who have represented the state before him.
Kennedy is the heir to a political dynasty that has never lost an election in the state, the grandson of Robert F. Kennedy and the son of former Massachusetts Rep. Joe Kennedy II. One great uncle, Ted Kennedy, served in the Senate for nearly 50 years. Another, John F. Kennedy, won his first congressional race in 1946 when Markey was born.
Kennedy told reporters on Thursday that Markey is "a good man," but had other issues he wanted to address in the race. Kennedy volunteered for the Peace Corps in the Dominican Republic and worked as an assistant district attorney for Massachusetts before his election to Congress in 201
2.
Last year, Kennedy gave the Democratic party's official response to President Donald Trump's State of the Union address, calling for a "better deal," a "living wage," paid leave, affordable child care, "solvent" pensions, "fair" trade pacts, good roads and a "health care system that offers mercy, whether you suffer from cancer or depression or addiction. " He also turned his sights on the President.
"Bullies may land a punch," he said. "They might leave a mark. But they have never, not once, in the history of our United States, managed to match the strength and spirit of a people united in defense of their future. "
Some viewers focused less on his message and more on his mouth, wondering about his shiny lips. In 2019, Kennedy gave some advice to this year's speaker, former Georgia gubernatorial candidate Stacey Abrams, tweeting "misplace your chapstick."
In the past several weeks, as the congressman's interest in the Senate seat became clear, Markey lined up prominent Democratic endorsements, including fellow Sen. Elizabeth Warren of Massachusetts, a presidential candidate, and over 100 state legislators, including House Speaker Robert DeLeo and Senate President Karen Spilka. U.S. Senate Democratic Leader Chuck Schumer, the Senate Democrats' campaign arm and Rep. Alexandria Ocasio-Cortez, the firebrand freshman, also backs Markey.
"I'm going to run on all the issues I've been fighting for today and into the future: climate change, income inequality, a woman's right to choose and on gun safety legislation, "Markey said this week. "I am going to continue those fights in this campaign and I will do so every day that I am out there crisscrossing the state of Massachusetts and fighting for the people of our state."
Rep. Lori Trahan, Democrat of Massachusetts, has endorsed Markey and said Kennedy's entry into the race won't change her mind. She told CNN she supports Markey for his leadership on both local and national issues, including his work addressing pipeline explosions in her district and his role sponsoring the Green New Deal. She added that even though she's for Markey, "I think the world of Joe."
Other Massachusetts Democrats are so far out of the race, including Reps. Seth Moulton and Ayanna Pressley, who won their House seats by taking on sitting congressmen in primary campaigns in 2014 and 2018. Moulton told CNN that both Kennedy and Markey are "great progressive leaders for the state."
In an interview, Pressley said she looked forward to continuing working with Markey on environmental and gun control issues, while working with Kennedy on mental health care.
"I think primaries are healthy," Pressley added.
When asked about whether he had tried to flip the endorsements of his fellow members of Congress, Kennedy told reporters on Thursday that he respected the decisions they've made .
"The race is going to be decided by the people of Massachusetts," Kennedy said.
CNN's Nick Neville contributed to this report.
Source link