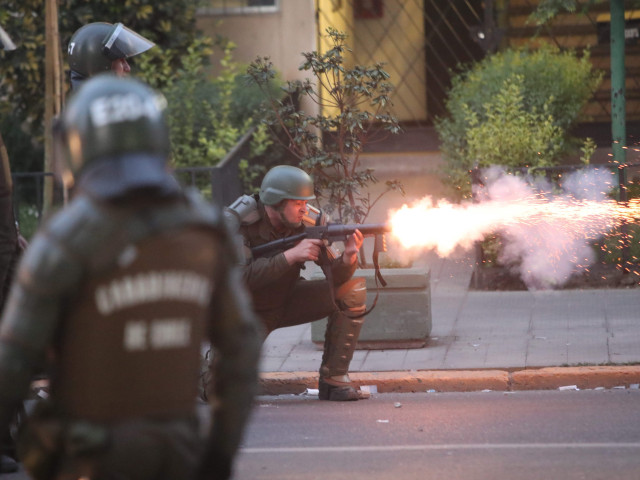 Chile is "at war," says President Sebastian Pinera, whose country has been rocked by three days of riots and robberies that killed seven, the worst social explosion in recent decades, AFP notes.
The second night in a row, an occupancy permit was decided in Santiago de Chile between 1
9.00 and 06.00 (22.00-09.00 GMT). The emergency situation also applies in several regions, including the capital with seven million inhabitants. The action was extended on Sunday evening to several large cities in the southern and northern parts of the country.
"We are at war against a strong, unprotected enemy, who respects nothing and nobody and who is prepared to resort to violence and crime without anything. President, Pinera.
Residents, urged to remain" calm "and to not leaving their homes
General Javier Iturriaga, accused on Friday of public safety by the head of state, urged residents to remain "calm" and not to leave home.
The riots continued on Sunday. and police in the center of the capital, while robberies were registered in several locations in Santiago de Chile.
Thus, five people lost their lives in the fire from a clothing factory. Destroyed by protesters. of the capital, Santiago Velasquez fire chief Diego Velasquez told local media.
Two people died in a fire on Saturday night. demonstrators in the southern capital, and the third were injured, with burns "of 75% of the surface" on the body, according to authorities.
In addition, two people were injured by bullets and admitted to the state hospital. "serious" after an incident with the police during a robbery, even in the southern capital, according to the source.
Military patrols in the streets are a first in this country after the end of the dictatorship of General Augusto Pinochet (1973-1990)
About 10,000 police and soldiers were deployed.
According to the authorities, 1,492 people were arrested, of whom 644 in the capital and 848 in the rest of the country.
After three days of violence, the capital of the capital and other major cities, such as Valparaiso and Concepcion, offer bleak pictures: traffic lights were destroyed, remains of buses burned, shops robbed and started.
Several hundred flights were canceled at Santiago de Chile Airport during the siege. Thousands of passengers stranded overnight at the airport.
Demonstrations began on Friday to protest rising prices, from 800 to 830 pesos (about € 1.04), in the Santiago de Chile, the largest network in South America, 140 kilometers, carrying three million passengers daily .
President Pinera interrupted the increase on Saturday, but protests and violence continued, among complaints about social and economic conditions and inequalities in this country appreciated for their economic and political stability, but where access to medical services and education is almost exclusively private service.
Drafting GM
Source: Agerpress
Source link