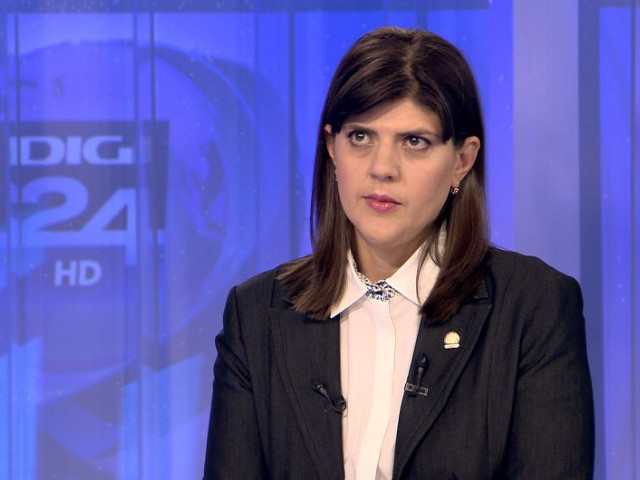 Laura Codruța Kovesi declared on Digi24 on Thursday evening that she is pleased that she can continue the activity she started in DNA, with the position of European Chief Prosecutor. She added that, although the proceeding has not been completed, the vote in the Council of the European Union is an important step and that "the election of a Romanian prosecutor is a recognition of the entire activities put forward by the Romanian judicial system". At the same time, the former head of DNA said that the Romanian ambassador's voice, Luminița Odobescu, would vote.
"I said about the procedure that is not yet over, today's vote is an important step. I appreciated it as a success for all Romanians who defended the rule of law. It is a vote to support a society that defends justice and the rule of law. It is the decision of the European institutions, we must understand that the choice of a Romanian prosecutor is a recognition of the entire activities presented by the Romanian judicial system, "Laura Codruța Kovesi told the Evening Journal.
"For me, a continuation of the activity from DNA," she replied, asking if there are many people who would be afraid that she would employ this function.
Regarding today's vote, Kovesi said "I appreciate him as an extremely important majority. I can't say exactly which countries voted for, against or abstained because I don't know this detail. I was happy that there is this majority, which shows us that it is a decision made. "
When asked how he thinks Romania's EU ambassador, Luminița Odobescu, voted, the former DNA chief prosecutor replied:" I do not know how to vote even in the first vote, even today, I do not have this information in an official way. I think it is the duty of other institutions to explain how they voted and what they voted for. From my point of view it is not secret information and it should be clarified. "
In addition, the former head of DNA said he did not want to comment on the political events and said," I signed up for this procedure because I believed In my professional experience, I did not expect help from any institution in Romania. I hope this vote will change the legal situation a bit, my colleagues will be a little more determined to continue what started. We cannot deny that the results in recent years, at least as long as I have carried out DNA, have been clear. "
The former head of DNA also said she did not feel alone" in this fight "and avoided talking about the return of speech against justice, following the May referendum and election:" As a man working in justice, I don't want to comment. "
"The judicial system was attacked, not only by public comment, but by repeated attempts to amend the legislation, by introducing changes to the law or by trying to modify the criminal code, and I think it is very important that the judicial system continue to resist, to do their job in a professional way and at least our job, as a prosecutor, is to conduct investigations, be judged by the courts and what happens in public space and political statements ̵
1; I do not think they can I do not want even comment on them, "said the former head of DNA.
When asked what it means from a personal point of view, Kovesi said it is "a moment that I can tell him unique in a professional career". "Just this week, I turned 24 as a prosecutor. The experience I have gained in Romania will be very useful to me what I have to do, the fact that I will leave the country does not mean that I will not be able to contribute to the justice system , I will be present when I need, "she pointed out.
Laura Codruța Kovesi also said, asked if important people called her," that we got messages from many people, from family, colleagues, that means we are all Romanian citizens and we – I got this success today. "
The ambassadors of EU member states voted on Thursday to appoint Laura Codruța Kovesi as Europe's speaker. Siegfried Mureșan, a member of the PNL, said on Thursday that Laura Codruța Kovesi received 17 votes in COREPER for her appointment as European chief prosecutor, out of a total of 22 votes.
The European Council will further forward the decision to the European Parliament, Thursday, after the European Parliament notes, through the internal procedure for the Council's decision. The decision was taken by the EU Council, by a simple majority, in accordance with the European Public Prosecutor's Office (EPPO).
Source link