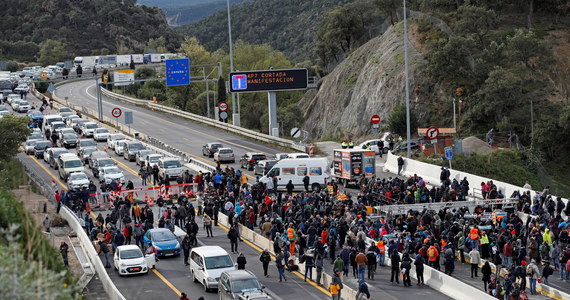 Protests under the leadership of the Democratic Tsunami (TsunamiDemocratic) returned to Catalonia. A movement that mobilizes protesters via social networks has led to the blocking of la Jonquera – the largest border crossing between Spain and France. The protest leaders said they "blocked the way to show that dialogue is the only way to resolve the Barcelona-Madrid conflict."
Protesters blocked border crossing la Jonquera
/ Alejandro Garcia / PAP The border crossing is the fastest and most convenient way to get from Spain to France. On average, 12,000 trucks and 40,000 passenger cars hit on average in both directions. Now, at least a thousand vehicles have been trapped for miles in traffic jams, as the democratic tsunami appeal blocks both roads.
As reported by the Catalan media, a scene has been set up on the motorway from France where, according to DT's announcements, concerts are to take place. The protesters warn that they will last until Wednesday.
Protesters blocking the passage carried banners saying "Spain is sitting and talking". The Spanish and Catalan police do not allow anyone to reach the protest site.
On Friday, the Democratic tsunami issued a statement announcing that it would take action – the most ambitious of all. In mid-October, after convicting Catalan politicians and social activists in prison, he blocked Barcelona's airport.
Yesterday parliamentary elections were held in Spain, where the socialists won. Over 40 seats in Parliament will be taken by MEPs who are holding a referendum in Catalonia, of which over 20 are supporters of tearing the region away from Spain.
VOX – the ultra-right party that won 52 seats announced that it would challenge Catalan autonomy to the Constitutional Court. It also requires the dissolution of independent and nationalist groups in all regions.
Ewa Wysocka