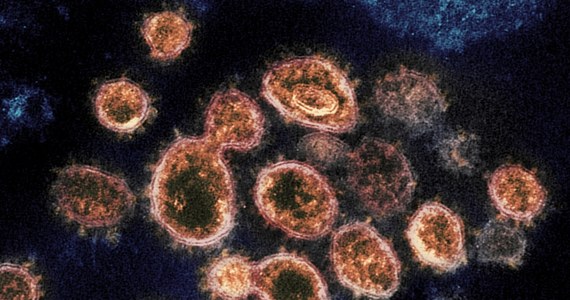 Several Spanish city authorities reported the presence of coronavirus particles in their wastewater between July and August. Among them are, among others, large urban areas in the country such as Madrid, Barcelona and Valencia.
The SARS-CoV-2 coronavirus seen under a microscope
/NIAID-RML / Associated Press / /East News
On Wednesday (August 5), the Barcelona daily "La Vanguardia" announced a plan approved by the authorities of the Catalan capital to regularly monitor the quality of municipal wastewater and seawater on local beaches.
Gemma Tarafa from Barcelona City Hall explained that the plan is to regularly test the water quality to quickly detect places where the prevalence of genetic material from coronavirus has increased and to prevent new COVID-19 outbreaks.
On Monday, the mayor of Cuenca, Dario Dolz, confirmed that a study by the Spanish sanitary and epidemiological authorities showed that the SARS-CoV-2 virus is present in the city's wastewater. He emphasized that the concentration of the coronavirus is so high that it is possible to contaminate people who come into contact with sewage, for example employees at water treatment plants.
At the end of July, the presence of the new virus in municipal wastewater was also confirmed by Valencia Mayor Ximo Puig. An official of the Spanish local authority explained that the samples taken proved the presence of coronavirus particles in the wastewater in many parts of the city.
In July, the authorities of the Autonomous Community of Madrid announced that they had launched a rapid sewage analysis system to immediately identify new coronavirus outbreaks.
The laboratories of 200 water treatment stations in Madrid, which are conducting ongoing research, are sending a warning to the sanitary and epidemiological authorities in the region in the event of an increase in the presence of SARS-CoV-2 in wastewater. This enables an accurate identification of locations in the Madrid urban area where the number of people with COVID-19 is increasing, including asymptomatic patients.
Marcin Zatyka
Want to know more about the coronavirus pandemic? Check the statistics:
Poland against the background of the world
The situation in individual countries
Indicators per million inhabitants