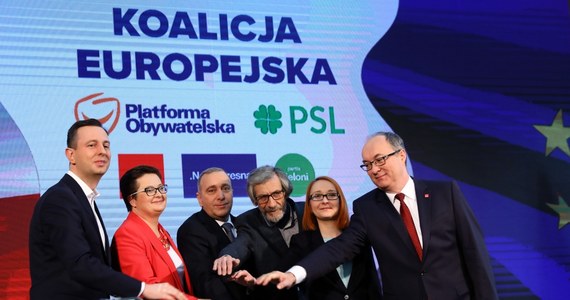 – We set up the European coalition to defend Poland against anti-European forces, against those who weaken, destroy Poland's position in the European Union – said PO leader Grzegorz Schetyna. The Declaration on the establishment of the European Coalition was signed on Sunday by the leaders of the PO, PSL, Nowoczes, SLD and the Green Party.
PO Grzegorz Schetyna, PSL Chairman Władysław Kosiniak-Kamysz, President of Nowoczesna Katarzyna Lubnauer Party, SLD Chairman Włodzimierz Czarzasty and Chairman of the Green Party Małgorzata Tracz and Marek Kossakowski signed a Declaration in Warsaw on the establishment of the European Coalition
"The struggle begins" – said Grzegorz Schetyna at a joint conference with representatives of Nowoczesna, PSL, SLD and the Zieloni party. "We are aware that this is the beginning of the election campaign, the whole electoral system that will end in April next year with the presidential election of the European campaign by parliamentary campaign to the Sejm and the Senate," said the leading member.
He noted that it took a long time to build the European coalition. He thanked the leaders, parties that joined the European coalition. "They were, will be necessary for this coalition to really mean meaning and show the dimension of good cooperation between political parties, because only this good spirit allows us to open our coalition to other partners, other environments," Schetyna.
"Yesterday we saw the PiS Convention, we saw election ceilings, we saw aggression, but we also saw fear and panic, we see them scared of these elections, the next election, how scared of the fall of the election" – said Schetyna, referring to the law on the Saturday Convention and
According to him, law and justice did not present proposals on the EU in their course. "We have not heard anything about the idea of ​​the European Union, the campaign in the elections to the European Parliament. There were a number of promises and pure political corruption," he said.
PO leader also reminded that soon the 30th anniversary election on June 4, 1989. As he said, this election won "a broad coalition of various forces, circles, civic clubs". "I think we'll be heading for 1989 (…) I think we're going to win together" – he stressed
PSL leaders stressed that "the largest coalition in Poland's history" The European coalition is an answer to our countrymen's call. "In recent years they have told us at every meeting: you have to go together, you have to unite, you have to be with each other despite the differences that exist and will be between us" – he emphasized
"For us, for PSL, also for the European Democrats, for these two parties to make the decision to join the coalition, for me for the UED President, Elżbieta Bińczycka, for anyone who dreams of a better Poland, a better Europe, a great coalition – Europe's coalition of our political groups, but above all poles is a great hope "- says politicians.
"We do not do it to anyone, we do it for Poland and Poland, for a larger European budget, for better agricultural subsidies, for clean air, for cheap green energy, so that in Poland and in Europe everyone can find a worthy place, a good place "- said Kosiniak-Kamysz.
"We do it for Poland and for Poles, our value and with whom we go are common in this context, because in order for Poland to be the state that decides on the most important issues in Europe, we do not play, so that it would be a country that is not in a church and is not a black sheep in Europe but a state, which can also inflict their arguments and convince them to look for friends, not point to enemies "- said the head of the people.
"During this campaign, no digestive process will begin and the only appetite for what we have is appetite for victory" – said Władysław Kosiniak-Kamysz.
"We create a European coalition so that no one from Poland will to leave the EU, We create a European coalition so that Poland continues to benefit from the Union, that our Members, our MEPs, would guarantee that no one would take money because of violations of the rule of law in Poland because we know what the money has done thanks to The EU in Poland, "he said. Czarzasty. He stressed that the SLD joins the coalition, because "MEPs and MEPs from Zielone, Nowoczes, PO, PSL and SLD play for one thing, that there is the European Union and that Poland never comes from this EU".
Czaagast emphasized that he is a representative of the Social Democratic faction and wants a "social and working Europe" with a minimum European salary. He also explained that he would like to introduce the euro in Poland, provided that this operation is linked to the wage increase.
"In order for these social-democratic dreams to be fulfilled, two things must be done: First, the EU is that people who belong to the EU should join those are Euro-enthusiasts, that is why we create the European coalition, and for the other is the EU and Poland's guarantor of Poland's presence in this Union, "- he stressed.
"We come from different sides of the political scene, many of us are different, much but we have more in common. For the groupings that make up the European coalition, respect for all, human dignity, European values, rule of law is important" – she emphasized Lubnauer.
"The European coalition is a chance that we will end PiS's crazy rule, this is an opportunity to restore the rule of law and the acquis in Poland." The European Coalition is an opportunity to restore Poland to its rightful place in the EU "leader of the Nowoczes.
Lubnauer said it is very important for Nowoczes to represent active entrepreneurs who pay honest tax in the European coalition." That is why we should always take care of all the pennies of the public, "she said. As she pointed out, every pole has the right to live in a modern, initiating country, in" a modern Poland of equal opportunities, in modern Poland in a strong and democratic EU "
"I think the European coalition has become a hope for many Poles that we will win" – said Lubnauer.
Green co-chairman, Małgorzata Tracz, stressed that Europe is waiting for Poland.
"All here is different, but we share a common ambition to make Poland once again the leader of a united Europe, "says Tracz.
" Today, we give Poles and Poles the chance to send Europe the message they On May 26, Poland is ready to regain the role of a united Europe leader "- added Tracz.