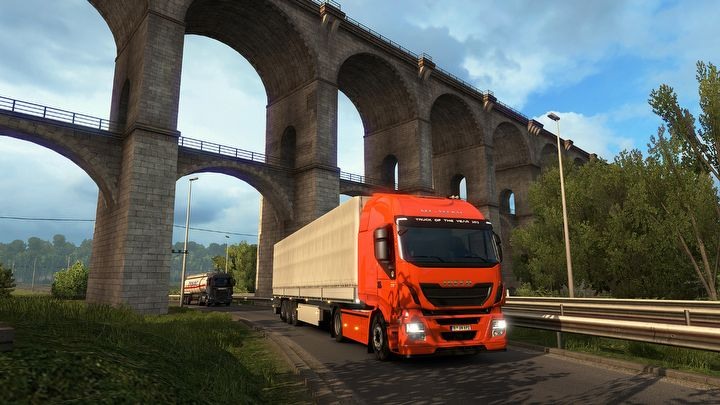 News
campaigns
yesterday, 02:14
On Euro Truck Simulator 2's seventh birthday, developers from SCS Software prepared a big surprise for fans of truck simulators. They offer a powerful set of all major studio productions and additions, which have been discounted by 77 percent. The offer ends today at 17.00
This week Euro Truck Simulator 2 celebrates its seventh birthday. The insignificant game of Czech SCS software has won millions of fans around the world. Not only do they still play with the title, constantly enriched with new additions (the latest one will debut at the end of the year), but they also support the dynamically active modding scene. In a post on the official blog titled, the head of SCS Software, Pavel Sebor, mentions the nervous first days after the premiere of production and the next important steps in its development. Thanks to all the players who have offered their team support for several years, he prepared a special 24-hour birthday promotion on Steam, which ends after 5pm.
Birthday Games from SCS Software on Steam
As part of promotions, we can purchase a powerful set of the main studio productions, as well as additions and DLC intended for them. They were all discounted by 77 percent. Outside Euro Truck Simulator 2 with additions, we also find the first part of the series, as well as the games American Truck Simulator (together with DLC), bus driver, Scania Truck Driving Simulator and Truck & Trailers. The set offered costs PLN 263.32 in total. However, it may be cheaper if we already own items that it contains.
Campaign set up of games and add-ons are only available for 24 hours.
Finally, it is worth adding This weekend, SCS Software developers present their games, including the extension Euro Truck Simulator 2: Road to the Black Sea at the PGA 2019 fair in Poznań.
The official website of the game
Euro Truck Simulator 2 Game Guide
Review of the Euro Truck Simulator 2 game on the roads of Europe

We invite you to like the Newsroom profile on Facebook. You will find not only the most interesting news, but also a number of nice additions.
Source link