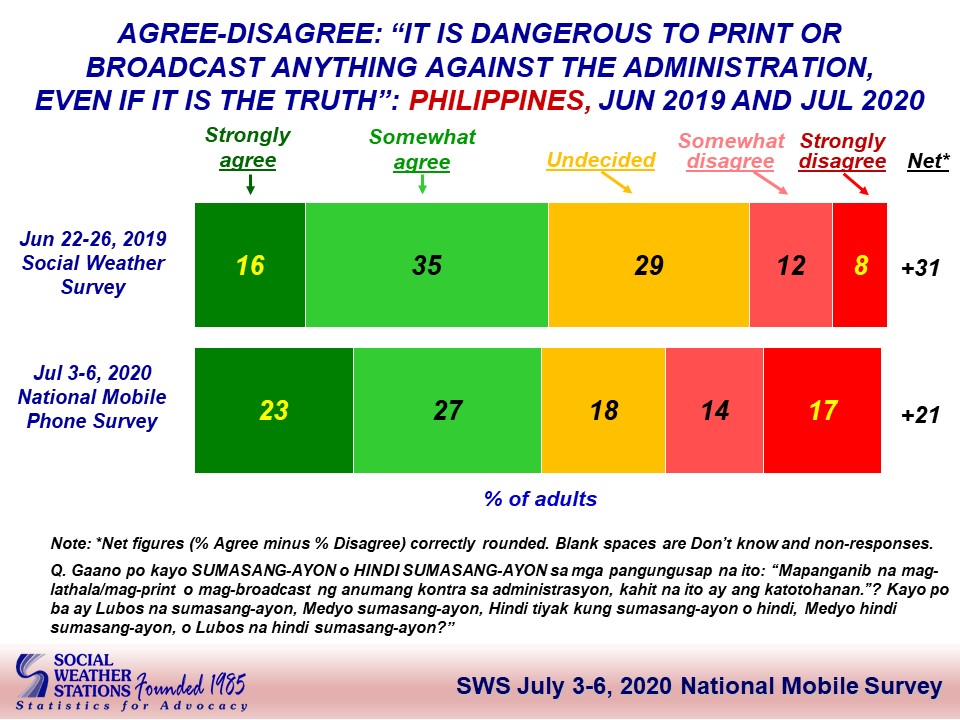 MANILA, Philippines – Fifty percent of Filipinos consider it dangerous to publish critical statements about the Duterte administration, according to the latest survey on social weather stations (SWS) released on Friday.
The latest survey, conducted from July 3 to 6, showed that of 51 percent, 23 percent of them say they "agree" while 27 percent "somewhat agree" in the statement: "It is dangerous to print or send something critical of the administration, even if it is the truth. "
At the same time, the remaining 30 percent of respondents do not agree, which means that they do not consider it dangerous to publish something that is critical of the current administration.
The remaining 1
8 percent of respondents say they were unsure of the statement.
The researcher said that the survey results showed a net determination of +21, classified by SWS as "moderate."
This number showed a 10-point decrease compared to a score of +31 or "strong" in June 2019 when SWS asked the same question.
It was in July when the House of Representatives' legislative franchise committee scrapped ABS-CBN's bid for franchise renewal.
When SWS previously addressed the issue, the majority or 56 percent of Filipinos said the shutdown of ABS-CBN was a "major blow" to press freedom.
The research company noted that the survey was conducted with a mobile phone and computer-assisted telephone interview (CATI).
A total of 1,555 adult Filipinos (18 years and older) across the country participated in the survey. Of the total number of respondents, 306 are from the National Capital Region, 451 from Balance Luzon, 388 from Visayas and 410 from Mindanao.
SWS also said the survey has sampling margins of ± 2 percent for national percentages, ± 6 percent for Metro Manila and ± 5 for Balance Luzon, ± 5 percent for Visayas and ± 5 percent for Mindanao.