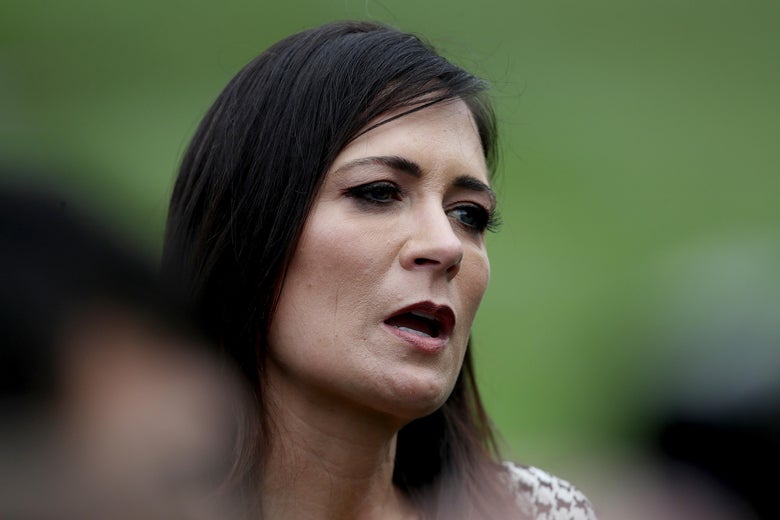 On Tuesday, the White House press secretary Stephanie Grisham made the bizarre claim that aides to President Barack Obama left haunting notes in the White House during the transition between administrations.
"We came into the White House, I'll tell you something," Grisham said according to CNN's Abby Phillip . "Every office was filled with Obama books, and we had notes left that said, & # 39; You Won't Fail & # 39 ;, & # 39; You Won't Do It. & # 39;"
The claim was met with skepticism, since the odds that reports of such behavior from a rival party's administration would be kept for almost three years are low.
Those who worked in the White House at that time were quick to mock Grisham's claim and accused her of lying.
Former Special Assistant to the President and Senior Director of Arms Control and Non-Proliferation at the National Security Council:
Former Special Assistant to the President and a spokesman for the National Security Council:
A former lawyer at the White House:
Former Deputy Secretary of Labor and White House Secretary:
Former Assistant to the President and Director of the President's Personnel Office at the White House:
A former Obama senior adviser:
A former National Security Advisor:
The former Obama speechwriting director:
In a statement to NBC News, Grisham later said she had been exaggerated.
"I really didn't imply that every office had that issue," Grisham wrote, according to NBC. "I actually had a lovely note for me in East Wing, and I found the woman and thanked her. I was talking specifically about our experience in the lower press office – nowhere else. I don't know why everyone is so sensitive! "
Technically, it would be very difficult to prove that someone somewhere did not leave an unpleasant note in the White House. But no one has yet come forward to back up Grisham's claim, and several reporters have said they saw no evidence of letters in the press area:
Close the loop, the former press secretary for Michelle Obama provided the letter that she says she left to the next first lady's communications director: Stephanie Grisham.