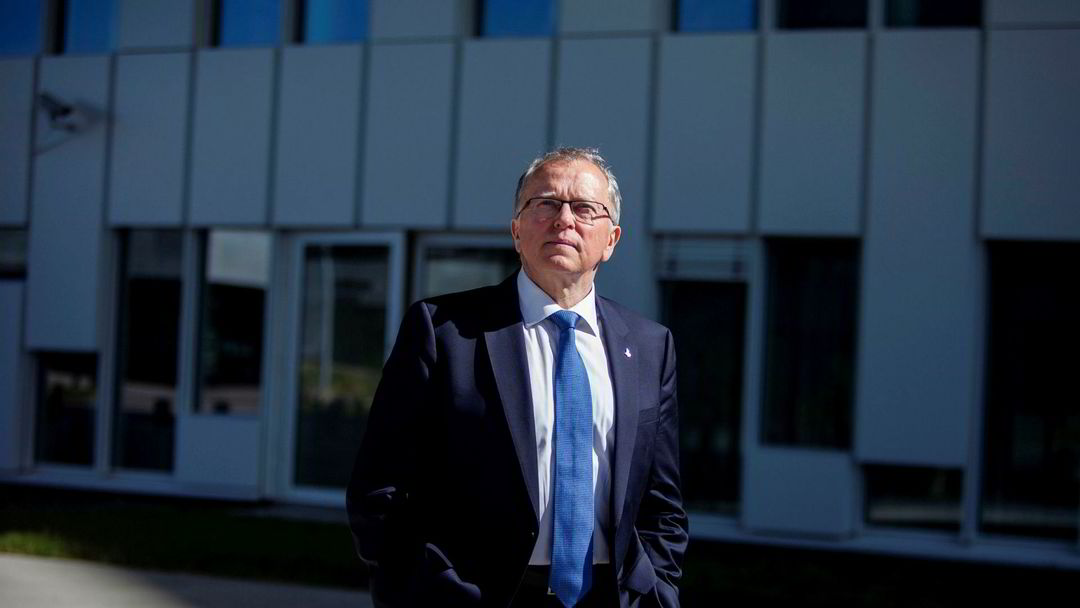 Equinor has appointed Anders Opedal as the new CEO of Equinor as of November 2, 2020. Eldar Sætre resigns after six years as CEO and more than 40 years in the company.
The company writes in a stock exchange announcement on Monday morning.
The 64-year-old from Vartdal in Ørsta started working for Statoil in 1980 and has held a number of top positions in the oil company that is today called Equinor.
Before taking over as CEO in 2015, Sætre was CFO of the company.
It has long been known that Sætre will soon retire. In 2018, he did not take the opportunity instead. He was urged by the board to continue and chose to extend the contract by up to five years.
̵
1; I have spent my entire working life in Equinor. I love this company and it has truly been a privilege to work with all the wonderful people of Equinor for four decades. I am very proud of what we have achieved together. Thanks to the tireless efforts of competent and committed employees throughout the company, Equinor is today a stronger and more competitive company that is better prepared for the carbon dioxide-developed future than ever before. I know Anders well and I am absolutely sure that he is the right person to lead the company further in the next phase of the energy transition, says Sætre in the report.
Has passed the degrees
Opedal has graduated from Equinor since he started in 1997. Then he came from the international oil service giants Schlumberger and Baker Hughes.
He has international experience from his time as country manager in Brazil, where the company has the largest investment plans for the next five years and is much liked internally in the company.
Opedal comes from the position of Deputy CEO for technology, projects and drilling. He is an engineer with a master's degree from NTNU and has an MBA from Herriot-Watt University in Edinburgh.
– It is an honor, and I am proud to have the responsibility as CEO of Equinor. I have strong faith in Equinor and in all our employees, in our ability to create change and continue long-term value creation for our shareholders also in a future carbon development. We have a good starting point for what will be a major restructuring, with an attractive portfolio, unique expertise, technology and innovation capacity, committed employees and strong values ​​that will lead us through this process. Together, we will accelerate the development of Equinor as a broad energy company and our growth in renewable energy, says Opedal in a statement.
Worked under seven CEOs
Eldar Sætre was the first CEO of Equinor to be recruited from internal ranks.
He was hired as a new graduate of Statoil in 1980 and has worked under seven CEOs before he himself became acting CEO in the autumn of 2014. From February 2015, he became Statoil's eighth CEO.
In February 2015, the oil industry was in the middle of a crisis when Sætre took over as top manager and this spring he led Equinor through a global pandemic.
– This is a completely extraordinary situation where we have many challenges at the same time. It is very demanding. In almost 40 years in the industry, I have never experienced anything close to what we see now. Both complexity, scope, speed and not least the uncertainty. This affects individuals, families, society, industry and us as a company, Sætre told DN in March.
Under Eldar Sætre's leadership, the old Statoil changed its name to today's Equinor 2018 to very mixed reactions. According to the company, the old name was too much associated with oil production.
In recent years, Equinor has shifted more towards becoming a broader energy company, although most of its production still comes from oil and gas to a very high degree. Equinor has entered into large offshore wind projects such as Hywind Tampen, Doggerbank and Empire Wind offshore New York, as well as the development of traps and coal storage.
To date, Equinor has invested approximately $ 3 billion in renewable energy. The company expects to double renewable production by 2026. In February, Equinor set its ambitions to become carbon neutral by 2030 and halve total emissions from energy production, including consumption, by 2050.
Last month, DN wrote that four Equinor tops have been asked by the board to give a presentation on what they think will be the Equinor of the future if they get the top job in Norway's largest company. The four who should have been on the board are:
Irene Rummelhoff (53), CEO and CEO of the MMP (Marketing, Midstream and Processing) business area.
Lars Christian Bacher (55), Deputy CEO, Finance.
Torgrim Reitan (51), Deputy CEO and Head of International Business
Anders Opedal (52), CEO, technology, project and drilling (TPD).
Neither Sætre nor Chairman of the Board Jon Erik Reinhardsen wanted to say anything about when the departure will come.(Terms)Copyright Dagens Næringsliv AS and / or our suppliers. We want you to share our cases with a link that leads directly to our pages. Copying or other use of all or part of the content may only be done with written permission or by law. For further conditions see here.
Source link