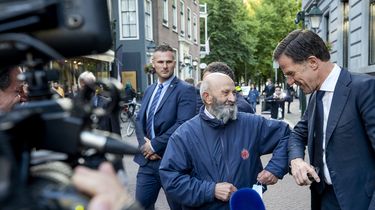 Mark Rutte is the only guest in an extra broadcast of the talk show for an hour tonight The 1st.
In his first major interview since the beginning of the corona crisis, the prime minister continues The 1st the big questions he has been facing in recent months. From the virus outbreak and the threatening situation in the ICUs to the suffering in nursing homes and the measures that contained the outbreak. It was a time when Rutte's mother also died, but he worked on it.
Mark Rutte also about recovery and racism
In addition, Rutte will talk about his commitment to the recovery fund negotiations to restart the European economy during the corona crisis. The Prime Minister will also attend this NPO themed day The Netherlands against racism, brings up the hot debate about racism that has flared up in recent weeks.
The broadcast of The 1st (22.10 – 23.10) is an extra shipment and is provided by BNNVARA. The presentation is in the hands of Jeroen Pauw and Fidan Ekiz. This duo, who took care of Sunday nights during the corona crisis, had actually done the job last weekend. Pauw and Ekiz are happy to return to "one hour prime minister".
Theme night racism "on 1"
The programming of NPO 1 has changed tonight anyway due to the joint theme day The Netherlands against racism on all NPO channels.
One of the programs (20.25 – 21.25 hours) is The Netherlands Theorem. This debate on racism is led by Jort Kelder. "Of course, there are no supporters and opponents of racism against each other," reports the NPO, "but there is talk of the extent to which racism is taking place in the Netherlands.
Very screaming so far, no debate
It remains to be seen if there will be a good debate, as it has not been or has been in the limelight since racism has been in the limelight for several weeks. Shouts about who and what is good or bad, without listening to each other. It is especially difficult on social media.
Criticism on / about the basement
It was up to Jort Kelder to do something good tonight and when his name was dropped the criticism (and screams) immediately broke again. Anti-racism groups called Kelder an "absurd choice" on Wednesday for "allegedly making racist comments in the past." AVROTROS – which got many applications coming in The Netherlands Theorem and NPO calls Jort Kelder a "competent debate leader".
Prime Minister Mark Rutte finds it an hour later The 1st probably his.
Read also: Jort Kelder receives the Pim Fortuyn award "with doubt".
Have you seen a mistake? Email us. We are grateful to you.
Source link