From helping hotel guests to reveal and photograph DJs, much will happen behind the scenes during the Amsterdam Dance Event (ADE) in the coming days. NU.nl talks to a number of people about their work during the dance for five days.
Pepijn Haima, caretaker of five-star hotel W Amsterdam
"Many different people come here. One wants a boat ride, the other a private jet. Under ADE guests are often a little younger, people who come clean for the parties. They can be people from the organization, famous DJs or party guests from all over the world. At W-places there are also various events, such as parties and workshops. "
" For example, as a caretaker I can arrange tickets to festivals or clubs. edition I work mainly in the mornings. During such shifts, people with large students return from a party around 1
1am or noon and have forgotten their room number. A little lost, but never really bad. They have always had a good time. "
Rutger Geerling, international dance photographer
"Due to a renovation I have to cancel a lot this year, but I always take the Amsterdam Music Festival (AMF, ed.). gene the large at the end of the week. A super cool party that attracts a very mixed crowd from all over the world. Of all the major events, this is the best atmosphere you get in the Netherlands. So many people come from abroad. That everyone wakes each other up. If you are looking for goose bump moments, you will find them there. "
" There are many famous DJs on AMF. Because I work so much internationally, they know who I am and that I do not turn around or do strange things. That relationship of trust makes it a little easier to shoot on stage. But it's not always the best job. Creatively, it can be restrictive. But some events are just so big that you have to work in teams. At least I like it the most when I'm fully released. "
" Sometimes you want to be able to shoot far, photograph nice people or watch. I always work with some kind of puzzle in my head and I'm very good at telling the story of the whole party. There are close-ups of DJs, party people, nice overviews, lasers, confetti. When you see my set of photos at the end, you should have a feeling that you would have been there. "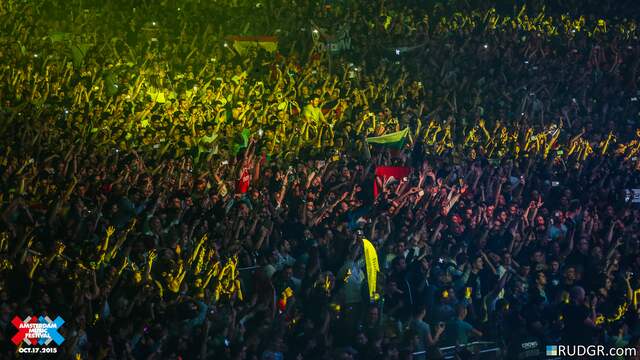 An impression of the Amsterdam Music Festival 2015. It is one of the many party photos that Rutger Geerling made. (Photo: Rutger Geerling)
Eline, bartender at Rembrandtplein

Due to the sensitivity of the information, specific names have been omitted
"Under ADE you notice a significant difference in terms of atmosphere, guests and crowds. Rembrandtplein is more lively and somewhat restless, especially in the evening. We notice that people, especially tourists, want to try Amsterdam & # 39; candy cane & # 39; (Drugs, ed.) More often. This is not a question in itself, but they often do not know what they are using and use it all together. They are not well informed about what they put into their bodies or take too much. "
" People can show strange behavior and you can sometimes see accidents happen. One of our guests under ADE who had clearly used drugs, tumbled from his chair and dropped his head on a planting tip. He ended up with a hole in his head. "
" Fortunately, we also experience many moments with guests who have time for their lives here. They see this as a great festival venue and also like to jump from club to club. You are also practically an information point for tourists on the shop floor under ADE, because everyone asks you the way. "
Wanne van den Bos, producer on Melkweg
" Under ADE we use Rabozaal, the hall between Stadsschouwburg and into the Milky Way. Extra fun, because it is so big and we can think of and build everything from the ground up. Last night we had the opening concert of SOHN with the Metropole Orchestra here. Before that there was an installation with a stage and a theater stand, but now we have to change to a club set. "
" The scene is completely reversed in terms of sound, light and stage. I am mainly concerned with coordinating, checking things out. The great thing is that there is a draw wall, with which decorative pieces are normally replaced. The entire grid depends on it, so that the entire ceiling moves during the show. Especially with the Danish evenings, when people have a drink, it gives a very nice effect. "
" After today, the scene remains the same, so we can work on the technical implementation with a slightly smaller team. I work for Saturday night myself. On Sunday, I'll dance somewhere myself. "
Source link