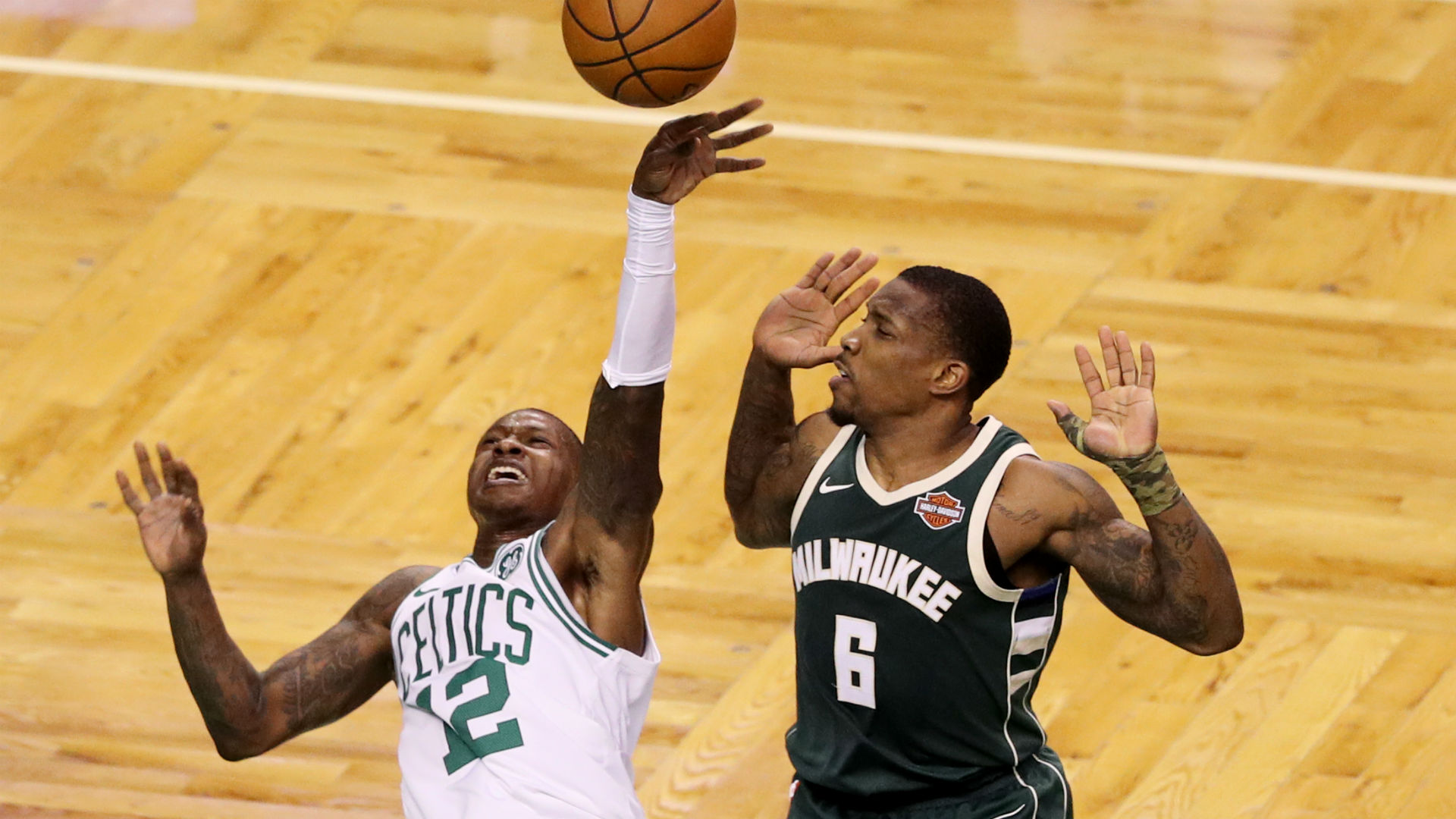 There is no secret Celtics guard Terry Rozier and Bucks guard Eric Bledsoe had a little excitement on the court when they knocked out in the first round of the playoffs, but now that the series is over, they embraced each other after Game 7.
Boston continued to close the series with a 112-96 win on Saturday night. After the match, Rozier was quick to give Bledsoe credit and said, "I have to remove my hat on him."
"You have two guys who want to win, two chippy guys, two short guards you only know out there have fun," said Rozier (via the Boston Globe). "If it is necessary for us to go back and forth and back and forth or fight, press each other, that's anything. It's only part of the game, but at the end of the day, you know we were talking about the match. "
The two took jabs on each other throughout the seven-game series that began when Rozier referred to Bledsoe as" Drew, "referring to former patriots quarterback Drew Bledsoe. Rozier continued to suggest reporters that he did not really know Bledsoe's name after Game 1
.
There was another blow in Game 5 after Bledsoe was called a flagrant foul to shoving Rozier. In reply, Rozier returned and got a technical.
And in Game 7, the Boston fans started chanting "Who is Bledsoe?" Celtics also sent a pump-up video by Drew Bledsoe. , Boston, it's the original Bledsoe, "and then invited the fans to get high.
The OG, @DrewBledsoe #CUsRise pic.twitter.com/d8hbpY8jVj

– Boston Celtics @ celtics) April 29, 2018
"Man, that's special," said Rozier in response to the video. "I do not know who thought about it, but it was nice. For actually I thought about it. "
Despite some mixed feelings in the series, Bledsoe reporters guaranteed that everything was good between the two stars.
" I mean it's the playoffs. What do we expect to be out there shaking hands and giving out hugs all the time? "Bledsoe said." It [stuff] will not happen. He had a hell of a series, man, I have to take my hat on him. "[19659014] (function () {
was _fbq = window._fbq || (window._fbq = []);
to (! _fbq.loaded)
{var fbds = document.createElement ("script"); fbds.async = true; fbds.src = "http://connect.facebook.net/en_US/fbds.js"; was s = document.getElementsByTagName (& # 39; script & # 39;) [0]; s.parentNode.insertBefore (fbds, s); _fbq.loaded = true; }
_fbq.push (['addPixelId', '362578010617732']);
}) ();
window._fbq = window._fbq || [];
window._fbq.push (['track', 'PixelInitialized', {}]);

Source link