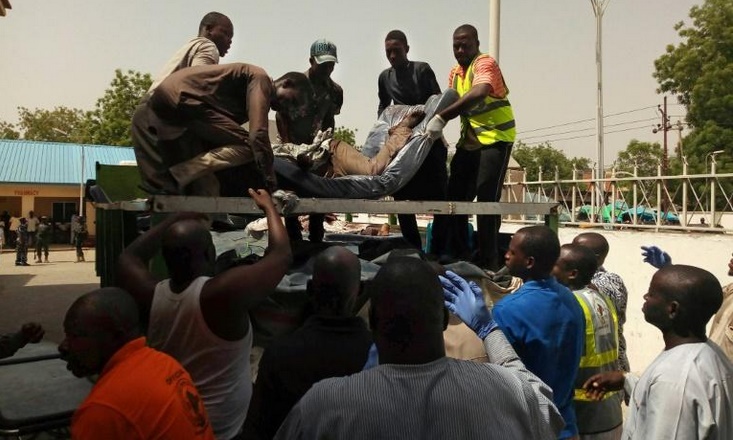 At least four people were killed and nine others injured in suicide attacks by female suicide bomber in northeastern Nigeria, destroyed by the rebels Boko Haram of the jihadist group, told AFP on Friday. rescue services.
"We evacuated four corpses and nine wounded to the hospital this morning," said Bello Danbatta, Security Director of the Borno State Emergency Management Agency (SEMA).
Four female suicide bombers hit the Mainari Shuwa and Mainari Kanuri Tower on Thursday night, about fifteen kilometers from Maiduguri, Borno capital.
In Mainari Shuwa, one of them broke into a house around 23:00 (22:00 GMT) and released their explosives and killed three people and injured nine others, according to Danbatta. In the same city, a second suicide bomber killed a man who slept in the yard in front of his house, where he blew himself.
Two other women blew themselves in Mainari Kanuri almost simultaneously, without killing anyone, said Danbatta.
Boko Haram, who has conducted a bloody uprising in northeastern Nigeria for almost 1
0 years, regularly uses women to commit suicide bombings against civilian and military targets.
Kamikazes usually target schools, services or markets to kill as many people as possible.
On May 1, 86 people lost their lives in Boko Haram's suicide attacks on a mosque and a market in the city of Mubi, nearby Adamawa.
President Muhammadu Buhari, who wants to run for a second period in the presidential elections in February 2019, has made the fight against the jihadist one of the priorities, but repeated attacks reveal serious security crimes in the northeastern country.
In addition to the rising crime, Boko Haram's jihadist insurgency in the northeast and the agropastor conflict in the middle of the country has left hundreds of deaths since the beginning of the year, although the military deployed in a large part of the country to stop the proliferation of violence.
Despite allegations from the authorities that Boko Haram is "defeated" bloody attacks continue almost daily. A suicide attack commenced Tuesday by the jihadist group killed at least 86 people in Mubi, in Adamawa, according to testimony collected by AFP authorities claiming thirty killed.
Nigeria's "central band", a meeting place between a predominant Muslim north and a predominantly Christian south, is also shocked by the increasing number of clashes between so-called "native" peasants and Fulani pastoralists.
This secular conflict over land and water, exacerbated by the explosion of the population in the most populous country in Africa (180 million inhabitants) has taken a dangerous identity and religious use in recent months.
The conflict has left more than 20,000 deaths and 2.6 million displaced in Nigeria since 2009.
Source link