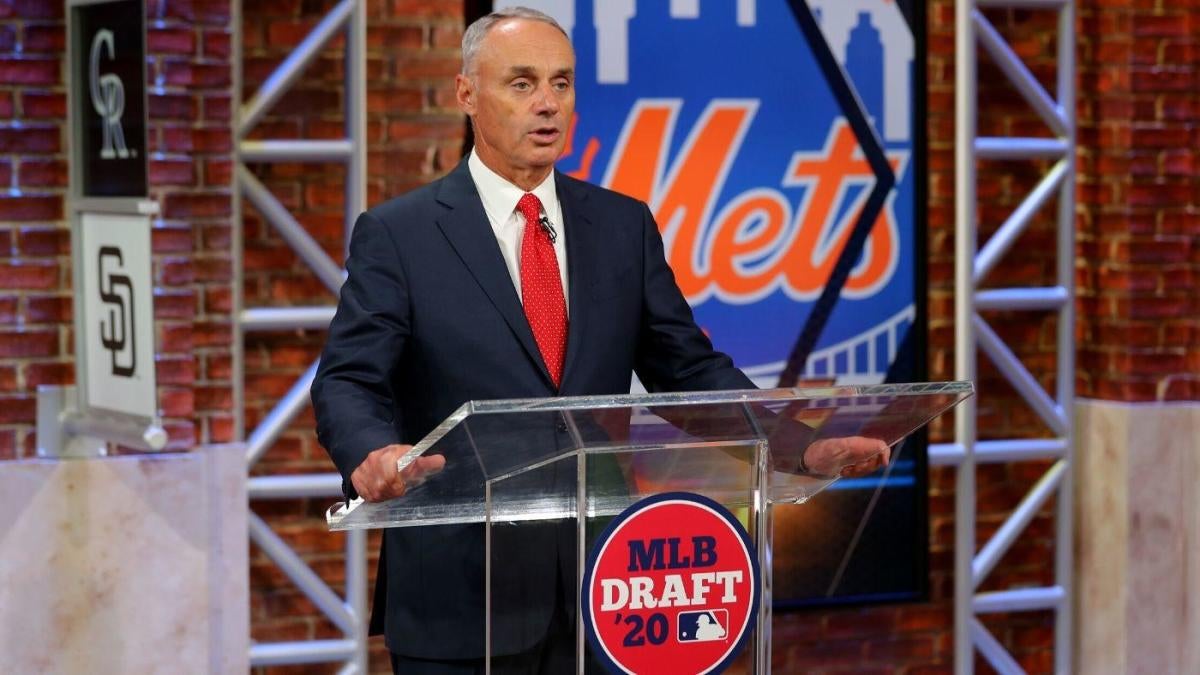 Rating: B

Arizona selected pitchers with their first three picks, adding Duke̵

7;s Bryce Jarvis, Miami's Slade Cecconi and prep lefty Liam Norris this week. Jarvis and Norris both had huge feathers before the pandemic ended their seasons, and Cecconi has enticing size and stuff. It is up to Diamondback's player development staff to ensure that everyone fulfills their potential as a start.
Rating: C
The Braves only had four picks. They started well and took Wake Forest left-hander Jared Shuster in the first round. Shuster saw its stock improve as much as any pitcher over the past year, and now has a power ball and above average turnover. Their other notable pick was Michigan outfielder Jesse Franklin, who did not play this season due to a broken leg.
Rating: C
Confusing draft for Orioles. They used the No. 2 pick on the slug Heston Kjerstad, our prospectus no. 17, and it seemed like they were going to sign him under the track and use the savings on a top high school talent who fell for one of their later picks. Instead, the O's took on safe college catchers in Competitive Balance Round A (Jordan Westburg) and the second round (Hudson Haskin). It was not until the fourth and fifth rounds, when they sprang high school Coby Mayo and Carter Baumler, that the second show dropped. Good players, all of them, but the Orioles held No. 2 and didn't pick a real elite perspective. Feels like they could have had a very similar draft with the No. 15 pick.
Rating: C
The Red Sox surrendered their second pick as a punishment for the sign stealing scandal and it gave them a small bonus pool. Choosing high school infielder Nick Yorke was the surprise in the first round, although Boston balanced it with the sly Blaze Jordan in the third round. Jordan has great power and was considered possible at the beginning of the second round sometimes this spring. The Red Sox would always be behind the 8-ball because they lacked a choice. All things considered, they did well.
Rating: B
Shortstop Ed Howard was the Cubs' first choice. He is about as confident as a prepster might be to remain in position, but that is to see how much he beats against better competition. From there, the kids chose college facilitator Burl Carraway, who has a massive fastball-curve ball combination, but can't always find one. Carraway could be toned down in majors this season. Third-round outfielder Jordan Nwogu is a high-class athlete who hits the ball hard and can be a dynamic offensive player with some fine tuning. The Cubs also took Luke Little, a big left from a junior college who gained attention online by topping 100 mph in throwing sessions during the pandemic
Grade A
It is essentially a two-player draft for the White Sox but they are two really good players. Lefty Garrett Crochet (first round) and right Jared Kelley (second round) were consensus top-20 talents – Kelley looked like a potential top-10 pick sometimes before the shutout this spring – and are potential players for impact. Wood could join the 50-man list and compete in the big leagues this summer. The White Sox had to go cheap with their third, fourth and fifth round selections to make sure they could sign Crochet and Kelley, but that's fine. Two top-20 talents in a five-round draft is a big win.
Rating: C
The Reds used their first round spot No. 13 on Austin Hendrick, a prep outfielder with an explosive swing and star potential. Afterwards, they made red bets on right-handers Christian Roa and Bryce Bonnin and catcher Jackson Miller. The Reds have invested a lot in their pitch development in recent years, so they have a chance to make this class look a lot better than it does on draft night.
Rating: B
Good value all the time for the Indians. First rounder Carson Tucker was a hot name leading up to the draft and he is a potential impact shortstop on the next level. Competitive Balance Round One pick Tanner Burns was one of the best and most successful pitchers in the draft class, and second round Logan Allen is exactly the type of pitcher the Indians tend to take to the next level through game development. Cleveland really acts on Logan Allen's (Logans Allen?).
Grade A
The Rockies landed three players in our top 50: outfielder Zac Veen, catcher Drew Romo and right-hander Chris McMahon. Veen could mature into a middle order literature; Romo a defensive minded reserve or second-division starter; and McMahon either a three-height starter or reliever, depending on what his body allows. Landing Veen and McMahon where they did makes this a nice move.
Grade A
The Tigers held the No. 1 pick and they locked themselves into an A when using it on Torkelson, a future anchor in my order. They then add a very good all-catcher in second round Dillon Dingler, a consistent college player in outfielder Daniel Cabrera in Competitive Balance Round B, and they flat out stole Arizona State infielder Gage Workman in the fourth round. The Workman was seen as a possible choice in the first round coming into the season. Torkelson was arguably the best player in the draft and Detroit added three other late first innings / early second innings in Cabrera, Dingler and Workman. Good, good draft for the Tigers.
Rating: C
The Astros didn't have much to work with. They handed in their first and second rounds as a punishment for the sign theft scandal – their first choice was a total of 72 – but they still landed a second round of talent in the right Alex Santos. Third round Ty Brown was also a nice goat. He is a steady fave thanks to high spin speeds. There's potential for consistency there, even if he's just a shipper. Houston did about as good as it could have hoped, but no first and second rounders will hurt no matter how you cut it. Hard to go higher than C in their situation.
Grade A
Asa Lacy, the top scorer in the draft class, came out of the top three and entered the Royals lap with the No. 4 pick. That's a huge win. Kansas City then added perhaps the best real shortstop in the draft class to Nick Loftin in competing balance round B, and second round Ben Hernandez may have the best conversion among high school pitchers in the draft class. Outfielder Tyler Gentry was also a nice addition in the third round. Lacy makes this an A herself. Laying Loftin and Hernandez (and Gentry) on top of him is the icing on the cake.
Rating: B
The pitching-needy Angels selected Louisville lefty Reid Detmer, arguably the most MLB-ready pitcher in the draft class, in the first round. There is a chance that he will join their 50-man roster this season. Third round David Calabrese has advanced tools and was seen as a tough character, but I guess the Angels know they can sign him if they chose him. Halos gave up their second round to sign Anthony Rendon, so they were a short choice, but Detmer and Calabrese make this a pretty good move.
Rating: B
Each of the Dodgers' first three picks were college arms, starting with Bobby Miller and extending to Landon Knack and Clayton Beeter. (The Dodgers don't get extra points for funny names, but they can.) L.A.'s draft may look better or worse in a few years, depending on their ability to help those arms stay in a rotation. Beeter, whose spin speeds were even better than Asa Lacy's, has been identified as a potential steal.
Grade A
The Marlins started their draft with a surprise and selected Minnesota right-hander Max Meyer with the No. 3 pick. It turned out to be a preview of what was to come, at least in the sense that Miami then chose three other arms with premium material: Dax Fulton, Kyle Nicholas and Zach McCambley. The last three each have significant risks – Fulton underwent surgery by Tommy John last year; Nicholas and McCambley may end up in relief – but there are plenty of rewards here if Marlin's player development staff can work with magic.
Grade A
The Brewers mainly took what they got, and what they got early were a couple of potentially undervalued collegiate hitters: UCLA outfielder Garrett Mitchell and Miami shortstop Freddy Zamora. Mitchell has stellar potential if the Brewers can help him harness his raw power, and Zamora can be a solid starter provided he recovers from a broken ACL. The breweries also dropped catcher Zavier Warren. He will need to be trained, but also the chance to be good.
Rating: C
The twins have emphasized the university which has found great records in recent years and that trend continued this year. First rounder Aaron Sabato is a starting speed god and second rounder Alerick Soularie has good bat-to-ball schools. Sabato and Soularie can beat, but they also come up with defensive issues. The Twins traded their competitive pick to the Dodgers in the Kenta Maeda deal and they lost their third rounder to sign Josh Donaldson, so they had cards on the picks and pool money.
Grade A
The Mets draft goes on to sign three players: the outfielder Pete Crow-Armstrong (a defensive dynamo and potential management champ). right-hander J.T. Ginn (a possible top-10 pick before blowing out the elbow this spring); and outfielder Isaiah Greene (another centerfielder with power potential). Everyone has the chance to provide the Mets with a ridiculous return on investment in relation to where they were selected. Say what you want about the other aspects of Brodie Van Wagenen's bold method of running a team, but it creates exciting draft courses.
Rating: C
The Yankees lost their second and fifth innings to sign Gerrit Cole, so they had three choices and the second smallest bonus pool this year. They landed a first round bat in Austin Wells with the No. 28 pick, but he may not stay for long, which would take some of his value. Third round Trevor Hauver has a chance to work out a career as a versatile super-useful type. With limited resources, the Yankees did about as good as they could have hoped.
Rating: B
There were calls for preparation Tyler Soderstrom would go in the top 10 during the days leading up to the draft, but athletics managed to finish him with the number 26 pick. The rest of their choices, including second round right Jeff Criswell, were solid but unspectacular. Getting Soderstrom near the end of the first round was a victory. None of their other picks really stand out.
Rating: B
The Phillies hit a home team by landing prep right-hander Mick Abel in the middle of the first round. He has all the productions of at least one mid-rotation starter, albeit one that will require development time. Their other notable choice was third round shortstop Casey Martin. He has tools in the first round, but slipped due to poor pitch recognition and a glove that is likely to land him in the midfield when all is said and done. This class has high risk and high reward.
Grade A
Pittsburgh kicked off its proposal by taking Nick Gonzales, who appears to be on second base. There are some fears about his power potential, but the Buccos were just out of reach to take one of the top five players in the class. After Gonzales, the Pirates went to the mound early and often, splashing a trio of athletic arms in Carmen Mlodzinski, Jared Jones and Nick Garcia. Gonzales, Mlodzinski and Jones all ranked in our top 50.
Grade A
The Cardinals used their first three picks to swing from the heels for the roof. That meant they picked prep third baseman Jordan Walker (a big boy with great power potential); prep shortstop Masyn Winn (a dynamite athlete with almost elite bat speed); and prep right-hander Markevian "Tink" Therefore (a smaller pitcher with a quick arm and the ability to spin the ball). Everyone has the tools to become a high-quality donor. It makes them worth the risk given where they are chosen.
Rating: B
The Padres had shown that he was in love with prep outfielder Robert Hassell, so he at No. 8 didn't come as a shock. If he proves to be as good as they think, he is well worth the choice. After Hassell, the Padres took a few chances. Prep right-hander Justin Lange has a big arm and a project; outfielder Owen Caissie has good raw power; and collegiate right-hander Cole Wilcox have the frame and stuff to start, though there are questions about his command and ultimately his signature. If the Padres can ink all four, they should be satisfied.
Rating: C
The Giants had five picks among the top 100, and they used four of them on college players. It started with catcher Patrick Bailey, whose boosters believe they can have four average or better tools at maturity. It continued with powerful third baseman Casey Schmitt; potential leftist Nick Swiney; and infielder Jimmy Glowneke. You could argue that a team in San Francisco's position should have been more aggressive when swinging for the roof, rather than mostly playing it safe for the floor.
Grade A
Emerson Hancock, right from Georgia, was considered a possible # 1 candidate who came in the spring and the sailors were able to get him with the No. 6 selection. That is pretty much the best case. Outfielder Zach DeLoach (second round) and right Connor Phillips (Competitive Balance Round B) were good hosts. Phillips in particular is seen as someone with untapped potential. Hancock alone earns an A. Everyone else is sauce.
Grade A
Up and up and up. The Rays had an extra pick and extra bonus money, and they landed a premium arm in Nick Bitsko in the first round. He could have gone into the top 10 on talent but instead went to election # 24 because his high school didn't play any games before the shutdown, and he was stressed. Competitive balance round A choice Alika Williams is a fantastic average athlete and third rounder Hunter Barnhart is a two-sport guy with a live arm. Now that he is focused on baseball full time and in a large pitcher development organization, he can explode as an opportunity. Ray's draft as well as all teams and they did it again this year.
Rating: D
The Rangers have the ability to go off the beaten path and they did it again this year. First rounder Nick Foscue can really beat, but he came off the board about half a round earlier than expected. Second round Evan Carter, a Tennessee high school outfielder, was not among Baseball America's top 500 (!) Draft. Talk about a surprise. The third round of Tekoah Roby has a sufficiently interesting arm. Rangers zig when everyone else sacks. Nothing wrong with that, but it makes it difficult to evaluate.
Grade A
Vanderbilt's Austin Martin was No. 1 in the prospect class and the Blue Jays landed him with choice # 5. They must be over the moon. Toronto could have used its remaining pickings on houseplants and Martin would have made this an A-draw alone, but they also landed a Frenchman's first arm in the second round of C.J. Fourth rounder Nick Frasso could have been a second rounder had he not been injured before the shutdown. Van Eyk and Frasso are two excellent complementary choices for Martin.
Rating: B
The champions went college-right-heavy, taking Oklahoma's Cade Cavelli, LSU's Cole Henry and UCLA's Holden Powell. Cavelli and Henry could pitch in the middle of a rotation if they can stay healthy, while Powell has late-inning potential. The Nationals also popped prep shortstop Samuel Infante, who profiles as at least one extra infielder.
require.config({"baseUrl":"https://sportsfly.cbsistatic.com/fly-734/bundles/sportsmediajs/js-build","config":{"version":{"fly/components/accordion":"1.0","fly/components/alert":"1.0","fly/components/base":"1.0","fly/components/carousel":"1.0","fly/components/dropdown":"1.0","fly/components/fixate":"1.0","fly/components/form-validate":"1.0","fly/components/image-gallery":"1.0","fly/components/iframe-messenger":"1.0","fly/components/load-more":"1.0","fly/components/load-more-article":"1.0","fly/components/load-more-scroll":"1.0","fly/components/loading":"1.0","fly/components/modal":"1.0","fly/components/modal-iframe":"1.0","fly/components/network-bar":"1.0","fly/components/poll":"1.0","fly/components/search-player":"1.0","fly/components/social-button":"1.0","fly/components/social-counts":"1.0","fly/components/social-links":"1.0","fly/components/tabs":"1.0","fly/components/video":"1.0","fly/libs/easy-xdm":"2.4.17.1","fly/libs/jquery.cookie":"1.2","fly/libs/jquery.throttle-debounce":"1.1","fly/libs/jquery.widget":"1.9.2","fly/libs/omniture.s-code":"1.0","fly/utils/jquery-mobile-init":"1.0","fly/libs/jquery.mobile":"1.3.2","fly/libs/backbone":"1.0.0","fly/libs/underscore":"1.5.1","fly/libs/jquery.easing":"1.3","fly/managers/ad":"2.0","fly/managers/components":"1.0","fly/managers/cookie":"1.0","fly/managers/debug":"1.0","fly/managers/geo":"1.0","fly/managers/gpt":"4.3","fly/managers/history":"2.0","fly/managers/madison":"1.0","fly/managers/social-authentication":"1.0","fly/utils/data-prefix":"1.0","fly/utils/data-selector":"1.0","fly/utils/function-natives":"1.0","fly/utils/guid":"1.0","fly/utils/log":"1.0","fly/utils/object-helper":"1.0","fly/utils/string-helper":"1.0","fly/utils/string-vars":"1.0","fly/utils/url-helper":"1.0","libs/jshashtable":"2.1","libs/select2":"3.5.1","libs/jsonp":"2.4.0","libs/jquery/mobile":"1.4.5","libs/modernizr.custom":"2.6.2","libs/velocity":"1.2.2","libs/dataTables":"1.10.6","libs/dataTables.fixedColumns":"3.0.4","libs/dataTables.fixedHeader":"2.1.2","libs/dateformat":"1.0.3","libs/waypoints/infinite":"3.1.1","libs/waypoints/inview":"3.1.1","libs/waypoints/jquery.waypoints":"3.1.1","libs/waypoints/sticky":"3.1.1","libs/jquery/dotdotdot":"1.6.1","libs/jquery/flexslider":"2.1","libs/jquery/lazyload":"1.9.3","libs/jquery/maskedinput":"1.3.1","libs/jquery/marquee":"1.3.1","libs/jquery/numberformatter":"1.2.3","libs/jquery/placeholder":"0.2.4","libs/jquery/scrollbar":"0.1.6","libs/jquery/tablesorter":"2.0.5","libs/jquery/touchswipe":"1.6.18","libs/jquery/ui/jquery.ui.core":"1.11.4","libs/jquery/ui/jquery.ui.draggable":"1.11.4","libs/jquery/ui/jquery.ui.mouse":"1.11.4","libs/jquery/ui/jquery.ui.position":"1.11.4","libs/jquery/ui/jquery.ui.slider":"1.11.4","libs/jquery/ui/jquery.ui.sortable":"1.11.4","libs/jquery/ui/jquery.ui.touch-punch":"0.2.3","libs/jquery/ui/jquery.ui.autocomplete":"1.11.4","libs/jquery/ui/jquery.ui.accordion":"1.11.4","libs/jquery/ui/jquery.ui.tabs":"1.11.4","libs/jquery/ui/jquery.ui.menu":"1.11.4","libs/jquery/ui/jquery.ui.dialog":"1.11.4","libs/jquery/ui/jquery.ui.resizable":"1.11.4","libs/jquery/ui/jquery.ui.button":"1.11.4","libs/jquery/ui/jquery.ui.tooltip":"1.11.4","libs/jquery/ui/jquery.ui.effects":"1.11.4","libs/jquery/ui/jquery.ui.datepicker":"1.11.4"}},"shim":{"liveconnection/managers/connection":{"deps":["liveconnection/libs/sockjs-0.3.4"]},"liveconnection/libs/sockjs-0.3.4":{"exports":"SockJS"},"libs/setValueFromArray":{"exports":"set"},"libs/getValueFromArray":{"exports":"get"},"fly/libs/jquery.mobile-1.3.2":["version!fly/utils/jquery-mobile-init"],"libs/backbone.marionette":{"deps":["jquery","version!fly/libs/underscore","version!fly/libs/backbone"],"exports":"Marionette"},"fly/libs/underscore-1.5.1":{"exports":"_"},"fly/libs/backbone-1.0.0":{"deps":["version!fly/libs/underscore","jquery"],"exports":"Backbone"},"libs/jquery/ui/jquery.ui.tabs-1.11.4":["jquery","version!libs/jquery/ui/jquery.ui.core","version!fly/libs/jquery.widget"],"libs/jquery/flexslider-2.1":["jquery"],"libs/dataTables.fixedColumns-3.0.4":["jquery","version!libs/dataTables"],"libs/dataTables.fixedHeader-2.1.2":["jquery","version!libs/dataTables"],"https://sports.cbsimg.net/js/CBSi/app/VideoPlayer/AdobePass-min.js":["https://sports.cbsimg.net/js/CBSi/util/Utils-min.js"]},"map":{"*":{"adobe-pass":"https://sports.cbsimg.net/js/CBSi/app/VideoPlayer/AdobePass-min.js","facebook":"https://connect.facebook.net/en_US/sdk.js","facebook-debug":"https://connect.facebook.net/en_US/all/debug.js","google":"https://apis.google.com/js/plusone.js","google-platform":"https://apis.google.com/js/client:platform.js","google-csa":"https://www.google.com/adsense/search/async-ads.js","google-javascript-api":"https://www.google.com/jsapi","google-client-api":"https://apis.google.com/js/api:client.js","gpt":"https://securepubads.g.doubleclick.net/tag/js/gpt.js","newsroom":"https://c2.taboola.com/nr/cbsinteractive-cbssports/newsroom.js","recaptcha":"https://www.google.com/recaptcha/api.js?onload=loadRecaptcha&render=explicit","recaptcha_ajax":"https://www.google.com/recaptcha/api/js/recaptcha_ajax.js","supreme-golf":"https://sgapps-staging.supremegolf.com/search/assets/js/bundle.js","taboola":"https://cdn.taboola.com/libtrc/cbsinteractive-cbssports/loader.js","twitter":"https://platform.twitter.com/widgets.js","video-utils":"https://sports.cbsimg.net/js/CBSi/util/Utils-min.js"}},"waitSeconds":300});