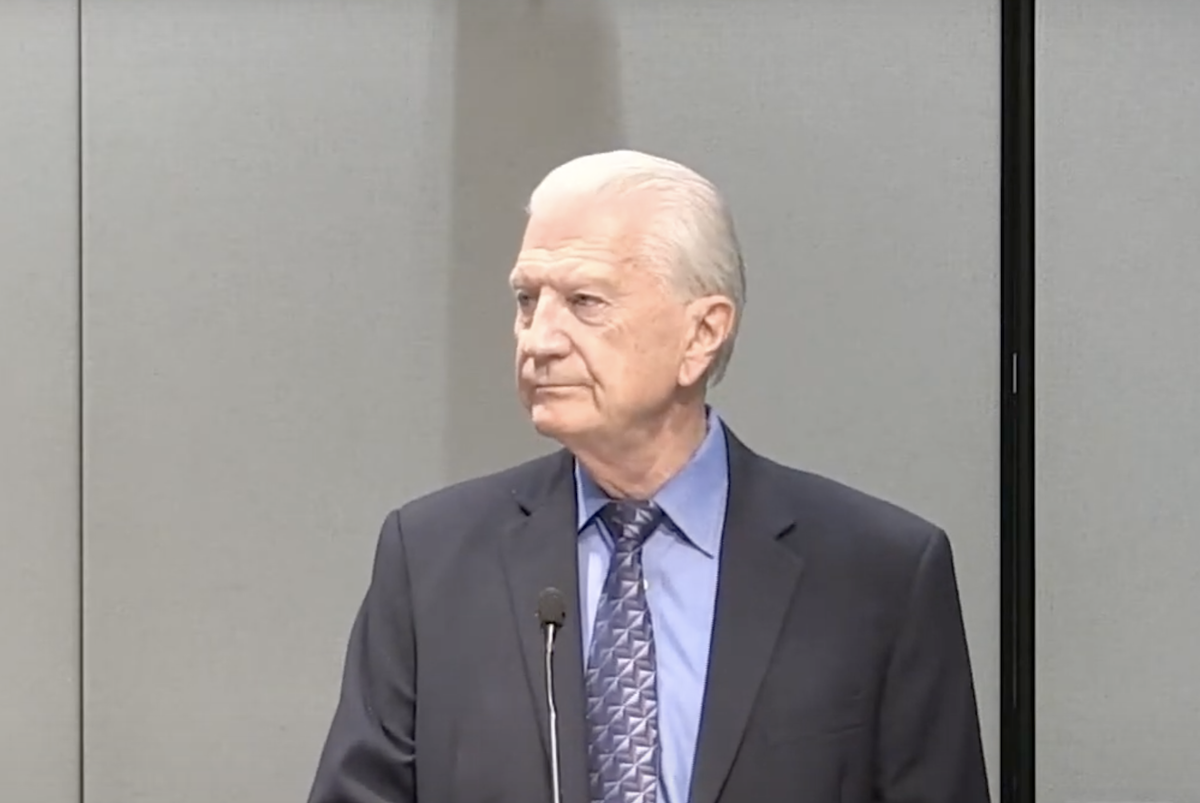 Minnetonka Public Schools has approved a hybrid learning model to start the 2020-2021 school year, but not without controversial comments from its superintendent who said the flu poses more risks to students and families than COVID-19, a claim that has been refuted by experts since the pandemic began.
The Minnetonka school board on August 6 unanimously approved a hybrid learning plan, which was one of seven alternatives presented to the board during its six-hour meeting.
Before Minnetonka Schools Superintendent Dennis Peterson presented his recommended plan for learning this fall, he made a series of controversial comments (beginning with about a 3-hour, 9-minute mark in the video above) emphasizing the importance of students returning to school to learn and the safety measures that will be in use this school year.
"It feels like the media sometimes tends to emphasize the studies that scare people and increase concern about the threat of the virus. The media has a mission to encourage people to stay away from each other and stay away from companies and schools," Peterson said, without to cite some evidence.
"Healthcare workers have been at work throughout the closure and continue to be at work," he added. "Others in our economy are back to working with the public. There are probably more risks for our students and their families of the flu than there are of the virus."
Health experts have said for months that the new coronavirus is more contagious and more deadly than the flu, and the symptoms of the virus tend to be more severe and unpredictable.
While influenza in recent years has caused more deaths among children than COVID-19, the coronavirus is more deadly among adults, posing a risk to those working in schools and students' wider families if there is an outbreak.
Furthermore, tests are still ongoing to find both a vaccine and to determine the most effective antiviral treatment for COVID-19, which has claimed more than 160,000 lives in the United States this year.
On the other hand, there are established antivirals and flu vaccines that can reduce the severity of the virus, even though tens of thousands of Americans still die from it every flu season.
Nevertheless, Peterson suggested that the threat posed by the virus be exaggerated, saying: "People have just become so afraid of this, it's a legend of how dangerous this is when in fact our situation will not be so dangerous."
He commented above after mentioning the viral photo taken by a crowded high school in Georgia. This school is now closed for a few days after nine COVID-19 cases were reported among students, CNN reports.
Peterson also questioned the closure of schools in the spring when the pandemic arrived in Minnesota, saying:
"COVID is spreading outside schools. The closure in the spring was intended to prevent school-age children from infecting grandparents, and vulnerable parents and other family members. How did it work? We still had thousands of grandparents, and getting sick, and many The system could not recognize that students who are not in school go to other places, and that others in our society were not careful about their interaction with other people.Family members or students, got the virus from the other commitments, they transmitted it to others We know for sure that no student got it from school because they are not in school. "
Outbreaks of COVID-19 have been traced to a number of gatherings since Minnesota's residency orders were ordered, including new outbreaks traced to basketball and football practices and camps in Lewiston, Minnesota, and a funeral in Becker County.
Kristin Bausman, director of public health for Becker County Public Health, said of the recent incident: "We are seeing an increased level of community transfer in the state related to social gatherings and this in turn carries increased risks for our long-term care facilities, schools and workplaces."
Setbacks from local residents
The supervisor's comments have received much attention among parents in the Minnetonka school district and people outside the district, including a demand for ethics complaints from an elementary school teacher and demand that he resign.
BMTN on Monday, August 10, reached out to Minnetonka Public Schools to comment on the criticism Peterson has received and whether the district's position is that the flu is more risky than COVID-19.
Getty responded with an e-mail sent to parents Sunday from Peterson and the school board detailing how they decided on the hybrid curriculum, but did not address the questions BMTN asked.
"We had received several questions from parents, especially high school parents, who asked for that information after the surveillance presentation of the district's recommended return to school curriculum," Getty said in an email.
The email in part said, "Parents, thank you for your support and for trusting Minnetonka schools with your child's education." We believe that the approved board will be successful with all of us working together to make it happen. Our goal remains to offer the highest quality in student education while maximizing staff, student and family safety. "
Peterson is not the only public school official to have been criticized after comments made during discussions on the reopening plan. Earlier this month, Bloomington Public Schools board member Beth Beebe argued when she argued that children should return to elementary school this fall, citing COVID-19 treatments in a viral video that was banned from social media sites and does not recommend treatments by various health bodies, including the CDC. .
Greg Pulles, who runs for Minnesota Senate District 44 which includes Minnetonka, Plymouth and Woodland, has echoed similar comments.
Minnetonka and other districts in the western subway, including Wayzata, begin the school year with a hybrid curriculum, while Minneapolis and St. Paul will start the year with distance learning. Here is a list of what other school districts in Minnesota are doing to start the school year.
CDC: The more interaction children have, the higher the risk of COVID-19 spreading
According to data from the Minnesota Department of Health (MDH) on August 10, there have been 61,516 positive COVID-19 cases in Minnesota and 1,660 people have died from the virus. Among children aged 0-5 years, there have been 1,391 confirmed cases of COVID-19 and one death and among children 6-19, there have been 7,451 cases and zero deaths.
At the same time, older adults are more prone to serious complications caused by coronavirus, health officials have said. In Minnesota, there have been 10,229 confirmed COVID-19 cases and 1,533 deaths among people 60 years and older, data show.
The Federal Centers for Disease Control and Prevention (CDC) says children "do not appear to have a higher risk of COVID-19 than adults", citing evidence currently available, but they may still become ill with the virus and spread the virus as well. if they do not show symptoms, say the CDC and the Mayo Clinic.
"An important guiding principle to remember is that the more people children interact with and the longer the interaction, the greater the risk of COVID-19. While children can spend time with other people when they return to daycare or school, it is important to "Remember that exposure to additional children and adults outside of daycare or school should be managed to reduce the risk," says the CDC.
Some preliminary studies from other countries suggest that there may be less virus transmission among children, especially younger children, to adults and other children, says NPR. A comment in Pediatrics said that although the reports are "far from definitive", early research shows that school-based transmission of the virus can be a "manageable problem", especially among primary school children who "seem to have the lowest risk of infection."
"Schools will now be the experiment," says Dr. Aaron Carroll, pediatrician at Indiana School of Medicine, to NPR. "We will see a bunch of schools open with different levels of control, and then we'll see what happens."
Security measures in Minnetonka
Minnetonka has provided child care during school closures to key workers, including medical staff, and the district had no cases of the virus during that time, Peterson said.
Minnetonka School spokesman JacQui Getty told BMTN on July 28, before the district made a decision on its reopening plans, that it is limited to what it can share about student and staff health, but if cases are reported, the district will work with MDH to identify and contact those who may be at risk for the virus.
In July, Minnetonka schools began installing partitions in school receptions, placing social spacing decals on floors in public areas, and ordering masks, face shields and hand sanitizers for each building in preparation for the reopening, Getty said. The area also gets some temperature-taking scanners and adds air purifiers that remove contaminants.
Students and staff will need to wear masks and practice social distance to prevent the spread of the virus, Peterson said. At the same time, families can choose whether they want their children to learn through distance learning.
Asked if the district has enough teachers and staff if some needed to work from home for health reasons or some students would be forced to learn at a distance, Peterson said:
"I do not think it is likely to happen. We can always hire more teachers if we have to. But it is assumed that all teachers who will not come to work have a legal reason not to be there. We don 'I want to address with these things until we decide the individual situation, but we think we will be OK in staffing. "
Peterson noted that an employer can require people to be at work if they do not have a risk covered by state law, and that each school must work through situations to determine if an employee is scared or if it is a "legitimate situation."
Governor Tim Walz's guidance for schools last month suggested that all teachers who wanted to teach at a distance should be given the opportunity to do so.