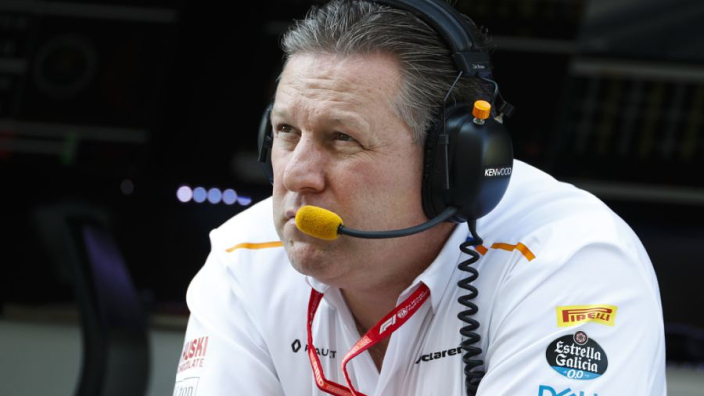 McLaren has become the second team to announce its intention to protest against penalties handed over to Racing Point for driving illegal parts in the first four sizes for this season.

Following the lead of Ferrari, McLaren has confirmed to GPFans that the team has informed the FIA ​​of its intention to protest against penalties handed out to Racing Point.
McLaren, CEO Zak Brown, spoke on Friday: "I know we are looking at both a protest situation, we are also looking at an appeal.
"We are not just happy to leave it alone, because the end result is that they continue to compete with this part that should not be on the race car."
;
A Renault protest against the brake channels on the Racing Point RP20 was confirmed by the managers after a hearing in Silverstone on Wednesday, which led to the penalties.
As for the brake channels themselves, Brown added that he has question marks "over the main part of the car" and described the first FIA decision as "the tip of the iceberg".
At the FIA's press conference, Brown Racing Point's original line that the RP20 had been designed by photography described as "BS", stating: "All around this copying, they apparently claimed to have managed the car through photography.
"It is clear that you are reading the document that is BS and therefore you have to question everything else around that car."
After the conference, Brown added in the media pen: "It [the penalty] has no meaning for the fans, let alone people in the pasture, and I think it needs to be seen much faster.
"I do not think the penalties fit the crime in that last year they were seventh in the championship, now they are competing for third in the championship.
"It's worth tens of millions of dollars, so getting a 400,000 euro fine is insignificant compared to the benefits."
In a war of words between the teams, the Racing Point team's principal Otmar Szafnauer launched a furious counter against Brown's remarks.
"For Zak Brown, it's BS because he's not an engineer," Szafnauer said. "He has no idea what he's talking about. Zero!
"I'm surprised at how little he knows about the rules of Formula 1. It seems to me that he knows more about historic racing than he does about Formula 1."
Before you go…
No warning for Vettel before Ferrari engine failure
Pirelli "worried" by potential risk-takers and repetition of Silverstone failures