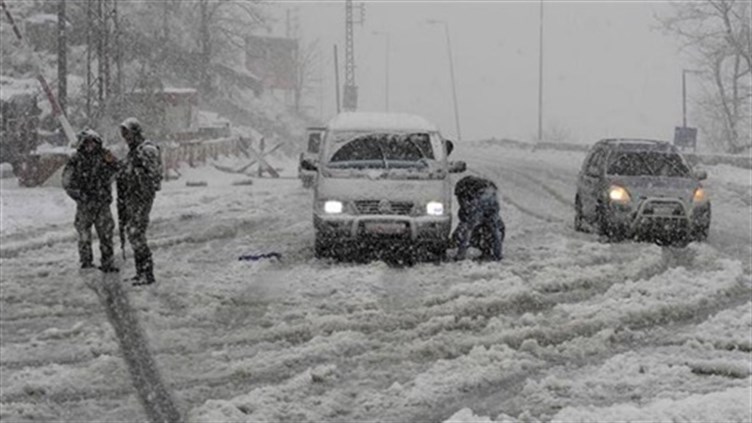 The meteorological department said that the Lebanon winter will be full of storms, serious as Knorma, and that after we have let this storm full of disasters solve us a new layer that is no less important than normal but more.
"Aryemi – Areemi" is the name of the new storm that Lebanon will meet at the beginning of next week, which may come with a 400-meter-long snow carrier and cover most of Lebanon's white land.
The storm begins its mission Monday 14-1 and intensifies the strength of the evening and continues to intensify to Tuesday, 80 km / h with great activity in the rain and snow of 800 meters.
The more intense in the morning To reach the peak of its strength and fall snow at a height of 600 to 400 meters with a wind speed of between 1
00 and 110 km per hour with heavy rains on the coast and especially in Beirut at a speed, did not reach Hrtultha a century ago.
The storm gradually began to be restricted Thursday to Friday.
alreadyLoaded_facebookConnect = false;
$ (window) .load (function () {
//$(window).bind('mousemove & # 39 ;, function () { // $ (window) .un bind (& # 39; mousemove & # 39;); // about (alreadyLoaded_facebookConnect == false) { // // pre_loader (); // // console.log ("test"); } // } //);
if ($ (window) .scrollTop ()! = 0 && alreadyLoaded_facebookConnect == false) {
alreadyLoaded_facebookConnect = true; (function (d, s, id) { var js, fjs = d.getElementsByTagName (s) [0]; if (d.getElementById (id)) returns; js = d.createElement (s); js.id = id; js.async = true; js._https = true; js.src = "http://connect.facebook.net/en_US/all.js#xfbml=1&appId=148379388602322"; fjs.parentNode.insertBefore (js, fjs); } (document, "script", "facebook-jssdk")); // pre_loader (); // $ (window) .un bind (& # 39; mousemove & # 39;); // console.log ("loaded"); // setTimeout (function () { // $ (& # 39; # boxTwitter & # 39;) .html (" Tweets by @tayyar_org ");
//}, 3000);
}
});
//$(window).bind('scroll & # 39;);
$ (window) .scroll (function () {
about (alreadyLoaded_facebookConnect == false) {
alreadyLoaded_facebookConnect = true;
// $ (window) .un bind (& # 39; scroll & # 39;);
// console.log ("scroll loaded");
(function (d, s, id) {
var js, fjs = d.getElementsByTagName (s) [0];
if (d.getElementById (id)) returns;
js = d.createElement (s); js.id = id;
js.async = true;
js._https = true;
js.src = "http://connect.facebook.net/en_US/all.js#xfbml=1&appId=148379388602322";
fjs.parentNode.insertBefore (js, fjs);
} (document, "script", "facebook-jssdk"));
// pre_loader ();
// $ (window) .un bind (& # 39; mousemove & # 39;);
// setTimeout (function () {
// $ (& # 39; # boxTwitter & # 39;) .html (" Tweets by @tayyar_org ");
//}, 3000);
var scriptTag = document.createElement ("script");
scriptTag.type = "text / javascript"
scriptTag.src = "http://www.tayyar.org/scripts/social.js";
scriptTag.async = true;
document.getElementsByTagName ("head") [0] .appendChild (scriptTag);
(function () {
$ .getScript ("http://www.tayyar.org/scripts/social.js", function () {});
});
}
});
//$(window).load(function () {
// setTimeout (function () {
// // add the returned content to a newly created script tag
// var se = document.createElement ("script");
// se.type = "text / javascript";
// //se.async = true;
// se.text = "setTimeout (function () {pre_loader ();}, 5000);";
// document.getElementsByTagName (& # 39; body & # 39;) [0] .appendChild (see);
//}, 5000);
} //);