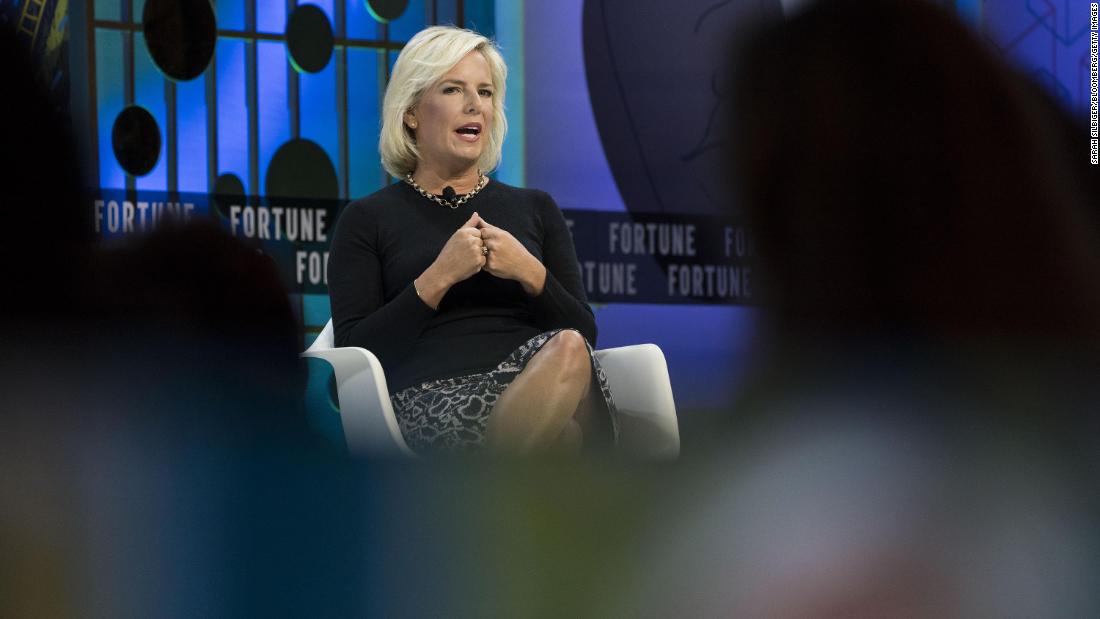 "There were many things that, it was those in the administration who thought we should do, and just as I spoke truth to power from the beginning it became clear that I said no and refused to do it myself would not suffice, so it was time for me to offer my departure, "she said at FORTUNE's most powerful women's summit.
Her comments came to the end of an intense and brief interview with Amna Nawaz, national correspondent for" PBS NewsHour, "which focused primarily on Nielsen's controversial role in the separation of families at the border.
Nielsen, who resigned in April, repeatedly pressed whether she regretted signing a memo forcing the separation of families.
"I do not regret enforcing the law, because I took an oath to do so, "Nielsen said, adding that her decision was to" enforce the law, not to separate families. "
But she said she wanted the coordination and The information flow had "worked much better."
"What I regret is that we have not solved it and what I regret is that the information flow and coordination to quickly reunite families was clearly not in place and that was why the practice was stopped by an executive order, "she said.
"It clearly didn't work, so we stopped it under an executive order," she added.
Asked if anyone raised concerns about children being traumatized as a result of politics, Nielsen said, "not from staff, no."
Earlier this month, President Donald Trump announced that he would nominate Nielsen to the National Infrastructure Advisory Council. Nielsen told the audience on Tuesday that the position is unpaid and that she would advise the government on cyber and critical infrastructure needs.
Nawaz pressed her on why she currently advised the White House and received a retort from Nielsen.
"Are you telling every CEO in here that they should never give advice to the government," she said to applause.
This was Nielsen's first public interview since her forced departure in April. She had been scheduled to appear at the Atlantic Festival last month, but later dropped out in the middle of setbacks. She interrupted because of a family situation, not the criticism of her presence, according to a source familiar with the situation.
Singer songwriter Brandi Carlile dropped out of the Fortune event earlier this week, citing "the cruelty of family separation."
"Respectfully, I absolutely cannot support Kirstjen Nielsen with a voice among the most powerful and inspirational women in America," she tweeted.
Nielsen became the face of the Trump administration's zero-tolerance policy that led to the separation of thousands of families arrested across the southern border.
At the end of the controversial interview, Nielsen said, "I wish we had come to cyber, because that's why I was originally here."
"Cyber ​​is the biggest threat we face in our homeland today," she said.
Source link