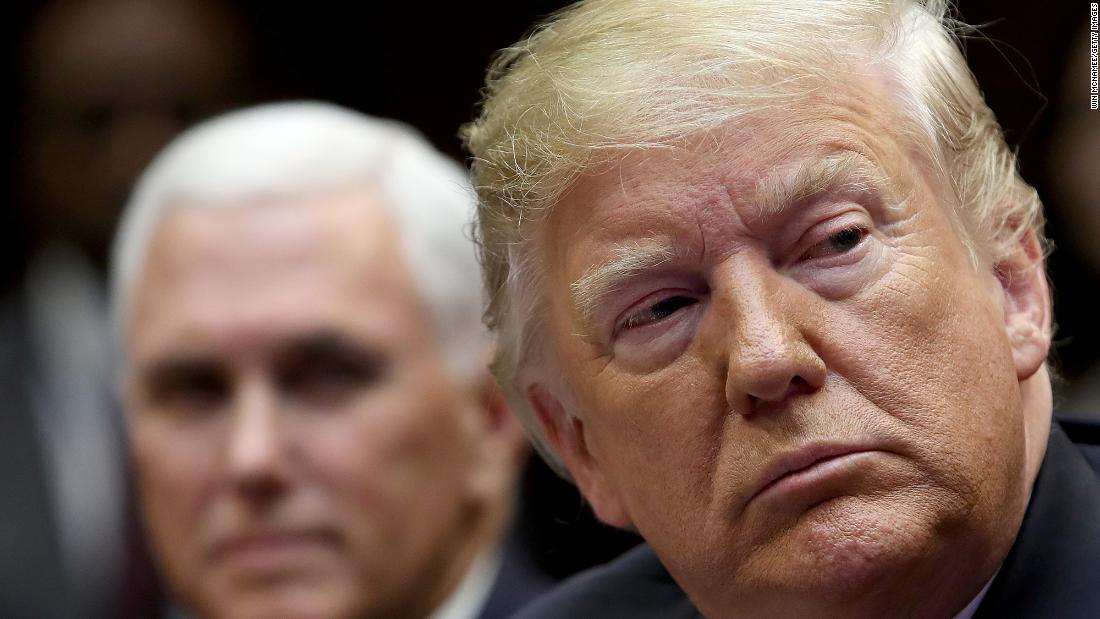 No matter who is responsible, no matter what happens, it is simple and important for journalists to keep powerful people to a high standard. And journalists should be kept to a high standard as well. Lowering the bar is a service for everyone involved.
Case in point: Trump helps on Sunday shows. "One of the reasons this administration makes so few appearances on Sunday morning is because of how bad Mick Mulvaney did with Fox and Mike Pompeo did on ABC," an email to me pointed out. That's true – Chris Wallace grilled right Mulvaney and George Stephanopoulos made Pompeo sweat. That's how it should work. These officials must be held to the same high standards as previous administrators. And when they can't handle it, the viewers can see for themselves.
This issue also came up on Sunday's "Reliable Sources". I said that the media members constantly say that the White House should hold more press meetings. And then Mulvaney held one … and it was disastrous for Trump. Mulvaney tried to go back to his quid pro quo statement, and then Trump turned himself around to hold the G7 meeting in Doral, which was the original point of the press.
I can hear critics say "you wanted a press overview, you have one!" Yes, but the press and the public deserve both frequent and accurate information from officials funded by the taxpayers. It's not even a high standard, it's just a standard level at the basic level …
How about a proofreader?
The president stayed to high standards and incorrectly spelled his defense secretary in a tweet on Sunday. He wrote "Mark Esperanto." He later deleted the error and published a new tweet with Mark Esper's name, but with a mysterious quote that Esper has never made public. Per WaPos Josh Dawsey, "the administrators don't think Esper has said this anywhere in public" and are confused by Trump's tweet.
Trump has also incorrectly made basic facts about the US military mission in the Middle East. I don't think this should be met with a shoulder. It should be measured against high standards that are applied consistently.
→ George Conway
said
the error is another sign of something that is seriously wrong: "We make all typos and mistakes, and spell check mess with the best of us. But you make so many strange prisoners ̵
1; how about the 1770 battle plan, or the "Toledo" massage, that you have to check in. And you are often coherent or barely coherent. You have to submit to the brief senility test you have taken, which tells us a bit, but rather to a complete neuropsychological task … "
When neutral reporting on Trump sounds like criticism
" Facts serve as condemnations under Trump, "Erik Wemple said on Sunday's" Reliable ", pointing out that neutral fact-finding sometimes sounds like an "attack." I mentioned the Esper error as an example.
→ CNN's fact checks Extraordinary Daniel Dale also joined the conversation. He said "I think a serial liar Trump is counting on is his ability to tear us down …"
FOR THE RECORD
– You heard this first: Suffolk University and the US TODAY are coming out with a new survey of Iowa voters on Monday morning …
– Read more about Wednesday's "Reliable Sources" newsletter … And subscribe here to get future releases in your inbox …
– Toluse Olorunnipa, Josh Dawsey and David A. Fahrenthold's piece in Monday's Post: Trump "was forced to abandon" his Doral decision "after it became clear that the move had mediated Republicans and quickly become part of the process that threatens his presidency … "(WaPo)
– Maggie Haberman, Eric Lipton and Katie Roger's work in NYT states:" The president first heard the criticism of his choice of Doral watching TV, where even some Fox News personalities rejected … "(NEW)
Nyhe t cycles are ou t, shock cycles can be found in
Cribbing from my monologue on Sunday's "Reliable Sources:" Each day is a different shock, a different scandal, a different period of upset … And then the same thing again the next day. Doral and G7 are a perfect example. It's a "shock cycle."
As citizens, we must maintain our capacity to be shocked. But more importantly, we must acknowledge WHY these stories are fantastic. And that's where journalists come in … That's why the news cycle still means … Because many people just hear the shock and the uproar. They lack "why" it is shocking. They lack the context. The big picture context continues to be about abuse of power.
Jim Sciutto's advice for the coming week
"Ignore the usual bug fix and new" villains ", the CNN anchor and head of national security
tweeted
." Focus on: the constant affirmation of the whistle-blower's complaint; the bloody retreat in Syria and rapid Russian, Iranian and Turkish gains; settlement and / or doubt for a (small) handful of Republicans … "