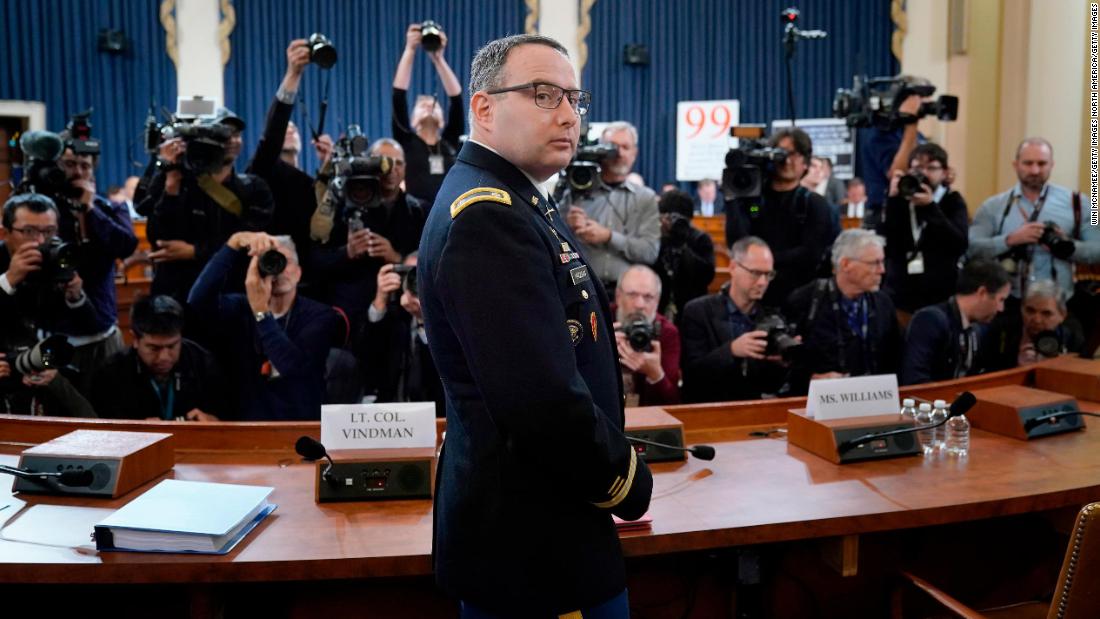 The request for a withdrawal centers around an October 28 segment on Laura Ingraham's prime time show, "The Ingraham Angle."
During that segment, Ingraham seemed to think that Vindman, a decorated military officer, was perhaps more loyal to Ukraine than the United States. Vindman was born in Ukraine but grew up in the United States.
"Isn't that such an interesting angle on this story?" Ingraham asked his guest John Yoo, a law professor who served as President George W. Bush's administration.
"I find it amazing," Yoo replied. "Some people might call it espionage."
Vindman's lawyer, David Pressman, characterized the segment in his letter as "false and defamatory" and "deeply wrong and wrong." Noting espionage is punishable by death. [1
9659004] Vindman, a Purple Heart recipient, has been a target of Trump and his allies for his testimony to the House investigators. Vindman testified that he considered it "inappropriate for the United States president to require a foreign government to investigate an American citizen and a political opponent."
Trump and his allies have retaliated against Vindman's testimony by calling him a so-called "Never Trumper" and questioning his patriotism, even though it was his job as the White House's Ukraine expert to work with the Ukrainian government. At his hearing on Tuesday, Vindman insisted he is a "never partisan" after GOP legislators suggested he be biased against the president.
Pressman said Ingraham's segment "triggered a stream of republicans and copycat false accusations" and was reinforced by Trump on Twitter.
"Fox News has a great responsibility for the truth," Pressman wrote. "The segment was not true. It has now been repeated by some of the most powerful people in the world."
"It causes great pain," added Pressman. "We ask you to withdraw the coverage, correct the record and publish the truth."
After the controversial segment, Yoo wrote an op-ed for USA Today in which he admitted that he "really went into it" and made it clear that he meant that Ukraine had been "spying". Yoo also appeared on CNN, saying he "regretted the choice of words" he used in the Ingraham interview.
A Fox News spokesman pointed to Yoos clarifications when he asked for comment on Pressman's letter to the network.
"As a guest on Fox News, John Yoo was responsible for his own feelings and he has since conducted interviews to clarify what he meant," the Fox News spokesman said.
Source link