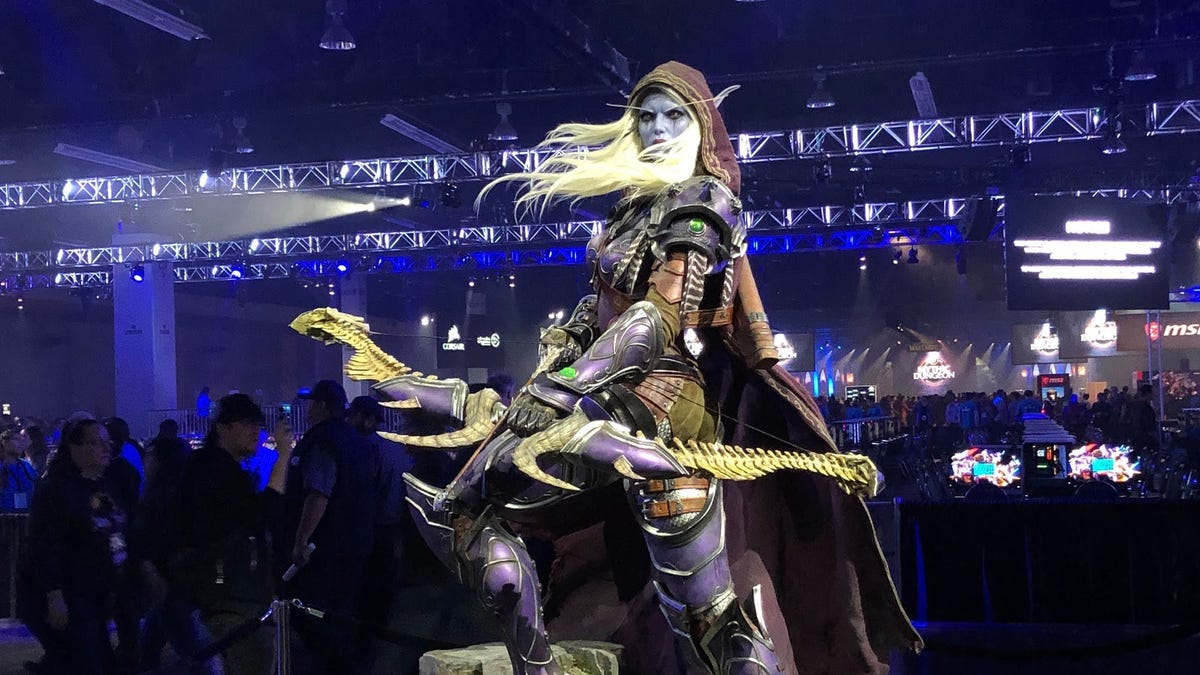 Last weekend, I delved into the sights and sounds of a lively congress floor at BlizzCon in Anaheim, California. It was work – interviews, practical games, meeting with contacts. It was also a chance to meet friends. Through everything, I felt guilty. When controversy arose, I was forced to navigate my guilt in the midst of a massive celebration.
BlizzCon, Blizzard Entertainment's annual celebration of their features and games, is unlike the hectic heroes of E3 or the straight-laced interface between Game Developers Conference. It's a party, a game jamboree where old friends gather, themed drinks flow and lots of fans rejoice when new game announcements arrive. There is an energy to BlizzC that I have not found anywhere else; it feels like a class reunion. If your classmate was a level 1
20 shaman or.
Unfortunately, everything around my BlizzCon felt like a disaster. At first, my disappointment was completely personal. I had originally planned to go on BlizzCon as a personal trip with a close friend, not as a work trip; my colleague Nathan Grayson was already covering the event for us at Kotaku . But as the event approached, that plan changed and it became more of a work trip. Then a significant Blizzard controversy was played out: the company punished a professional Hearthstone for who advocated for protesters in Hong Kong . This led to an international conversation with American politicians who spoke out against Blizzard's decision.
I quit when I attended the event as a journalist. It changed my attitude. This was not going to be a mini-holiday with friends, where I shot the shit and kept it loose. Instead, it would be about navigating a controversy that people rightly became angry with. The aggravating incident was straightforward – I think Blizzard's first sentence against Ng Wai Chung was too harsh – but it had broader consequences that were more complicated. I was frustrated to see comments from people who seemed to have become experts in Hong Kong politics overnight. I was skeptical of politicians playing against anti-Chinese xenophobia. I was also personally in conflict. If I liked a game that seemed likely, I would undoubtedly anger some readers and fans who expected a hard position on my end. In some ways, it felt like a balancing act that I couldn't handle. Give the developers a fair shake, support and acknowledge the disappointment of the fans . There is a pressure when you are in any semi-public position to be perfect; to please everyone. That didn't seem possible. It doesn't feel possible even when I write this.
It would soon be even harder for me and Nathan to cover BlizzCon. Two days before I came on a plan for the event, Deadspin Vice Editor Barry Petchesky was fired here at G / O Media. Over the next few days, the rest of followed Deadspin 's staff. By the end of the day on Friday, the entire Deadspin editorial board had either been dismissed or quit.
Imagine that you are on a plane and when you land you learn that some of the most talented people, people whose work has inspired you and who have driven you to do better, are now gone. Now imagine that you have to be in the same city as Disneyland, in the middle of the convention which is in fact a theme park for itself.
I needed to find out what to do. I could freeze and spiral into disastrous thoughts. It was the most tempting option. But I thought to myself, it wouldn't serve anyone. Not my team at home, not the hard-working devs on the floor, and really not myself. The left option number two: put away my intense feelings and do the damn job. So I did. I sat down and wrote the questions I wanted to ask the developers. I coordinated with Nathan. Divide: You met Overwatch I will do Diablo . There would be no surprises this time, so planning was easy.
The debt continued to creep again. We worked while other people in our company went out and decided that they would have enough. What the fuck was I? But it was undoubtedly work to do. I did the interview prep, engaged in the best possible job. Readers deserve it.
But again, this work was not without its other complications. Protesters gathered outside the conference center furious over the treatment of Blitzchung . If I played Diablo IV and wrote about how I liked it, did I release people? Did I download Deadspin and write BlizzCon articles as if nothing had happened?
I realized that it was not possible to hurt myself at work. I couldn't just ignore the guilt and sadness I felt. Trying to put it aside had helped for some time, given me focus and drive to get from one part of the day to the next. But sadness requires that one be released or else it will be left as old milk in the fridge. I found the release in an unexpected place, in the middle of Blizzard's game announcements.
I didn't cry in Seattle, during my flight overview, when I heard how fantastic writers Drew Magary and David Roth left off. I kept it all going when Patrick Redford and Samer Kalaf mic dropped their way out the door. But the tears must come out sometime. They came unexpectedly: when I saw the Overwatch 2 trailer.
S eeing a bunch of fucking heroes working together to beat a giant, soulless robot broke something inside me. It was a team of people who met to do a brave thing, to have each other's backs. It's hard not to get romantic about art, and even harder to not tie it to what's happening to you. So Overwatch teamed up to defeat Private Equity Bot 3000 (or so I imagine), and that was absolutely what I needed. All around me, I heard fans dropping their minds with cheers as Genji swept in to save the day. My heart caught up with them, not for exactly the same reason, but still. It felt good to lose myself in the excitement. It felt good when Tracer launched itself on that giant mechanism and blew it. It felt good to finally allow myself some tears.
As the event went on, I realized that not only did I have to cry. I also needed to feel joy. If I were to get the job done at BlizzCon, I needed to let myself know what I would feel, to move forward. So I did, and as a result, it became an experience that I will remember with pleasure. Yes, I was still asking tough questions in interviews, and it was still a thrill in the air. But whether I spent time with friends or talked to enthusiastic developers, I found myself enjoying the work. I also let myself feel that joy. Some of me still feel bad for it. Grief can fool us into thinking that we must not be happy, not even for a moment. But that's just it: a trick.
During BlizzCon, I met my friend and went to get coffee. It was the first time I saw her in six months. We eventually made our way to the show floor to watch a professional Hearthstone match between Xiaomeng "VKLiooon" Li and Chen "tom60229" Wei Lin. Li would eventually go on to win the entire tournament as the first female Grand Finals winner. I sat there next to someone I care about, wasting time and talking to a Canadian couple nearby who were eager to talk about their World of Warcraft exploitation. I let go of my grief for just a moment, and I exhaled.
Source link