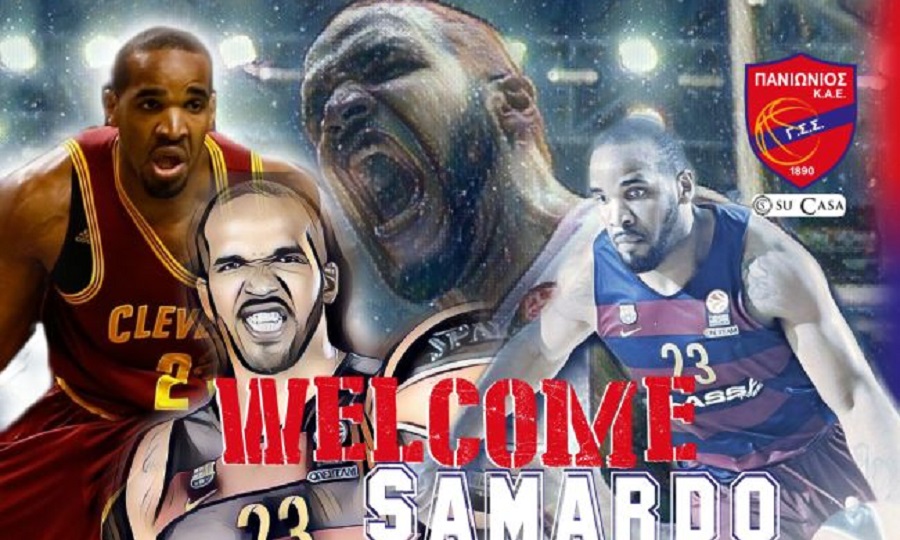 Panionios completed the great addition of Samardo Samuels.
The team from New Smyrna announced the acquisition of the 30-year-old forward / center, who has competed at Armani Milan and Barcelona, ​​among others, while competing in Limoges last season. With the French club, the Jamaican Ace had 9.9 points and 3.9 rebounds in 11 EuroCup matches, while the French LNB had 11.5 points and 4.4 rebounds in 31 games.
Announcement
KAE Panionios Su Casa is pleased to announce the acquisition of Samardo Samuels!

Born 9/1/1989 and 2,06 m tall, Jamaican Center has signed a partnership agreement with our team and is already in Greece to immediately increase the HISTORIC ROUTER!
Samardo Samuels does not need a special set, as his resume and career speaks for itself … competing at the top level and pressing the NBA and Euroleague parades with the Cleveland Cavaliers jersey Olympia Armin and Barcelona.
Su Casa's new transfer transfer of Panion went on for two years (2008-1
0) at the famous Louisville under the leadership of Rick Pitino, who was the first goal scorer (15.3 meters) and the first Cardinals rebel (7 meters), but he decided to cancel his studies early to apply for the 2010 draft.
He was not elected, but did not decline it, as he participated in that year's Summer League on behalf of the Chicago Bulls and with his performances (12.6p, 7.4 rebounds) managed to convince the Cleveland Cavaliers and signed their three-year contract (2010- 13) for $ 2.3 million!
Samardo Samuels has recorded 109 NBA appearances with the Cavs (11 as a base), averaging 5.9 points and 3.4 rebounds while averaging 23 career highs against the Spurs (3/2/2011) and 10 rebounds in three matches. During this time (2009-10) he also competed in the G-League with Erie BayHawks, Canton Charge and Reno Bighorns!
In April 2013, he crossed the Atlantic for the first time to fight in Hapoel Jerusalem.
In the summer of 2013 he stayed well in Europe after signing a two-year contract with Armani Milan and this was probably the best time of his career. With the Italian team he won the championship in 2014 and gained a breath of participation in the Euroleague Final Four. His statistics in Europe's best bet: 9.5 points, 3.9 rebounds during the 2013/2014 season and 12.9 points with 5.4 rebounds during the 2014-15 season. According to LegaBasket, he registered: 11.1 points, 5.6 rebounds during the 2013/2014 season and 14 points, 6.4 rebounds during the 2014-15 season!
Next career break, with Barcelona averaging 6 points, 2.8 rebounds in the Euroleague 2015-16 and 6.7 points in the Spanish ACB, 3.7 rebounds respectively. With Blaugrana in Barcelona he won the Spanish Cup known as Super Copa.
The 2016-17 season found Samardo Samuels in China on behalf of Jiangsu Dragons, while at the end of the season he played a month in Italian Brindisi. The following year (2017-18) he was transferred to Partizan Belgrade, but left the Serbian team quickly to complete that season in France with the Limoges jersey.
With Limousin, he measured 11.5 points and 4.4 rebounds, competed in 19 matches and renewed his partnership for the following year.
So last season he found the Jamaican center back in Limoges again and recorded 9.9 points and 3.9 rebounds in 11 EuroCup matches, while in the French LNB he had 11.5 points and 4, 4 rebounds in 31 performances.
Starting today (18/10), Samardo Samuels is one of the potential players for OEM Panionios Su Casa!
Welcome to History, we wish you health and many successes …
Welcome Samardo Samuels!
Source link