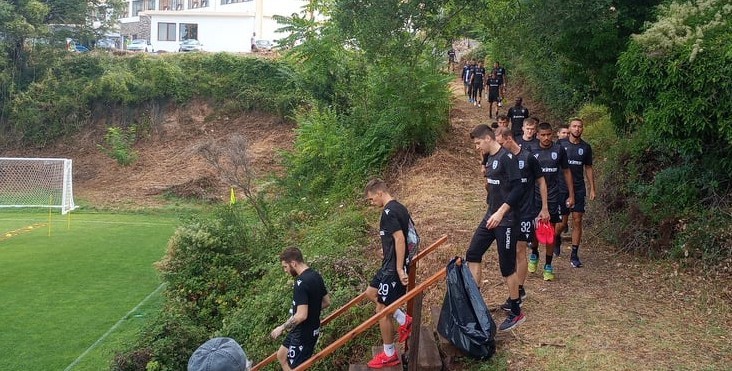 PAOK continues its preparation in Portaria, Pelion, at much lower temperatures, compared to the first days.
The temperature in the morning was 21 degrees Celsius. Last night the sky opened late and it rained very hard and the playground is very good. The players, like the other members of the football team, passed the test for COVID-19 early in the morning. The results are expected to come out tomorrow morning and if all goes smoothly, the game with Atromitos will take place normally

– The only players who have not been on the field are Pelkas, Augusto and Ingason. We remind you that Rodrigo left training yesterday morning with discomfort. Today he will refrain from the double program and his condition will be re-evaluated. Swinderski train with a patella.
Speech by Ferreira to the players. After a few rounds of running, the players sprint. Drive with tempo changes. The four goalkeepers make their own program with Galinovic. This particular exercise is painful, and some players laugh and ask "how much more does he want"
; … When he stopped pledging they go for water … It is characteristic that the exercise was so painful that Biseswar asked "how much more does he want" we have "and laughs he said" this exercise is driving me crazy ".
– Makis Gagatsis is also present in training.
– Ferreira has been watching Galinovic's training with the goalkeepers for a long time. Matos continues to wear the protective bandage on his right thumb, something that happens from the playoffs. The Portuguese coach talked to the players, divided them into 3 teams of 7 and they will play ball. In this game, each football player has the right to make up to two contacts.

– Management for Crespo, which does not continue during the last part of the training. Kantouri was fired, cooled and continues. Lots of appetite and several goals in this exercise. The team alternates one which is three of the seven generally a lot of intensity and a lot of appetite from the players.

See a photo from the training