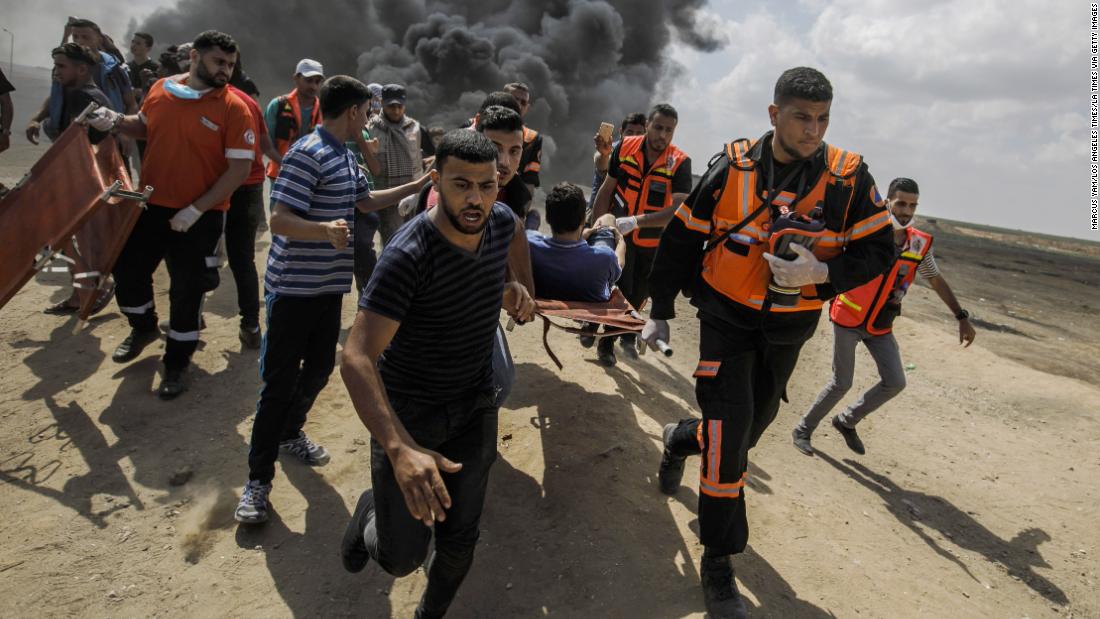 Doctors Without Borders urged the Israeli Army to stop using deadly force against protesters and said their actions were "unacceptable and inhuman".
"This bloodbath is a continuation of the policy of the Israeli army in the last seven weeks: Live ammunition shooting on protesters, assuming someone approaching the separation gallery is a legitimate goal," Marie-Elisabeth Ingres, the group's representative in Gaza , said in a statement.
The French president Emmanuel Macron also condemned the "violence of Israeli forces against protesters" in a statement while Australian Foreign Minister Julie Bishop urged Israel to be "proportionate in their response and refrain from excessive use of force".
In a telephone conversation with Palestinian leader Mahmoud Abbas, Turkish President Recep Tayyip Erdogan said "condemned the attacks and wished Allah's mercy to all martyrs," according to the official newspaper Anadolu. Turkey fetches its ambassadors to Washington and Tel Aviv for consultation, according to the state Anadolu Agency.
UN Secretary General António Guterres was "deeply concerned" with the violence in Gaza and urged Israeli forces to "exercise maximum retention in the use of living fire," his vice spokesman Farhan Haq said.
A press release by the United Nations Security Council, submitted by Kuwait, was blocked by the United States, according to a UN diplomat.
The draft statement, given to CNN by a UN diplomat, included languages ​​that expressed "anger and grief at the killing of Palestinian civilians exercising their right to peaceful protest."
It also confirmed the UN resolutions on the status of Jerusalem and said that the recent events had "no legal effect" under international law. The statement was not handed over by the Security Council after being withdrawn when the United States blocked it according to a UN diplomat.