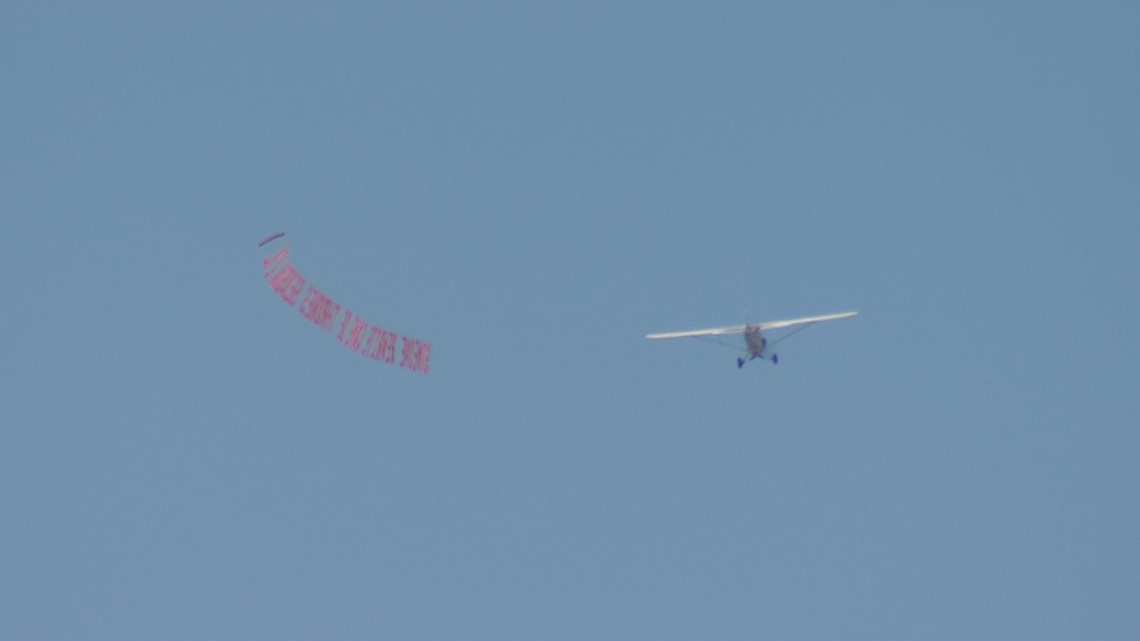 SEATTLE – Frustration over Game of Thrones The series finale reached new heights when a group of fans sent their complaints with an aircraft banner over Seattle.
A small plane dragged a character reading " ANY REWRITE GAMES TONESON 8 PLZ ."
The clear banner with red letters increased over Seattle in Seattle on Wednesday afternoon.
Ryan Geddes and his friends came up with the idea and created an online fundraiser on May 16. He said it started as a "silly joke" but he quickly realized that he was engaged.
"A couple of donations rolled in, then 50, then 1
00," said Geddes, who set a goal of raising $ 695 for about 30 minutes of broadcast time over Seattle. "I accidentally hit a nerves with a very resentful fan base. I think I greatly underestimated how annoying people are with this show."
KING
Irritated Thrones game viewers complained all season about the plot, writing and how the series ended on Sunday.
"It was like a regular B-list Hollywood movie," Geddes said. "It was good, it was just not as good as the first seasons."
Geddes said he mostly organized the banner stunt for his own personal pleasure, but he hopes that some donors will also consider giving actress Emilia Clarkes charity for stroke and brain injury survivors: sameyou.org.
But almost $ 700 just to complain about a TV series?
"Could this money be better spent? Absolutely," said Geddes.
(function () { were modules; var suppressModules = document.getElementById (& # 39; draw_loadmodulesscript & # 39;). getAttribute (& # 39; data suppression modules & # 39;) === "true"? true False;
about (suppressModules) { modules = [ 'alert-bar', 'error', 'page', 'grid', 'desktop-header', 'toolbar', 'weather-summary', 'navigation', 'throbber', 'utils', 'tegna-utils', 'fitted-headline', 'tracking', 'progress', 'tealium', 'live-indicator', 'taboola', 'ad' ] } Other { modules = [ 'error', 'page', 'grid', 'desktop-header', 'toolbar', 'weather-summary', 'navigation', 'video', 'throbber', 'utils', 'fitted-headline', 'forecast', 'article', 'continuous-scroll', 'sharing', 'gallery', 'radar-gallery', 'forecast', 'article-crosspromo', 'featured-videos', 'chapter-slider', 'pollen', 'olympics-live-stream', 'three-day-outlook', 'current-weather', 'search-results', 'tracking', 'chapter-progress', 'progress', 'countdown-clock', 'longform-explore', 'media-gallery', 'social-sharing', 'weather-alerts', 'weather-interactive-radar', 'closings', 'tealium', 'alert-bar', 'cookie', 'sticky-sharing', 'live-indicator', 'sharethrough', 'taboola', 'elections', 'just-for-you', 'just-for-you-li', 'olympics-tv-listings', 'headline-list-with-abstract', 'text-only-headline-list', 'story-snapshot-with-abstract', 'snapshot', 'story-snapshot', 'special-content-headline-list', 'notfound', 'linked-image', 'article-recirculation', 'linked-image-with-title', 'newsletter-signup', 'linked-image-with-title', 'newsletter-signup-multiple', 'live-videos', 'breaking-news', 'weather-alerts', 'closings', 'media-gallery-alt', 'alert-center-menu', 'trending-list', 'toc', 'featured-radars', 'searchbox', 'hot-races', 'recirculation', 'photo', 'video-youtube' ]; } / * var modules = [ 'error', 'desktop-header', 'navigation', 'page', 'grid', 'toolbar', 'video', 'throbber', 'utils', 'tegna-utils', 'continuous-scroll', 'gallery', 'tracking', 'tealium', 'sharethrough', 'datasphere', 'iframe', 'photo', 'video-youtube', 'newsletter-signup', 'newsletter-signup-multiple', 'ad' ]
function iArray (needle, haystack) { var count = haystack.length; for (where i = 0; i <count; i ++) { if (haystack [i] === needle) {return true; } } return false; }
var moduleElements = document.querySelectorAll (& # 39; [data-module] & # 39;); for (where i = 0; i <moduleElements.length; ++ i) { (function () { var thisModuleName = moduleElements [i] .getAttribute (& # 39; data module & # 39;); about (inArray (thisModuleName, modules)) { modules.push (thisModuleName); } }) (); }
console.log (& # 39; ===== load modules: & # 39 ;, modules); * / require.config ({ & # 39; baseUrl & # 39 ;: & # 39; / & # 39 ;, "deps": modules, "waitSeconds": 30, & # 39; bundles & # 39 ;: { modules: modules }, "courses": { & # 39; jquery & # 39 ;: & # 39; scripts / jquery-3.1.1.min & # 39 ;, & # 39; jwplayer & # 39 ;: content / player / jwplayer.js? version = 3.8.22.5 & # 39 ;, & # 39; Modules & # 39 ;: & # 39; Views / Dist / Script / Modules.min.js? version = 3.8.22.5 & # 39 ;, & # 39; facebook & # 39 ;: & # 39; https: //connect.facebook.net/sv_all/all' "twitter": "https://platform.twitter.com/widgets", & # 39; slick & # 39; content / libs / slick / slick.min & # 39 ;, & Dotdotdot & quot; content / libs / dotdotdot / jquery.dotdotdot.min & # 39; & # 39; jqueryui & # 39 ;: & # 39; Views / lib / jquery-ui / jquery-ui.min & # 39 ;, "comscore": "content / libs / comscore / comscore.min", & # 39; stick error & # 39 ;: content / libs / stickyfill / stickyfill.min & # 39 ;, & # 39; youtube & # 39 ;: & # 39; https: //www.youtube.com/iframe_api? & # 39; }, "shim": { & # 39; Facebook & # 39 ;: { "export": "FB" }, & # 39; Twitter & # 39 ;: { "export": "twttr" }, & # 39; Youtube & # 39 ;: { "export": "YT" }, "jwplayer": ['jquery'], & # 39; jqueryui & # 39 ;: { "deps": ['jquery'] }, "slick": ['jquery'], "dotdotdot": ['jquery'] } }); }) ();
Source link