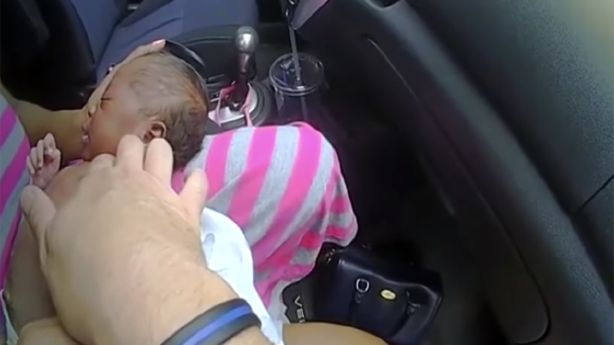 MONCKS CORNER, SC (CNN) – When Deputy Will Kimbro stopped a car for shipping last month, he didn't know he would stop saving a newborn life.
The dramatic episode that took place during a routine patrol in Berkeley County, South Carolina on June 11, was captured on a recently released video recorded by the officer's body camera.
When Kimbro stopped the vehicle, the driver came out of the car and shouted that the child stopped breathing after drinking from a bottle, according to the Berkeley County Sheriff's Office.
Her body was fuzzy and bluish from lack of oxygen, said the sheriff's office.
After asking the mother, who was sitting on the passenger seat, for the child's name, the deputy puts the child on the knee, checks the pulse and begins massaging the heart as part of life-saving first aid.
"Come on, darling, cry for me, cry for me", he can be heard to say. "Open those eyes, darling."
When the baby starts crying, Kimbro says: "As long as she cries, she sighs. I want you to cry. Come on."
"I think she will be OK, she breathes," said the official to insure the mother.
He continues to perform CPR because her breathing goes and closes, Kimbro says in the video.
Finally, the baby's breast begins to move, which means she is breathing again on her own. An emergency medical team arrives, and Kimbro and mother tell what happened.
The child was taken to a local hospital for observation and released, said Sheriff's spokesman Carli R. Drayton.
"As far as we know, the child has been good," said Drayton. Kimbro
CNN has reached out to Kimbro for comment
CNN-Wire ™ and © 2018 Cable News Network, Inc., a Time Warner Company, All Rights Reserved.
Source link