"Samsung? But I can not take it from you," Mr told me at the reception in the assembly yard in Prague 12.
He then gives me a paper informing me that "Samsung devices are not taken back to this collection point because Samsung does not fund the collection of electrical waste at this collection point".
Other attempts also fail. "I do not know what to do with it," said Mr. i Collection Yard of the Capital City of Prague in Kyje.
VIDEO: Take the waste to the Opera, the ministry̵

7;s website recommends. They drove us
So I try to call Samsung infoline. There, the operator gives me a number for a new infoline. The machine introduces itself to me as Smart Recycling and then I communicate with Miss Pavla.
"As of August 1, collection centers will not accept Samsung products. If you want, I can send you exact information. Either there is an option to send the TV as a repackage, or there is an option to pick it up," says he to me.
Then I get an e-mail, where I am told that I can send the TV via e-mail, but none of the pages on the package can be longer than 35 centimeters. My TV is over half a meter. So the last option is possible – bid.
Get a box
But it's not just that either. "It is necessary to wrap the TV in a box with a regular shape and cover it with duct tape," Miss Pavla instructs me. But where do I get such a big box? Maybe in a blue container.
Even the humiliation of rubbing through the garbage does not end in success. Either they took out the compartments, or the drawers in them are so small that my TV does not fit in them.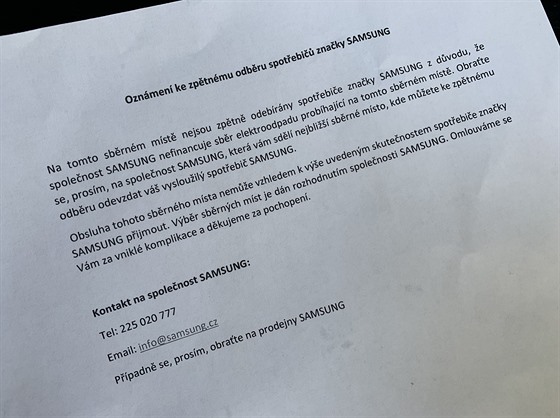 You will receive a paper on the collections informing you that they do not accept Samsung products.
But I do not have to hurry. Just as the courier arrives, I'm waiting. "There is a certain time, a maximum of ten days, until the carrier will contact you and decide which day you will be at home, when the collection would be useful to you," he says.
So I wait up to ten days for me to call, and then we have to look for a suitable date when I get home so I can turn on the TV.
The Ministry calls for a meeting
The Ministry of the Environment is also aware that the situation is very uncomfortable for people. "As the system is clearly not functional everywhere at the moment, the ministry convened meetings with representatives of the Czech Association and Municipalities, the Association of Local Authorities and Collective Systems to help resolve the situation quickly," said spokeswoman Petra Roubíčková.
In this case, the ministry acts only as an intermediary. The problem is between two companies that collect waste – ASEKOL and REMA.
VIDEO: Let me do it! Reporter Smlsal went to speed up repairs on the main road through Prague
Asekol, which organizes pickups in most collections in the Czech Republic, complains that it has not been paid to pick up Samsung products since January. Samsung has entered into an exclusive agreement with REMA. But it has no agreement with many collections.
"We are ready to join the existing and functional system for municipalities," explains David Beneš, Chairman of the Board of REMA.
At the same time, however, he complained that he had tried to join since 2005, but was rejected several times by many municipalities. "With the fact that the municipalities have their municipal system solved with the companies ASEKOL and ELEKTROWIN and they do not need and do not want another partner," he added.
At the same time, he added that REMA is ready to collect everything from everything that ASEKOL refuses to take over. And in the form I have already mentioned – namely by sending the package by post or by ordering a pick-up. But this is not exactly convenient for consumers.
And what does Samsung say about the whole situation? "According to our results, REMA has sufficient infrastructure to meet its contractual obligations. This has also been explained several times by the Union of Cities and Municipalities and the Ministry of the Environment. It will thus be possible to dispose of used Samsung devices in a wide network of collection points. REMA insured us also that it is ready to immediately enter into a collective agreement with all units where ASEKOL will stop collecting Samsung products, says Samsung spokesman David Sahula.
So now we are waiting to see how the negotiations in the ministry will turn out. Everyone realizes that people can get angry and leave products that they refuse to take over collection yards on the street, or even worse, in black dumps in the woods and the like.
See also how reporter Smlsal tried to bring an old refrigerator to the State Opera or the Jewish Museum. According to the register, REMA has collection points there. Men …
2020-08-06