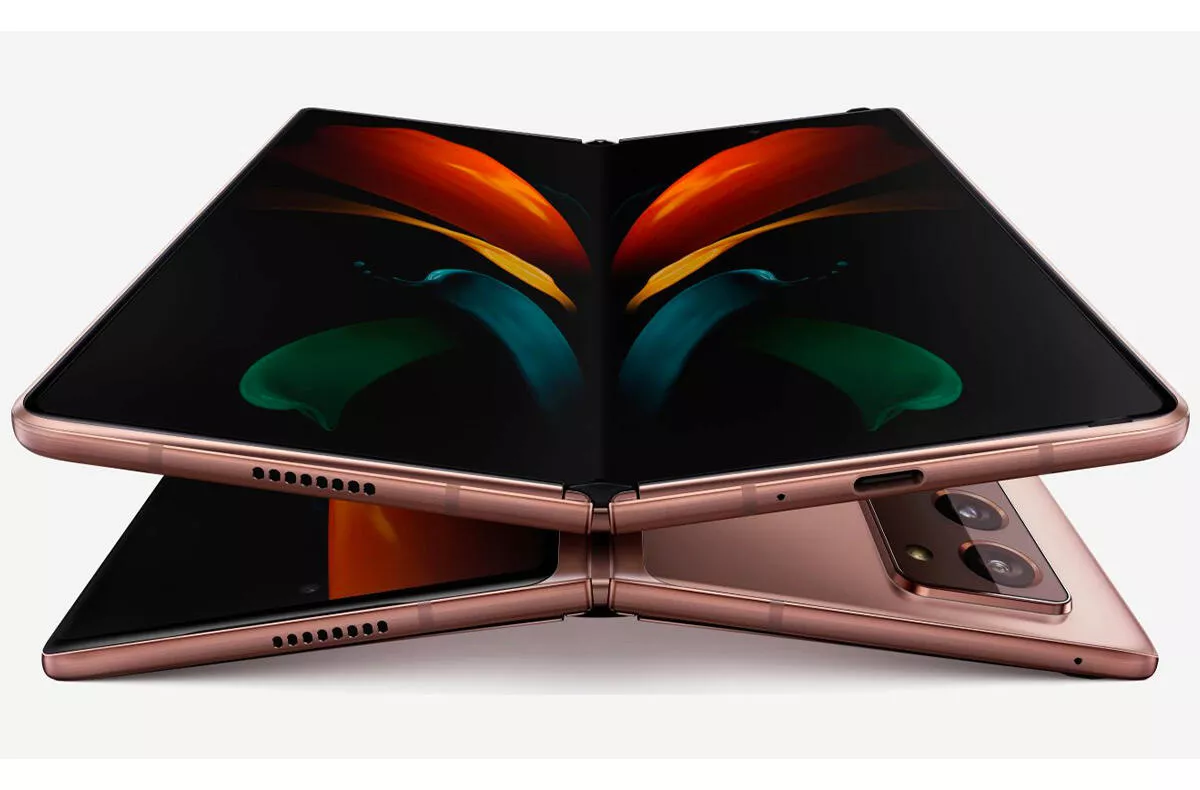 Samsung officially unveils second generation flexible phone on Galaxy Unpacked 2020 – Galaxy Z Fold 2. And we can say from the beginning that it has undergone significant improvements compared to the original generation. Finally, we have a large screen on the front, which was criticized quite a bit in the original generation. So let's imagine this phone.
Samsung Galaxy Z Fold 2 officially
The original 4.6 ″ display has been replaced by a large one 6.23 ″ AMOLED panel s Full HD resolution and a shot in the middle, so now we can only use one screen if we have a reason to do so. It is significantly larger than the original generation. On the back we can see the module where it is located three of a total of five cameras. It is similar to the new Galaxy Note 20. The main sensor has a resolution 1

2 megapixels, optical stabilization and autofocus. The telephoto lens then has a resolution 64 megapixels and an ultram wide-angle camera then 12 megapixels. The other two cameras are located on the front of the screen.
If we open the phone, the big one will look at us 7.7 ″ AMOLED panel with a resolution of 2213 x 1689 pixels and a refresh rate of 120 Hz. It's amazing that Samsung managed to put a fast frequency in the flexible panel as well. In terms of performance, we can expect the best, the Snapdragon 865 Plus from Qualcomm. Compared to the standard version, it runs at higher cycles and also offers better graphics chip performance. He is the other for him 12 GB LPDDR5 RAM, so there can be no doubt about the performance of this device. The storage space is 256 GB UFS 3.1. Battery capacity has also increased and now has value 4500 mAh and supports 25 W charge. We can also count on speakers from AKG or Android 10 with the latest One UI extension.
6.23 ″ AMOLED panel with Full HD resolution (closed state)
7.7 ″ AMOLED panel with a resolution of 2213 x 1689 pixels, 120 Hz (open state)
Snapdragon 865 Plus, 12 GB RAM, 256 GB storage
12 MPx + 64 MPx + 12 MPx cameras
AKG speaker
Android 10
If Samsung succeeded in this event, it's this phone for us. Compared to the original generation, it offers many improvements and changes, which we welcome in everyday life. The price and availability have not yet been discussed, we will learn more in the coming weeks.
How do you like Galaxy Z Fold 2?
Zdroj: Galaxy Unpacked 2020
Source link