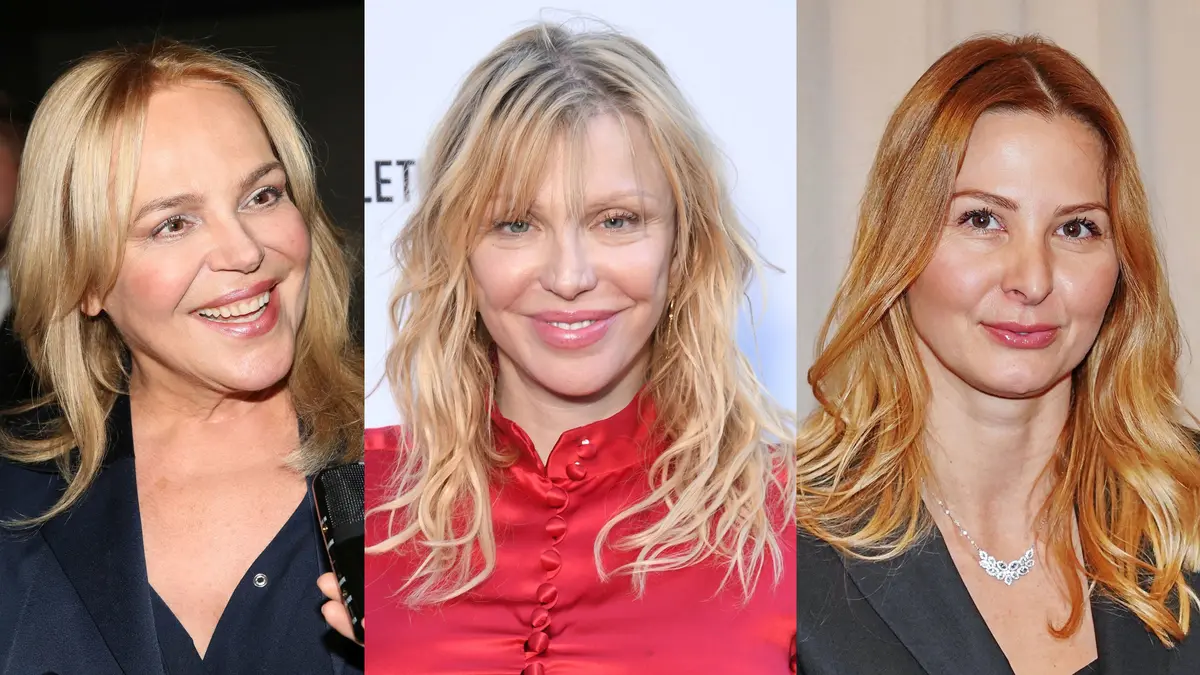 They had to deal with the death of the nearest person and with public pressure. Society did not always want to see them together with a respected idol. These ladies have simply suffered and are much more united than they may seem at first glance.
Courtney Love (56)
She met Kurt Cobain († 27) in January 1990, and although in love, their relationship did not resemble an idyll: parties full of alcohol and hard drugs alternated between hospital stays. But frontman for the Nirvana Group he never surpassed his demons. On April 8, 1994, he was found with his head covered and a lethal dose of heroin in his body.
The date of death was determined by the autopsy on April 5. And the reason? Suicide. However, some fans still do not want to deal with it and blame the former stripper and singer of the band Hole. But Courtney Love no longer solves conspiracy theories and ̵
1; like lovers of the immortal hit
Smells like Teen Spirit
– Kurt Cobain will stay in his heart forever.
Yoko Ono (87)
John Lennon († 40) lived with his wife Cynthia († 75) and son Julian (57) and then went crazy for an eccentric Japanese woman. They first met in November 1966, and she charmed him so much that he left loved ones, and in March 1969 he pledged her loyalty to the mountain of Gibraltar. The closely watched wedding culminated in a honeymoon in Amsterdam.
The newlyweds called a press conference in the hotel room and started it so-called bed campaign for peace, where they expressed their opposition to the war in Vietnam. But Yoko Ono was not one of the public's sweethearts. When in April 1970 the world was hit by the news the division of the famous band, the fans were immediately clear who to blame. The fair ending wasn't even for a couple in love. The romantic promise "until death do us part" came too soon, on December 8, 1980, the phenomenal artist was shot by a crazy fan.
Vendula Pizingerova (48)
She did not betray her marriage even after her first wife's death Karel Svoboda († 68). She was married to a well-known composer for twelve years. When their daughter Klárka was born in 1996, it seemed as if a couple with an age difference of thirty years couldn't be happier. But her daughter contracted leukemia at the age of four.
In 2005 his son Jakub was born, but two years later, on January 28, 2007, Vendula, then Svobodová, still found her husband dead in the garden with a bullet in his head – the hitmaker suffered from depression and resolved them in such a sad way. In 2009, the widow married Patrik Auš (42) and after three years they divorced. She said the final yes to Josef Pizinger (32) five years ago, and this year on May 1 they boasted of a happy event: They are expecting a baby!
Dagmar Havlova Veskrnova (67)
As Dagmar Veškrnova the audience loved her. She has dozens of theater and film roles to her value and in the 1980s she was one of the busiest Czech actresses. The general sympathy was significantly cooled when she married the then president in 1997 Václav Havel († 75). Veselka took place less than a year after the death of his wife Olga († 62), whom the people loved, and the new first lady had to fight for the benefit of the country.
She gave up her acting career and devoted herself to the duties of the President's wife, and until his resignation on December 18, 2011, she was his favorite support. She recently added movie days back to her calendar. Have you seen her new comedy Owners (2019)?
Ivana Gottova (44)
She was widowed this fall. Although the Master has been battling cancer since 2015, a multiple nightingale killed the Republic like a bolt from the blue. Charles God († 80) left in sleep On October 1, 2019, in a family circle in a villa in Bertramka, and the next day crowds came to honor his memory.
The Goths have lived together since 2008 and have had two daughters in their relationship – Charlotte Ella (14) and Nelly Sofia (12). Another sad news was announced by the family on June 15 this year: they had to say goodbye to Stella, a beloved retriever woman who contracted lymphoma.
Source link