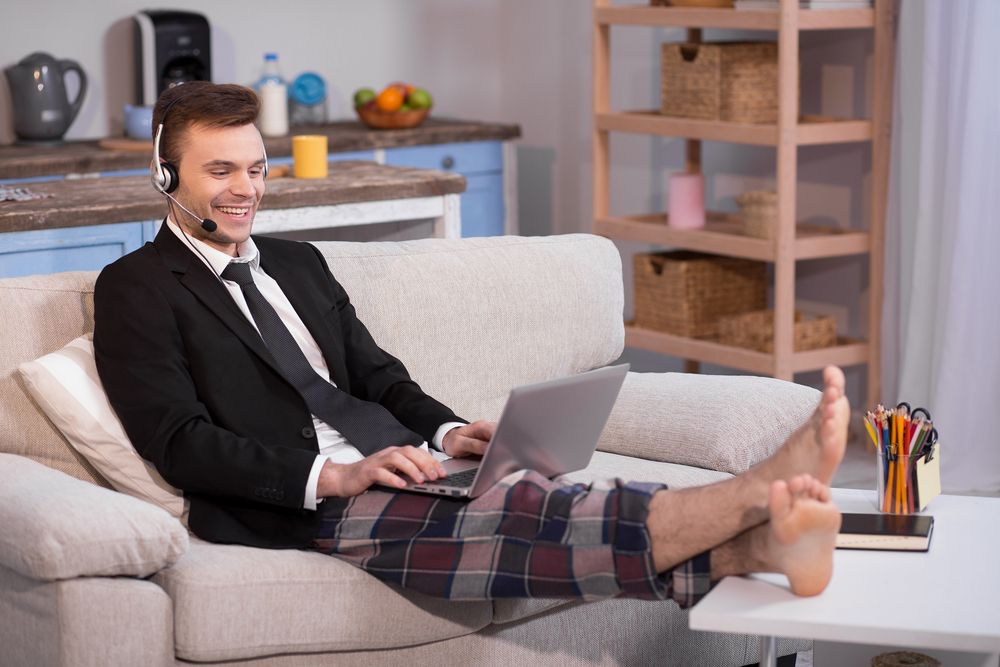 Is there a danger with tailor-made men's suits, robe dresses and high heels? The new reality of working from home has quickly transformed the fashion code for clothing into work, causing problems for formal office clothing retailers.
On Wednesday, Brooks Brothers, which sold men's clothing and had been on the market for 202 years, applied for legal protection from creditors. During that time, she dressed 40 American presidents and was synonymous with the classic look of a Wall Street banker. The reason for the company's bankruptcy was a decline in demand for suits during the pandemic, CNN's website writes.
The Ascena Retail Group, which owns the clothing chains Ann Taylor and Lane Bryant, is considering all ways to stay afloat when its business has been hit hard by a decline in clothing purchases, including office clothes. Ascena plans to close at least 1
,200 stores, which it has at 2,800 locations in the United States, Canada and Puerto Rico.
As more and more business calls and meetings take place from your home, your clothes are much more relaxed. A gradual deviation from formal wear has been going on for several years. Employers in certain "tight" sectors, such as financial services, compete for talents with technology companies that have their own, more relaxed corporate culture.
But a pandemic can end the formalities forever. "Brooks Brothers bankruptcy is really incredible," said New York stylist Jessica Cadmus, whose clients work primarily in the financial sector. Cadmus worked at Brooks Brothers at the beginning of his career.
"In fact, the trends in work clothes have changed for a long time and the pandemic was unfortunately the last nail in the coffin," he adds. According to Cadmus, her clients, ever before the pandemic, increasingly preferred to wear a more casual look for work, and there was a growing interest in less formal clothing, called casual.
Even casualness can be great
Goldman Sachs announced last year that its employees could start dressing in the office more relaxed. The Wall Street company has always preferred collar shirts and suits.
"When covid-19 broke out and people were forced to stay home, the purchase of formal clothes for work stopped completely," Cadmus continues. A large part of her customers now emphasize tasteful casual home clothing, which is the greatest comfort. Men want new shirts, but not pants, suits or shoes. Instead of dresses and suits, women want necklaces, earrings and brooches to look good in video calls.
Some people do not even change from their pajamas. In a June survey by NPD, 47 percent of respondents said they wore the same clothes at home almost all day during a pandemic, and about a quarter said they preferred sportswear, casual wear at home or sleepwear during the day. "People obviously don't want to change several times during the day, especially in these circumstances," said Maria Rugolová, an analyst at the NPD clothing industry.
Stylist Nicola Harrison, whose clients include people from the financial sector and other industries, also admits that working clothes are now less elegant. But she is against it herself. According to her, the suit and elegant casual jacket give men a perfect professional look, while concealing many shortcomings. For her, the relaxed style is to some extent acceptable. Dark jeans, a shirt and a jacket are acceptable. Decisive "no" but says poorly fitting polo shirts or clothes from college.
"To make it happen, it's important for a casual look, even when calling via Zoom," Harrison says. "One thing you can control under all the madness that is happening in the world right now is your appearance. So why should you give it up?"
Video: Ladies face a new challenge in quarantine networks
Dress down and see that expression. Ladies have a new challenge in networking | Video: TikTok, Twitter, Instagram, YouTube
Source link