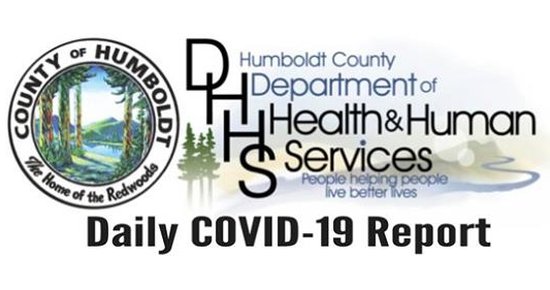 Humboldt County Joint Information Center Press Release:
A new case of COVID-19 was confirmed today, giving 99 the total number of residents of Humboldt County who have tested positive for the virus.

The following information is based on the latest available data for all confirmed cases:

Contact for a known case: 58
Travel Acquired: 24
Community transmission: 17
Under investigation: 0
Positive cases by region:

Northern Humboldt: 1

8
Greater Humboldt Bay Area: 77
South Humboldt: 4

Men: 41%
Women: 59%
Average age: 47
Age

0-19: 8
20-29: 13
30-39: 19
40-49: 17
50-59: 11
60-69: 21
70-79: 3
80+: 7

Estimated test speeds:

Humboldt County: 4,424 per 100,000 population
California: 4,483 per 100,000 population
US: 4,749 per 100,000 population

Estimated proportion of confirmed cases:

Humboldt County: 73 per 100,000 population
California: 261 per 100,000 population
USA: 527 per 100,000 population

Visit cdc.gov or cdph.ca.gov for the latest information on COVID-19. Local information is available at humboldtgov.org or during business hours by contacting [email protected] or calling 707-441-5000.

Follow us on Facebook: @ HumCoCOVID19,
Instagram: @ HumCoCOVID19,
Twitter: @ HumCoCOVID19, also
Humboldt Health Alert: humboldtgov.org/HumboldtHealthAlert

###
###
UPDATE / CORRECTION: The test numbers below initially seemed much higher. It is because of a faulty communication between yours Lost Coast Outpost and the county's Joint Information Center on their new format for reporting the number of tests conducted on Humboldt County people. We had a conversation with Dr. Teresa Frankovich, our county health care provider, tonight, and we miss that we have cleared it.
For the first time today, JIC reported that 2,369 tests have been conducted through the OptumServe community testing site at Redwood Acres so far. They wanted to report this number to show the community what is happening on the OptumServe website.
In fact, many (and probably are) most) Of these tests are included in the number "other tests" that we have reported below and which the Joint Information Center receives from the state. But JIC gets current test numbers directly from OptumServe faster than the state gets them, according to Frankovich, and so not All of the OptumServe tests are in these condition numbers.
It's kind of a huge mess. But next week, we are rejecting our charts below to reflect this and a few other new data points that the Joint Information Center is commonly reporting now, and hopefully we will find a way to make it clear and obvious to everyone.
= historical data. All information provided by the Humboldt County Joint Information Center.