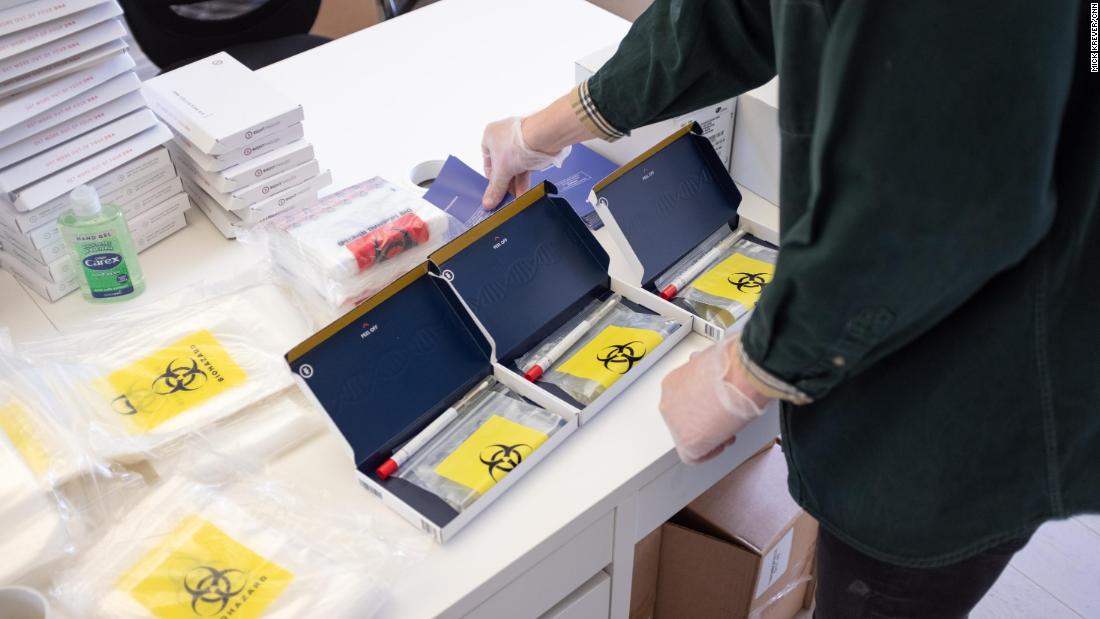 Paramilitary members release the provisions on Saturday, April 4 in Kampala, Uganda, on the first day of government food distribution for people affected by the lockdown.
A member of the Palestinian Ministry of Health sprays disinfectant on the shoes of workers who crossed a checkpoint in Tarqumiyah on the West Bank on Friday, April 3.
The Reflecting Pool and Washington Monument without almost any visitors on April 3.
A police officer wearing a coronavirus-themed outfit goes to a market in Chennai, India, to raise awareness of social distance on Thursday, April 2.
A Moscow woman is cooking while watching Russian President Vladimir Putin talk the nation over the coronavirus pandemic.
The hashtag "stayhome"

; is projected on the Matterhorn mountain that extends over Switzerland and Italy on Wednesday, April 1st. The mountain is illuminated by Swiss artist Gerry Hofstetter, who transforms buildings, monuments and landscapes around the world to raise awareness during the pandemic.
Volunteers load food bags onto a truck to deliver them to low-income families in Panama City, Panama, on April 1.
Wedding dress and evening wear designer Friederike Jorzig adjusts a mannequin wearing a wedding dress and a face mask in her shop in Berlin on Tuesday, March 31.
People are praying beside the tomb of Robson de Souza Lope after his funeral in Manaus, Brazil, on March 31. According to authorities at Amazon's secretary of health, the 43-year-old died after being diagnosed with the new coronavirus.
Chris Lyndberg hands out a free lunch to a truck driver in a rest area along Interstate 10 in Sacaton, Arizona, March 31. The Arizona Trucking Association gave away 500 Dillys Deli lunches to show its appreciation to truckers who have delivered medical supplies, food and other necessities during the coronavirus pandemic.
Farmers deliver vegetables to a customer in Saint-Georges-sur-Cher, France, Sunday, March 29.
People listen from their homes as priests conduct the Sunday Mass from a church roof in Rome on March 29.
Protective costume volunteers spray disinfectant in storage in Kabul, Afghanistan, on March 29.
Huntington Beach, California and its closed pier are empty on March 28. The city closed its pier and parking lots along the beach to try to limit the spread of coronavirus.
A waiter serves the start in Moscow on March 28.
A worker fixes partitions at a quarantine center in Guwahati, India, on March 28.
Devices used to diagnose the corona virus are inspected in Cheongju, South Korea, on Friday, March 27. The units were prepared for testing kits at the biodiagnostic company SD Biosensor.
A student is doing homework in Bratislava, Slovakia, on March 27. Schools have been shut down all over the world and many children have had their lessons online.
A National Guard truck sprays disinfectant in Caracas, Venezuela, on March 27.
Pope Francis prays on an empty St. Peter's Square on March 27.
Chests carrying coronavirus victims are stored in a warehouse in Ponte San Pietro, Italy, on Thursday, March 26. They would be transported to another area for cremation.
One screen advises motorists to stay at home in Manchester, England.
Members of Iran's Revolutionary Guard are preparing to take part in the disinfection of the city of Tehran on March 25.
Lydia Hassebroek attends a ballet class from her home in New York on March 25.
People visit the Beijing Zoo on March 25 after opening their outdoor exhibits to the public.
A woman suspected of having coronavirus is receiving help from her home by emergency room physician Robert Sabia, left, and Mike Pareja, of Paterson, New Jersey, on Tuesday, March 24.
People practice social distance while waiting for rooftop food in a shopping mall in Bangkok, Thailand, on March 24.
People arrive at the southern municipal cemetery in Madrid to attend the funeral of a man who died from the coronavirus.
A normally busy street is mostly empty in Pattaya, Thailand, on March 23.
Passengers arrive at Hong Kong International Airport on March 23.
Giuseppe Corbari is holding the Sunday Mass in front of photographs submitted by his parishioners in Giussano, Italy, on March 22. Many religious services are streamed online so people can worship while still keeping their distance from others.
People clap from balconies to show their appreciation to health care professionals in Mumbai, India.
A woman attends a Sunday service at Nairobi Baptist Church in Nairobi, Kenya, on March 22. The service streamed directly on the internet.
A Syrian member of the Red Crescent sprays disinfectants along an alley of the historic Hamidiyah market in Damascus, Syria.
A funeral service will be held without family members in Bergamo, Italy, on March 21.
A member of the Syrian Violet Relief Group disinfects tents in a camp for displaced people in Kafr Jalis, Syria, on March 21.
A doctor examines Juan Vasquez inside a test tent at St. Barnabas Hospital in New York, March 20.
Medical personnel wearing protective clothing ride down an escalator at Moscow Sheremetyevo International Airport on March 18.
A patient in a biocontrol unit is transported on a stretcher in Rome on March 17.
A pedestrian walks a dog through a quiet street in New York on March 17.
People gather to collect free face masks in New Delhi on March 17.
Students at Attarkiah Islamic School wear face masks during a ceremony in Thailand's southern province of Narathiwat on March 17.
People are waiting outside a Woolworths store in Sunbury, Australia on March 17. Australian supermarket chains announced special shopping times for the elderly and disabled so that they can shop in less crowded aisles.
A member of Spain's military crisis unit performs a general disinfection at the airport in Malaga on March 16.
Displaced families near Atme, Syria, participate in a workshop aimed at spreading awareness about the corona virus.
A police officer checks the temperature of bus passengers at a checkpoint in Manila, Philippines, on March 16.
Flowers are stored before being destroyed at a flower auction in Aalsmeer, the Netherlands, on March 16. Lower demand due to the coronavirus outbreak threatens the Dutch horticultural sector and forces the destruction of products.
Body temperatures are scanned as people enter the Buddhist Temple Wat Pho in Bangkok, Thailand, on March 13.
Two nuns greet neighbors from their balcony in Turin, Italy, on Sunday, March 15.
Passengers are waiting for their flights at Marrakesh Airport in Morocco on March 15.
US Vice President Mike Pence poses a question during a White House review of the corona virus on March 15.
A Sea World employee sprays disinfectant in Jakarta, Indonesia, on Saturday, March 14.
A member of the White House medical office takes the temperature of a media member in the information room of the White House on March 14. It was ahead of a news conference with President Donald Trump and Vice President Mike Pence.
Reporters in Arlington, Virginia, are about 4 feet apart during a briefing by Marine Corps general Kenneth F. McKenzie on March 13.
People walk past a closed Broadway theater on March 13 after New York canceled all gatherings of over 500 people.
A Costco customer stands at two shopping carts in Richmond, California, on March 13.
A teacher works in an empty classroom at Pompeu Fabra University in Barcelona, ​​Spain.
A woman is watching an empty bread walk in Antwerp, Belgium, on March 13.
Greek Parliament employees wear plastic gloves before the swearing-in ceremony of Greek President Katerina Sakellaropoulou.
A motorcyclist drives through disinfectant sprayed in Jammu, India, on March 13.
Workers are preparing to build another building in a hospital on the outskirts of Moscow.
Paul Boyer, head of equipment manager for the NHL's Detroit Red Wings, rolls out equipment bags in Washington on March 12. The NHL is among the sporting leagues that have canceled their seasons.
Students leave Glacier Peak High School in Snohomish, Washington, March 12. From the following day, schools in the Snohomish school district planned to be closed until April 24.
An Uber Eats delivery cyclist stands at a deserted Piazza di Spagna in Rome.
Protective workers disinfect Istanbul's Dolmabahce Palace on March 11.
A person wearing a face mask goes outside a shopping mall in Beijing on March 11.
Medical staff in Wuhan, China, are celebrating after all patients with coronavirus were discharged from a temporary hospital on March 9.
Sumo wrestlers participate in a tournament in Osaka, Japan, held behind closed doors due to the coronavirus outbreak.
A couple is riding a bike in a park in Seoul, South Korea, on March 7.
A Blue Sky Rescue volunteer uses smoking equipment to disinfect a residential area in Beijing on March 5.
Communist workers are seen at Kaaba, inside Mecca's large mosque. Saudi Arabia emptied Islam's holiest site for sterilization against fears of coronavirus, a never-before-seen move after the kingdom canceled the year-long pilgrimage in Umrah.
Passengers respond when a worker wearing a protective suit disinfects the departure area at a train station in Hefei, China, on March 4.
Teachers at Nagoya International School in Japan conduct an online course for students living at home as a precaution against the spread of coronavirus.
Soldiers spray disinfectant through a shopping street in Seoul.
A Muslim worship participates in a mass prayer against coronavirus in Dakar, Senegal, on March 4. This was after cases were confirmed in the country.
People wear face masks on New York's Times Square on March 3. New York reported its first case of coronavirus two days earlier.
A security guard stands on Shibuya Sky observation deck in Tokyo on March 3.
Medical personnel stand outside a hospital in Daegu, South Korea, on March 1.
Healthcare workers transfer a patient at the Life Care Center in Kirkland, Washington, on March 1. The long-term care facility is linked to confirmed cases of coronavirus.
British Prime Minister Boris Johnson visits a London laboratory at the Public Health England National Infection Service.
Tomoyuki Sugano, a professional baseball player at the Yomiuri Giants, throws a pitch in an empty Tokyo Dome during a season game on February 29. Fans have been barred from pre-season games to prevent the spread of coronavirus.
Commuters wearing masks get to work during the morning rush hour at Shinagawa Tokyo train station on February 28.
Medical personnel transport a coronavirus patient at the Red Cross Hospital in Wuhan on February 28.
A bank branch disinfects banknotes in China's Sichuan province on February 26.
A child wearing a protective face mask rides on a scooter in an empty area in Beijing.
A Catholic devotee wears a face mask when he is sprinkled with ash during the Ash Wednesday services in Paranaque, Philippines, on February 26.
People disinfect Qom's Masumeh shrine in Tehran, Iran, on February 25.
A worker in Daegu stacks plastic buckets containing medical waste from coronavirus patients on February 24.
Paramedics carries a stretcher from an ambulance in Hong Kong on February 23.
A team of volunteers disinfect a footbridge in Bangkok, Thailand.
A man rides his bicycle in Beijing on February 23.
Hospital staff in Codogno, Italy, carry new beds at the hospital on February 21. The hospital hosts some people who have been diagnosed with the new coronavirus.
Doctors are looking at a CT scan of a lung at a hospital in Xiaogan, China, on February 20.
A medical worker is resting at the isolation ward at the Red Cross Hospital in Wuhan on February 16.
Authorities are monitoring when the Westerdam cruise ship approaches a port in Sihanoukville, Cambodia, on February 13. Despite no confirmed cases of coronavirus on board, Westerdam refused the port of four other Asian countries before being allowed to dock in Cambodia.
A worker has checked his temperature on a closed business street in Beijing on February 12.
Beds are found in the Wuhan Sports Center, which has been transformed into a temporary hospital.
A child is riding a scooter past a police officer wearing protective gear outside the Hong Mei house in Hong Kong on February 11. More than 100 people evacuated the apartment building after four residents in two different apartments tested positive for the coronavirus.
A friend of the police is wearing protective gear while guarding a cordon at the Hong Mei House in Hong Kong on February 11.
Chinese President Xi Jinping controls his temperature during a performance in Beijing on February 10.
People attending a Lunar New Year Parade in New York City hold signs that read "Wuhan Remains Strong!" on February 9.
A worker wearing a protective suit uses a machine to disinfect a business facility in Shanghai, China, on February 9.
Protective equipment workers walk near the Diamond Princess cruise ship docked in Yokohama on February 7.
A woman is grieving while paying tribute to Li at Li's hospital in Wuhan on February 7.
The Anthem of the Seas cruise ship is seen docked at Cape Liberty Cruise Port in Bayonne, New Jersey, on February 7. Passengers would be screened for coronavirus as a precaution, an official at the Centers for Disease Control and Prevention told CNN.
An easy installation is shown by striking members of the hospital authority's staff alliance and other activists at the hospital authority's building in Hong Kong on February 7.
Passengers are seen on the deck of the Diamond Princess cruise ship docked in Yokohama Harbor on February 7.
Flight attendants wearing face masks head to Don Mueang Airport in Bangkok on February 7.
Workers check sterile medical gloves at a latex product manufacturer in Nanjing, China, on February 6.
A woman wears a protective mask while shopping at a Beijing market on February 6.
This aerial view shows Leishenshan Hospital being built in Wuhan to treat coronavirus patients.
A passenger shows a note from the World Dream cruise ship docked at the Kai Tak cruise terminal in Hong Kong on February 5.
A mask is seen on a statue in Beijing on February 5.
A dog in Beijing wears a makeshift mask constructed from a paper cup.
Striking hospital workers in Hong Kong demand closure of border with China in China on February 4.
The Diamond Princess cruise ship is quarantined outside the Yokohama port on February 4. It came a day earlier with passengers feeling unwell.
A medical worker wearing protective equipment is waiting to take the temperature of people entering Princess Margaret Hospital in Hong Kong on February 4.
Medical workers in protective suits help transfer patients to a recently completed field hospital in Wuhan.
People wearing protective suits talk outside a hotel in Wuhan that isolates people on February 3.
A man stands in front of TV screens broadcasting a speech by Hong Kong CEO Carrie Lam on February 3. Lam said the city would close almost all border checkpoints to the mainland.
A colleague sprays disinfectant at a doctor in Wuhan on February 3.
Medical workers move a coronavirus patient to an isolation ward at Second People's Hospital in Fuyang, China, on February 1.
Children wear plastic bottles as makeshift masks while waiting to check in on a flight at Beijing Capital Airport on January 30.
Passengers in Hong Kong wear protective masks while waiting to board a train at Lo Wu Station, near the mainland border, on January 30.
A volunteer wearing protective clothing disinfects a street in Qingdao, China, on January 29.
Nanning residents line up to buy face masks from a medical device store on January 29.
Lyu Jun, on the left, a member of a medical team leaving Wuhan, says goodbye to a loved one in Urumqi, China, on January 28.
A charter flight from Wuhan arrives at an airport in Anchorage, Alaska, on January 28. The US government chartered the plane to retrieve US citizens and diplomats from the US Consulate in Wuhan.
South Korean President Moon Jae-in wears a mask for inspection by the National Medical Center in Seoul on January 28.
Hong Kong CEO Carrie Lam, center, attends a news conference in Hong Kong on January 28. Lam said China will stop individual travelers to Hong Kong while closing some border checkpoints and restricting flights and train services from the mainland.
Workers at an airport in Novosibirsk, Russia, check the temperature of passengers arriving from Beijing on January 28.
Alex Azar, US Secretary of Health and Humanitarian, speaks during a news conference on the US public health response.
Two residents walk in an empty park in Wuhan on January 27. The city stayed for a fourth day.
A person is wearing a protective mask, goggles and coat as he stands on an almost empty street in Beijing on January 26.
Medical personnel take a patient to Wuhan Red Cross Hospital on January 25.
People wear protective masks when they go during Lunar New Year's decorations in Beijing on January 25.
Construction workers in Wuhan start working at a special hospital to deal with the outbreak on January 24.
A couple kisses goodbye when they travel to Lunar New Year Holiday in Beijing on January 24.
Workers manufacture protective face masks at a factory in China's Hubei province on January 23.
Buyers wear masks at a Wuhan market on January 23.
Passengers are checked by a thermographic device at an airport in Osaka, Japan, on January 23.
People wear masks when shopping for vegetables in Wuhan on January 23.
A militia member checks the body temperature of a driver in Wuhan on January 23.
Passengers wear masks when they arrive at Ninoy Aquino International Airport in Manila, Philippines, on January 23.
A customer has boxes of particles with respiratory protection at a pharmacy in Hong Kong on January 23.
Passengers wear masks at the high-speed station in Hong Kong on January 23.
A woman is riding an electric bike in Wuhan on January 22.
People in Guangzhou, China, wear protective masks on January 22.
People go through a checkpoint in Guangzhou on January 22.
The medical staff at Wuhan's Union Hospital attend a gathering on January 22.
Health Ombudsman holds a news conference in Beijing on January 22.
Source link