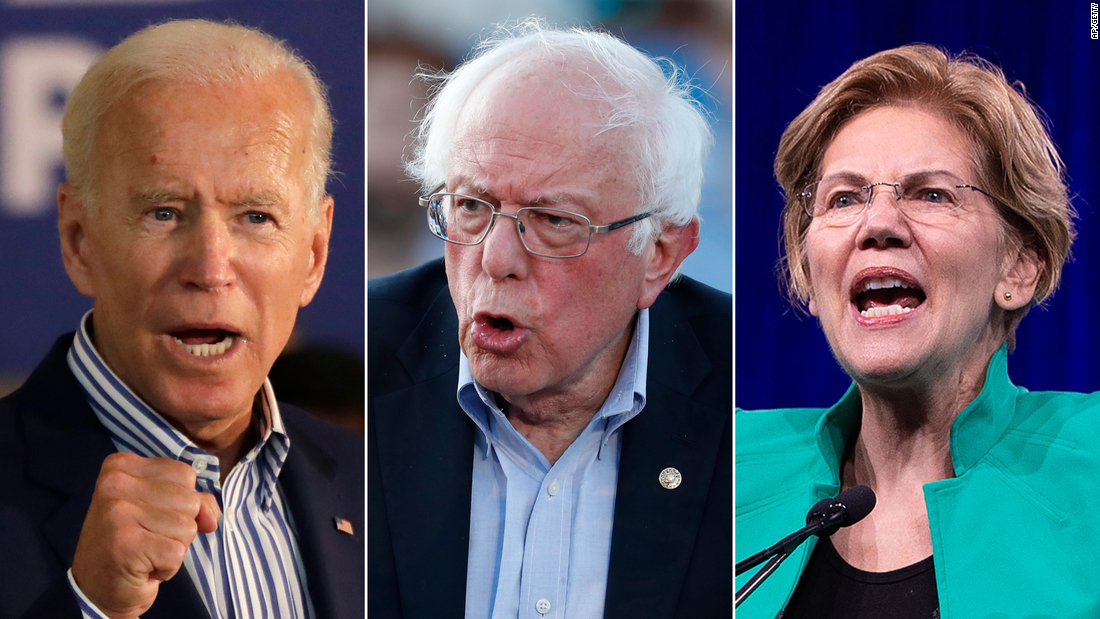 The former vice president is at 24%, Warren at 18% and Sanders at 17% are once again the only candidates to reach double-digit support. Three other candidates have 5% or support or more in the poll: Sen. Kamala Harris (8%), South Bend, Indiana, Mayor Pete Buttigieg (6%) and former Rep. Beto O'Rourke (5%). The remaining candidates all score 2% or less in the poll.
Biden's lead rests on his support among black voters, among whom he leads by a wide margin with 42% backing him and his nearest competitor – Sanders – earning just 12% support. Warren (23%) and Biden (21%) are about even among white potential Democratic voters, with Sanders not far behind at 15%. Among Hispanics who are Democrats or Democratic-leaning independents, Sanders stands at 24%, with four other candidates in double digits: Biden at 1
8%, O'Rourke at 14%, and Warren and Harris each at 10%.
Biden's backing among black voters comes primarily among those over age 50 (53% in that group support him vs. 30% among those under age 50) and from those who are moderate or conservative (47% in that group support him). That mirrors the pattern among Democrats more generally, but holds to a greater degree among black voters. Sanders' strong showing among Latinos comes more from younger Hispanic voters than from older ones.
Warren's support notably spikes among college educated voters – 26% in that group back her vs. just 11% of those without degrees. Sanders, whose ideological views are similar to Warren's, does not have as much of an education gap in his support (19% among those without degrees, 13% among those with), largely due to his stronger support among whites without college degrees ( 21% vs. 10% among those who hold degrees).
If they have in past polls, Democrats are more apt to say they want the party to nominate a candidate with a strong chance of beating Trump (55%) over one shares their position on major issues (39%). But Biden's advantage among those who want a candidate who can defeat the President has shrunk some since August. In that poll, 35% of those who favored someone who can beat Trump backed Biden, 15% Warren and 14% Sanders. Now that group splits almost evenly between Biden (26%) and Warren (21%), with Sanders at 11%.
Democratic voters are narrowly more concerned that the party will nominate a candidate who is too liberal (49%) vs. one who is not liberal enough (41%). Biden fares better among those worried the party will lean too far left (27% in that group back him, 15% Sanders, 13% Warren) than among those who are worried the nominee won't be liberal enough (27% in that group favor Warren, 22% Sanders and 20% Biden).
On the Republican side, the poll suggests Trump won't face much of a challenge from his announced Republican opponents, even as their ranks have grown. Overall, 77% say the GOP should re-nominate Trump for president in 2020, about the same as it's been since CNN first asked about this in March of 2018, and just 20% would like to see a different candidate nominated. [19659005] Trump GOP primary challenger Mark Sanford says growing field of Republican candidates strengthens anti-Trump message " data-src-mini="//cdn.cnn.com/cnnnext/dam/assets/190908100447-mark-sanford-file-180721-small-169.jpg" data-src-xsmall="//cdn.cnn.com/cnnnext/dam/assets/190908100447-mark-sanford-file-180721-medium-plus-169.jpg" data-src-small="http://cdn.cnn.com/cnnnext/dam/assets/190908100447-mark-sanford-file-180721-large-169.jpg" data-src-medium="//cdn.cnn.com/cnnnext/dam/assets/190908100447-mark-sanford-file-180721-exlarge-169.jpg" data-src-large="//cdn.cnn.com/cnnnext/dam/assets/190908100447-mark-sanford-file-180721-super-169.jpg" data-src-full16x9="//cdn.cnn.com/cnnnext/dam/assets/190908100447-mark-sanford-file-180721-full-169.jpg" data-src-mini1x1="//cdn.cnn.com/cnnnext/dam/assets/190908100447-mark-sanford-file-180721-small-11.jpg" data-demand-load="not-loaded" data-eq-pts="mini: 0, xsmall: 221, small: 308, medium: 461, large: 781″ src="data:image/gif;base64,R0lGODlhEAAJAJEAAAAAAP///////wAAACH5BAEAAAIALAAAAAAQAAkAAAIKlI+py+0Po5yUFQA7″/>