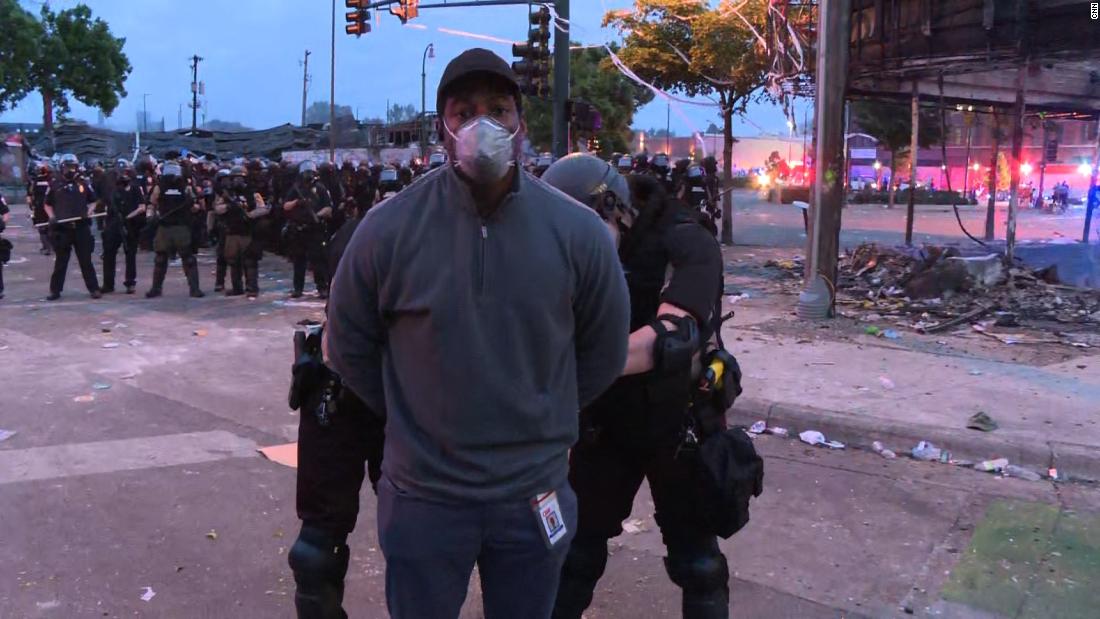 State police arrested CNN correspondent Omar Jimenez, his producer and his photojournalist shortly after fifteen CT (6am ET) when Jimenez reported live from a street south of downtown, near where a police area was previously set on fire.
Jimenez could be seen holding his CNN badge while reporting, identifying himself as a reporter and telling the officers that the crew would move where officers needed them. An officer grabbed his arm when Jimenez spoke and put him in handcuffs.
"We can move back to what you want. We're out on the air here … Put us back where you want us. We come out of your way – wherever you want us (we) get out of your way,"
; Jimenez told police before being led away.
"We were just on your way as you advanced through the intersection," Jimenez continued.
Police told the crew that they were arrested because they were told to move and did not, a member of the CNN crew was transferred to the network.
Minnesota Gov. Tim Walz told CNN Worldwide President Jeff Zucker that he deeply apologizes for what happened and would work to release the crew.
Stelter: Arresting reporters at a protest is a violation of the First Amendment
Jimenez and the others – producer Bill Kirkos and photojournalist Leonel Mendez – were taken to the city center for public safety, but were released after 7 p.m.
After his release, Jimenez reported living outside the center and said he had been treated heartily after being led away.
"We're doing OK now. There were some unpleasant moments there," Jimenez said.
Minneapolis State Patrol
said
this about the event:
"During the cleanup of the streets and the restoration of the ordinance at Lake Street and Snelling Avenue, four people were arrested by state patrols, including three members of a CNN crew. The three were released when confirmed as members of the media."
"This is not correct – our CNN crew identified themselves, directly on TV, as journalists. We thank Minnesota @GovTimWalz for his quick action this morning to help free our crew."
Another CNN reporter says he was "treated very differently"
CNN's Josh Campbell, who was also in the area but did not stand with the flight crew, said he was also contacted by police, but was allowed to remain.
"I identified myself … they said, 'OK, you must be in the area,'" said Campbell, who is white. "I was treated very differently than (Jimenez)."
Jimenez is black and Latino. Kirkos is white and Mendez is Spanish speaking.
"A CNN reporter and his production team were arrested this morning in Minneapolis for doing their jobs, despite identifying themselves – a clear violation of their First Amendment rights. The Minnesota authorities, including the governor, must release the three CNN employees immediately, "CNN
said in a statement
shortly after their arrest.
Former Police Commissioner Charles Ramsey, a CNN law enforcement analyst, said the arrest made no sense.
"The state police will have a lot to answer for this arrest here," Ramsey said. "(Jimenez is) standing there … you can see his reference. Just move him where you want to be."
"They should have a designated (media) area and just tell them to move to that area."
The arrest of the crew is a counterpoint, CNN political analyst Bakari Sellers said to anyone who says, "All you have to do is follow; all you have to do is use your fine inner voice, and the police will leave you in peace. "
"We have a white reporter on the ground, and we have a brown reporter on the ground. They are a block away from each other. The brown reporter is arrested and the white reporter tells us what is happening," said the seller.
"We saw a reporter who is trained, who is brown, who does his job better than anyone … (who) was injured, let the American people see what is happening, on the ground. He followed. He said he would move … You almost have to laugh to not just be furious. "
Arrestationen
Crew members were handcuffed and arrested when Jimenez gave a direct report on a Minneapolis street. A number of state troops had just arrived at the area, which the city police appeared to have surrendered for hours overnight after the police building was set on fire.
Intermittently, an officer told people over a speaker to "spread immediately" or face arrest.
Troopers moved forward on the street and soon approached the three-person crew as they moved in to arrest a fourth person behind them.
After CNN a photojournalist was arrested, his camera set on the ground and continued to upload live images.
Jimenez and the crew had reported from the scene, near a city police department that protesters had burned and officers had surrendered overnight. About a block away, a fire burned in another four-story building containing restaurants.
Over 100 state police in body armor and riot gear had arrived just before 5 p.m. and stood up near the area where the CNN crew was, near the building on East Lake Street.
For some time overnight – from sometime after city police abandoned the building that was on fire – police were not in the area until the troops arrived Friday morning, Jimenez had reported. The four-story event and restaurant building burned without delay, and people threw things in the flames, Jimenez said.
CNN's Brad Parks contributed to this report.