Huawei Mate 200 pro
The Mate 20 Pro brings several aces to the sleeve that gave us several surprises that go beyond superior performance, very fast camera and top quality.
Knowing our opinions about design, multimedia, added value etc. of the equipment; See the first part of this review:
Mate 20 Pro Analysis: Best Smartphone of the Year?

Performance

Data Sheet or Huawei Mate 20 Pro
HUAWEI MATE 20 PRO
SCREEN
AMOLED 6.3 inches 19.5: 9 with resolution 1.440 x 3.120 pixels (539 ppi)
PROCESSOR
Kirin 980 7 nanometers
2 x Cortex A76 2.6GHz + 2x Cortex A76 1.92GHz + 4x Cortex A55 1.8GHz
GPU
Mali-G76
RAM MEMORY
6/8 GB
INTERNAL STORAGE
128GB (expandable with NM card)
BACK CAMERA
Leica Vario-Summilux optic
Main camera (angle): RGB sensor and Aperture f / 1.8
Camera Wide Angle: 20 Megapixel Sensor and Aperture f / 2.2
Telecamera: 8 Megapixel Sensor and Aperture f / 2.4
CAMERA
Leica Vario Summil Optics Ux
24 Megapixel Sensor With Aperture F / 2.0
BATTERY
4 200 mAh, Quick Charger,
Wireless Charge and Back Wireless Charging Support
CONNECTIVITY
LTE Cat21, Wifi ac, NFC. BT 5.0, USB Type C, and Desktop Mode
SOFTWARE
Android 9 + EMUI 9.0
OTHER
IP68, fingerprint reader on screen, 3D Face ID
DIMENSIONS AND WEIGHT
157, 8 x 72.3 x 8.6 mm, 190 grams
PRICE
$ 20,999 Mexican Pesos
In months we have stopped investing in the comparisons between the famous Benchmarks, the software that qualifies the device's performance. After more than 23 years reviewing all types of mobile phones, we are confident that the most important is the user experience. And e n applies to Mate 20 Pro with Kirin 980 processor, with dual NPU and 6GB in RAM; We are sure that it gives an impeccable performance regardless of the type of use you provide.
This Huawei Flagship smartphone has integrated the latest version of Huawei's oktacore star processor, Kirin 980 (2 x Cortex-A76 2.6GHz + 2x Cortex-A76 1.92GHz + 4x Cortex-A55 1.8 GHz). It differs from having a dual NPU (neuronal processing unit) that the manufacturer assures will have a positive and visible impact on the overall performance of the device.
After weeks of use, we left it for very difficult working days with a very constant use of social networks, video games with multiplayer mode, live streaming, and so forth; all in one day.
We forced the device a bit and did not close any applications, to see if Mate 20 Pro runs in the background in many apps worked the same way as when the device was turned on. And the answer is yes.
The phone provides excellent performance. It is ideal for those whose smartphone is your co-worker (possibly, therefore, it was called Mate, "companion", for its translation in English). Where the team's good performance is crucial to your day.
For example, if you follow the Cabify application path while you are in another app, edit a video that you must send immediately by Skype. The smartphone's good performance is critical.
In this case, the team gave us an optimal performance every time we interspersed the use of applications. Even when moving from one app to another it was a delay.
The same thing happened to the latest generation of online multiplayer video games. We played several shooting games. And we also tested the demanding game No limits, which is racing and demanding preinstalled animations.
No limits require an optimal response rate for the game to be enjoyed in its entirety (Come on, then it's a racing car game). After a good time playing uninterruptedly, we did not notice any kind of "team" that prevented playing properly. even when we interspersed that game with the Instagram app.
In a few words.
In terms of user experience, the performance of Mate 20 Pro is virtually unbeatable. We put our hands on fire for the team and its performance, which is ideal for users who use the most demanding applications, whether they are applications for productivity, social networking or entertainment.
Note the development of Kirin Processor AI, as well as its dual NPU devices, which have improved performance and battery performance.
Cameras
It is undeniable that Huawei massaged the trend of using the triple camera on smartphones. The Mate 20 Pro (like the P20 Pro) has the same triple camera system that does not brag the manufacturer. Triad of cameras is truly exceptional.
Camera Specifications
40 MP (color) + 20 MP (color) + 8 MP (color), membrane opening f / 1.8 + f2.2 + f2.4, auto focus supported (deep focus, phase focus, contrast focus, precision focus)
Camera:
24 MP (color), membrane opening f / 2.0
[19659004] Mate 20 Pro has a very large number of images, and in some cases offers shooting modes unambiguously exceptional. Let's start with the tools that Huwei has already used:

Opening: The famous bokeh effect with the background out of focus
Night: The best night shot of the moment (We are aware).
Portrait: The famous Beauty Mode that attenuates face features, except for some front camera filters.
Photo: Here we can use HDR mode and motion picture.
Video: This add-on Professional, where we can make any adjustments that will be considered.

Highlights: Slow Motion, Panoramic, Monochromatic, 3D 3D Qmokis AR Lenses, Underwater, etc.

It is not unnoticed that the HiVision feature is integrated, enabling QR code translation of texts captured by the camera, identification of items, and the one who searches online for the purchase of the item that resembles the captured one or in its case to look for similar images.

Following with the extensive list of features in MAte 20 Pro, at the end we leave the two most unlikely: The SuperMacro feature that allows you to capture images of objects at a minimum distance to capture very small details. It should be noted that this feature is very few Premium equipment.
We also highlight the telephoto feature, which allows a zoom up to 10x. This is not uncommon in Premium smartphones, but in the case of Mate 20 Pro it is undoubtedly the best Tele (Zoom) on a smartphone right now. And yes, the best thing about this feature in a 2018 smartphone. Only followed by P20 Pro from the same manufacturer.
In a few words.
The cameras on this smartphone are undoubtedly the most complete of all smartphones launched in 2018. From Tele, SuperMacro, Artificial Intelligence with Scene Recognition, Night Mode, Aperture, Wide Angle, Digital Monochromatic, Water Shot, just to name a few; Mate 20 Pro is a genuine Swiss army knife with very useful features.

And, if it was not enough, all functions work quite well. It does not disappoint at all.
If we were to choose the best smartphone with the best cameras in 2018, it would be just this one.
PC World México Recommendation
It is not easy for most consumers to pay $ 21,000 Mexican pesos for a smartphone. But if you are able to buy a phone in this price range, Mate 20 Pro is the best option right now. With all the features, the equipment has more than fair cost.
To name one thing, its closest competitors are Note 9 with a best $ 25,000 buy-in price. And it only has 2 main cameras and a battery of less than 4000 mAh.
LG V35 has a cost in Mexico of $ 22,000 Mexican pesos and although it also has 3 main cameras, it has a much lower battery (3300 mAh). And neither of the two (we are aware) has a strain as fast as Huawei.

Then we make a comparison, we repeat that for us, Mate 20 Pro is the best option in 2018. [19659040]
Source link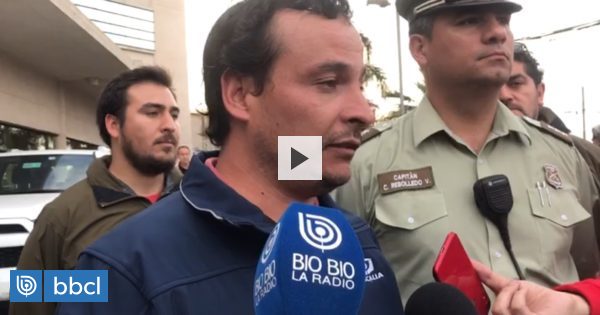 The 11-year-old girl who disappeared from her home in Arica on Sunday morning was found alive walking on public roads during the afternoon of this day.
In conversation with Radio Bío Bío in the area, Mayor Gerardo Espíndola confirmed the fact and explained that the minor was referred to the regional hospital to verify injuries.
"We have no more information about this (…) it was just. What makes us happy is that the girl finally showed up. Hopefully it will go well, that she has not suffered anything serious," the authority said .
After receiving medical care, the girl will be handed over to her mother according to prosecutor Bruno Hernández.
The disappearance generated a search operation involving the local prosecutor's office, police officers, the investigating police, the municipality and even the University of Tarapacá.
The foregoing, as its residence is opposite
After noticing his disappearance and initiating a social media campaign to find his whereabouts, the family reported being the victim of a robbery in their home.
As they pointed out, they realized that they dropped cell phones, tablets and credit cards.
Prosecutor Arica confirms that an 1

1-year-old girl a few minutes ago appeared to be missing then this morning. It was found on public roads. At the moment, injuries are found in the local emergency room.

– Arica-Parinacota Prosecutor's Office (@Fiscalia_Arica) September 22, 2019
The inspectors from the Regional Health Ministry in the Valparaíso region conducted more than 1,500 inspections of food and restaurant shops, butchers, pie factories and supermarkets focusing on control work in branches and fields, during national holidays.
According to Health Seremi, Francisco Álvarez, during the holiday, 131 health reviews were taken in the region, mainly for the sale of foods of unknown origin and poor operating conditions.
"Thanks to the work done by the inspection groups in Seremi de Salud, we reached almost 1,500 inspections during these national holidays and almost half a ton of products in poor condition or with labeling problems could be confiscated, over 130 sanitary summaries in the various points of the celebration in our region, to be able to avoid problems associated with the food involved, at this time when the celebration was extended for almost a week, "said the regional authority.
Following this intensive inspection, the ban on the operation of four establishments, mainly
Similarly, nearly 500 kilograms of food, mainly meat, empanador, sauces, prepared dishes and sweets that were in poor condition or with the changing cold chain, were seized.
The ceremony highlighted the role played by the inspectors and coordination with other public organizations such as provincial governments, police and investigations. [1
9659002] Similarly, he emphasized the role of the aid network in facing the strong demand for attention they experienced during this long holiday of national holidays.
Load More